South Korea plans to require local banks to launch a real-name system for cryptocurrency trading that will make the up-to-now anonymous transactions traceable as the country seeks to curb speculation and criminal activities, it has been confirmed.
Financial Services Commission vice-chair Kim Yong-beom said on Tuesday (23 January) that the new measures will prevent foreigners living outside South Korea who do not have local bank accounts and anyone under the age of 19 from buying or selling bitcoins and other digital currencies.
Once the new system comes into effect next week, existing accounts used for cryptocurrency trading can no longer be used, he said.
The moves follow warnings by South Korean authorities that they would ban anonymous trading in cryptocurrencies to curtail speculative trading and possible criminality.
Authorities in the region are trying to crack down on cryptocurrency trading used for in money laundering, tax evasion and other criminal activities.
The new requirements are meant to ensure that a cryptocurrency investor's money comes from a bank account owned by the same individual. Banks will be able to refuse to open accounts with cryptocurrency exchanges that do not disclose information about suspicious trading.
They were told to closely monitor cryptocurrency trading that exceeds 10 million won (£6,700, $9,300) a day or 20 million won per week as well as accounts owned by corporations or groups. Suspicious activity has to be reported to the authorities.
"We expect that cryptocurrency exchanges that are in danger of being exploited for money laundering will be thrown out of the market," Kim told reporters. He said the government does not intend to encourage or stimulate cryptocurrency trading.
South Korea is home to some of the world's largest cryptocurrency exchanges and a craze for bitcoin and other cryptocurrencies has swept the country.
The price of bitcoin fell was down 4% as of 7:40 am GMT Tuesday. The previous day, the price per coin had dropped significantly.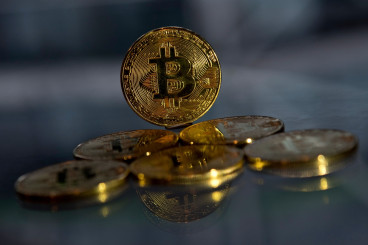 It fluctuated wildly earlier this month, soaring and then sinking on concerns about how South Korea and other governments might handle the boom in cryptocurrency trading.
Earlier this month, it emerged that South Korea's Financial Supervisory Service launched an investigation into one of its own employees over alleged insider trading of "crypto-assets".
The popularity of digital currency across the board– but specifically bitcoin – spiked in 2017 even as economists and banks warned that it was a financial bubble likely to burst.
The eventual drop was so sudden that the bitcoin community online was posting links to suicide hotlines. The price eventually levelled out and is currently sitting at £7,476 ($10,430) per coin.