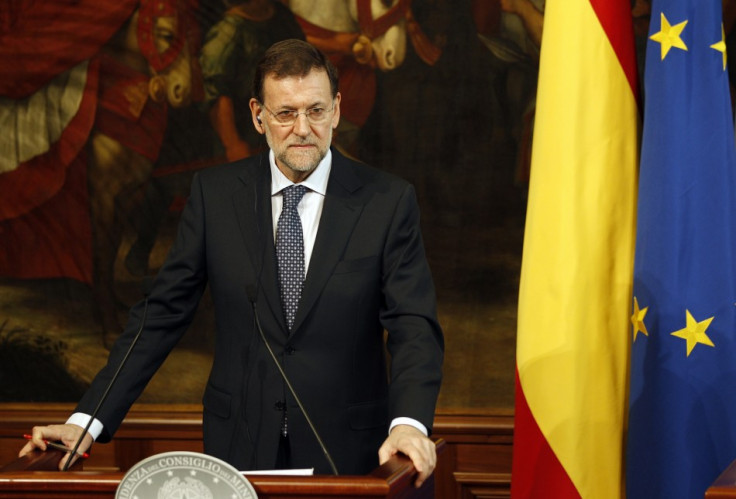 It's been a rather confusing day for the Spanish government, it seems.
Just as the Spanish prime minister, Mariano Rajoy, started holding out the begging bowl and asked the rest of Europe to help recapitalise its banks, Spain's economic minister Luis de Guindos came out, only a couple of hours later, saying that Spain was not seeking a bailout at all.
"I have absolutely not discussed any intervention in Spain's banks today," de Guindos told reporters in Brussels.
Despite his attempt at calming down the markets, speculation over how damaged the Spanish economy and its ailing bank sector is has rippled through the rest of the eurozone.
Rajoy said earlier that Spain was in a situation of "extreme difficulty".
He called for Europe to prove that the unity of the EU countries was strong and that the euro project was "irreversible" by forging a banking union, while the budget minister in the centre-right government, Cristóbal Montoro, highlighted fears that Madrid "does not have the door to the markets open" because the country has a high perceived risk of its sovereign debt.
The statement, which does have a slight tint of desperation, may go against Spain's own economic minister's statement that the country is not seeking a bailout, but as IBTimes UK has continually reported - a bailout may be Spain's only option for survival.
Spain banking on a bailout?
Spain is scrambling for €80bn in cash to strengthen the banks' capital required to keep them afloat in case of severe market conditions.
De Guindos said no decision would be made on seeking a bailout until an audit of all the banks, conducted by the International Monetary Fund (IMF), was completed. This could possibly be by the end of June.
It will make for interesting reading because in December, the European Banking Authority's (EBA) benchmark capital requirements report, which comprised its formal recommendation and the final figures related to banks' recapitalisation needs, made for frightful reading.
It said that European banks must raise €114.7bn of additional capital buffers by June - 8 percent more than its initial estimate of €106bn.
Spanish banks are vying for the worst set of results. According to the EBA, Spanish banks had a €26.1bn shortfall in banking capital requirements - the bufferzone needed to keep them afloat.
In a breakdown of EBA report results, Banco Santander made up a substantial portion of the shortfall with €15.3bn needed.
Ratings agency Moody's also cut the credit ratings of 16 Spanish banks and cut the debt rating on Santander UK, a subsidiary of the Spanish banking giant, in May.
At the time, de Guindos maintained that Spain did not have seek a significant cash injection from Europe. But critics are still predicting an "inevitable bailout."
Even a senior German official said that Spain would have to apply to European Financial Stability Facility (EFSF) for a cash injection.
"Spain must apply to the rescue fund not because of the country [the state budget] but because of its banks," Volker Kauder, a senior member of German chancellor Angela Merkel's ruling Christian Democrats (CDU) told ARD television.
Spanish banks are not only undercapitalised but they also possess major risks from real estate exposures.
Fitch illustrated that the non-performing loans (NPL) ratio for the entire sector stood at 7.2 percent at end-September 2011.
On 5 June, two sources said that state-owned Bankia, Spain's fourth-largest bank, could get less than the €19bn in the aid it has asked for, prolonging uncertainty surrounding a rescue that has added to fears that Spain itself would need a bailout.
Bonding with Investors
On Thursday, all eyes will turn to the Spanish bond auction. The speculation over whether Spain will seek a formal bailout could not have come at a worse time.
Comments from Rajoy and Montoro certainly would not have done anything to help whet appetite as the country plans to auction €2bn worth of long-term bonds.
At the beginning of May, Spain's borrowing costs surged at the first debt sale since its downgrade.
The auction will be the first test of investor appetite for Spanish debt since Standard & Poor's slashed the country's credit rating two notches to BBB+ and lowered ratings for several of the nation's biggest banks and financial institutions. Data from the Bank of Spain has also confirmed the nation's slip back into recession and an unemployment rate of nearly 25 percent.
Spain's 10-year government bond yield is still well above the 5.8 percent level the markets saw in April this year. Yields have eased back to around 6.3 percent.