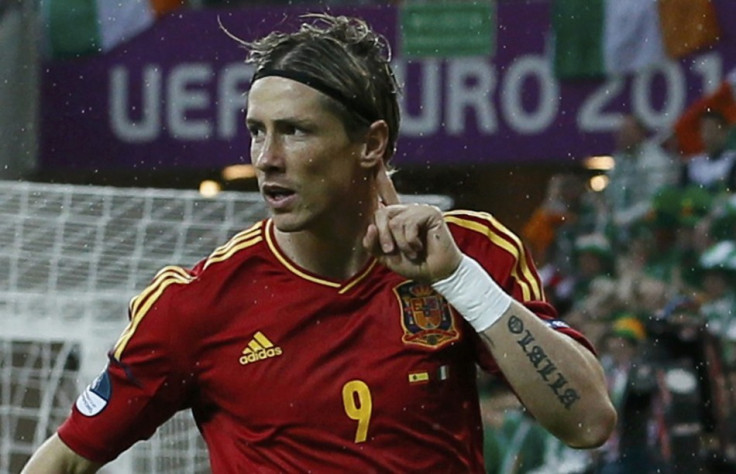 After the clinical brilliance of Germany's 4-2 win over Greece, defending European and world champions Spain will field a challenge from a revitalised French side, driven by Laurent Blanc and an urge to find a measure of salvation after disastrous days in recent international competitions.
The Spanish and the French will face off at the Donbass Arena in the Ukrainian city of Donetsk on Saturday evening and it promises to be an exciting affair between two countries unafraid to play attacking football and with the players to keep that promise.
The Build-Up:
Spain have been the dominant international force for a long time now, much as Barcelona have been top dog in European club football. The similarities in style of play, aided by the wealth of representatives from the Catalan club have merited enough column space to be a common fact by now. Furthermore, in Vicente del Bosque they have a coach who is a strong believer in tradition and a tactician who implicitly trusts his first team - a fact evident by the call up and deployment of Chelsea striker Fernando Torres, who endured a miserable league season in England, in favour of in-form Valencia striker Roberto Soldado. Whether that move has paid (or will pay) dividends, is open to debate. Certainly Torres's two goals against the Republic of Ireland would have been well received but the fact he faded away once again in the next game against Croatia would not have. Elsewhere, del Bosque will probably retain the same side that has performed reasonably, if not superbly, well so far this tournament.
The former Real Madrid manager has cautioned his side that France will not be an easy team to beat and, more particularly, they will not concentrate on defense to the exclusion of attack.
"I have a hard time believing they will just close the defence up. They have players who can start and build the play and I can't see them defending all of the time and waiting for us to do something. I just hope the match will turn out well. The French coach is a great coach and he has great players at his disposal and the match they lost against Sweden does not tell us anything. They had not lost for a long time before this and that is the thing we will have to think about," the sad-eyed Spaniard told Goal.com.
France, on the other hand, have been as the phoenix rising from the ashes of the 2010 World Cup in South Africa. After the horror days of Raymond Domenech's era, Blanc's attacking philosophy seemed to have created a strong and dependable French national team, one that came into the tournament on the back of a 21 match unbeaten run. The extremely disappointing showing against Sweden, in their last group stage fixture, however, seems to have opened up some of the cracks papered over. An earlier IBTimes UK report quoted Chelsea winger Florent Malouda, Arsenal centre back Laurent Koscielny and Blanc as admitting tempers had flared in the dressing room after the game. However, they insisted it was a good thing because it highlighted the burning desire to win and the unwillingness to accept defeat. How true those sentiments are remain to be seen but we believe those statements might have carried more weight had they been expressed in terms of football, during the game, rather than afterwards in the dressing rooms. Nevertheless, Blanc is confident in his side's ability to upset the champions and, in a Goal.com report, hinted France would look to attack.
This morning I watched Croatia-Spain and Italy-Spain," the former Barcelona defender said, adding, "These two teams caused problems for the Spanish. They had opportunities and had the chance [to win] the game. Looking at the two games, there was one that preferred to defend and the other who preferred trying to play their own game; I hope that France will choose the latter."
The French will be buoyed by the fact they have never lost a competitive game to Spain; their most memorable result, perhaps, being the 1984 Euro final win, in which UEFA president Michel Platini scored to lead them to a 2-0 win.
Team News:
Spain - Vicente del Bosque will have the luxury of a full strength squad to chose from, although Alvaro Arbeloa, Xabi Alonso (Real Madrid), Jordi Alba (Valencia), Torres and Javi Martinez (Athletic Bilbao) are all one yellow card away from missing the semi final, should Spain go through. The big question is whether the manager will keep faith with the misfiring Torres or bring Fabregas back to play the "false nine" role. The latter option will emphasise mobility among the front three, with Andres Iniesta (Barcelona) and David Silva (Manchester City) all capable of rotating with the former Arsenal skipper. However, as was evident in the first game (against Italy), the presence of a striker, if only as a reference point for floating midfielders, is crucial. Spain performed much better, as a unit, once Torres was on the field against the Italians and that should give del Bosque something to think about. We believe del Bosque will retain Torres and Fabregas will start from the bench.
This means Alvaro Arbeloa, Sergio Ramos (Real Madrid), Gerard Pique (Barcelona) and Jordi Alba (Valencia) will start ahead of Iker Casillas (Real Madrid), with Xavi, Sergio Busquets (Barcelona) and Xabi Alonso (Real Madrid) providing ammunition for Torres, Andres Iniesta (Barcelona) and David Silva (Manchester City). Cesc Fabregas (Barcelona) will have to be content with a place on the bench again, despite a strong showing in the tournament so far.
France - Blanc does have a few concerns ahead of this game, principle among which is the absence of AC Milan centre back Philippe Mexes, who is suspended for this game. Koscielny will probably be drafted in as a replacement and given the somewhat erratic form he displayed for the Emirates club this term, he could be a weak link Spain exploit. Worse still for Blanc, there are also doubts over the fitness of key creative players Samir Nasri (Manchester City), Franck Ribery (Bayern Munich) and Yohan Cabaye (Newcastle United). This should allow Jeremy Menez (PSG) to return to the starting eleven.
We believe France will line up with Hugo Lloris (Olympique Lyon) in goal, covered by Mathieu Debuchy (Lille), Koscielny, Adil Rami (Valencia) and Gael Clichy (Manchester City). Cabaye and Yann M'Vila (Rennes) will patrol the midfield, allowing Menez, Nasri and Ribery freedom to move around behind Karim Benzema (Real Madrid). Should either one or all of Cabaye, Nasri and Ribery not play, Blaise Matuidi (PSG), Florent Malouda and Hatem Ben Arfa (Newcastle) will be ready to step up.
Facts:
Spain have not conceded a goal in the knock-out stages of a major tournament since former French international Zinedine Zidane's strike in the quarter final of the 2006 World Cup
France are unbeaten against in Spain in six competitive encounters
Xabi Alonso is set to win his 100th cap for Spain
France are the only team still remaining in the tournament, whose strikers have yet to score a goal; Benzema has had 15 shots on goal to no avail
Spain have completed more than double the number of passes of their last three opponents; they completed a record 810 to the Republic of Ireland's 198 in the last game
Where to Watch Live:
You can follow the match live on iTV 1 and iTV 1 HD from 7.15 pm (BST), as well as BBC Radio 5 live and the official UEFA Web site. The highlights will be on BBC One and the BBC Sport Web site.