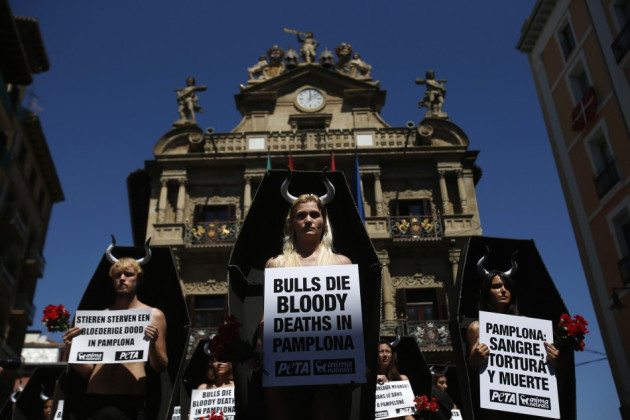 Thrill-seekers from around the world are heading to Spain to participate in the festival of San Fermin, which begins on Sunday 7 July. Pamplona will welcome tens of thousands of tourists for the traditional week-long event, the highlight of which is the daily running of the bulls.
At 8am in the morning every day, rockets signal the release of six 100-stone bulls and six steers from their corral. Revellers wearing the festival's traditional dress of white shirts and pants with red scarves tied around their necks will race the animals for around a kilometre, ending up at the bull ring.
Every year between 200 and 300 participants in the run are injured, around 3% seriously. Most are hurt after falling but some are trampled or gored by the bulls. The bull runs have claimed 15 lives since 1924. The last death occurred four years ago, when a bull gored a 27-year-old Spaniard to death, piercing his neck, heart and lungs with its horns in front of crowds of tourists
The traditional festival dates back to medieval times and it features several religious ceremonies in honour of San Fermin, the patron saint of Pamplona. There is round-the-clock drinking, with bars open until 6am and a host of musical concerts.
Animal rights activists have united in opposition to the bullfight and have already staged several protests. In one recent protest in Barcelona, on 24 May, activists lay topless on the ground covered in fake blood.
Spanish Greens deputy Raül Romeva i Rueda has also alleged that millions of Euros from the common agricultural policy's funds were diverted to help promote the dying tradition of bullfighting.
The fact that bullfighting is financed with public money has attracted severe criticism from some quarters of the Spanish media.
State-run Spanish TV channel TVE cancelled its live coverage of bullfights from August 2007 until September 2012, when Spanish Prime Minister Mariano Rajoy's Government lifted the ban.
In most parts of Spain, strict national laws against cruelty to animals have abolished bloodsports, while specifically excluding bullfighting.