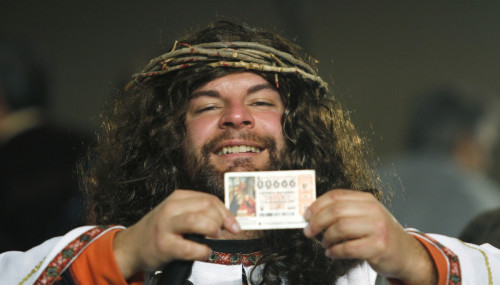 Spain's annual Christmas lottery, El Gordo - "the Fat One" - has reached a climax with the announcement of the winning numbers. Madrid's Teatro Real opera house was packed as the numbers were announced and millions more watched the long, complicated draw on TV in homes and restaurants across Spain.
In total 13,000 tax free cash prizes worth €2.5bn (£2bn) were up for grabs, but due to the democratic way El Gordo's prize-money is distributed even those with a winning ticket might not want to give up the day job in a country racked by high unemployment.
1,950 people bearing tickets carrying ticket number 62246 received €400,000 (£334,660) each and anyone with ticket number 79712 won €125,000 (£104,581). This year for the first time the winners of the bigger prizes were taxed, meaning anyone with a share in the Fat One itself would pay €80,000 tax.
One of the winners was Jesus Lorente, from Tenerife, who purchased his second-prize ticket at a gas station. Jesus said he would use the money to pay off his debts. As Spain struggles to emerge from a continuing economic crisis, Jesus won't only be paying off his own debts - he will also contribute €25,000 towards easing the country's deficit.
El Gordo's prize pot dwarfs other European lotteries but in the United States Ira Curry from Georgia recently walked away with half of the biggest ever lottery prize - $636m in total. The other winner has yet to be traced.