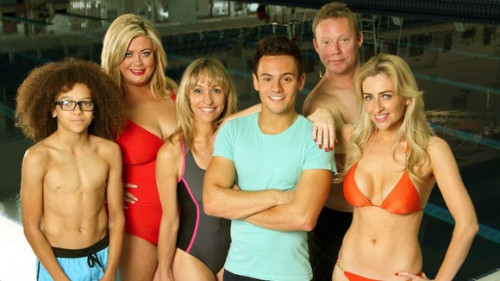 Splash! made it's return to TV screens for a second series.
The reality show sees celebrities trained and tested on their diving ability under the tutelage of Olympic champion Tom Daley.
In the first heat TV presenter Michaela Strachan, Hollyoaks star Gemma Merna, TOWIE favourite Gemma Collins, Diversity dancer Perri Kelly and former Eastender actor Ricky Groves nervously made for their diving boards to face the scrutiny of judges Andy Banks, Jo Brand and Leon Taylor.
Reigning British dive champion Daley made his entry to the cheers of the crowd as he made his first dive, showing everyone how it's done.
Anticipating the performances of the stars as they bravely dared to take the plunge , Jo Brand said she was looking for "courage, confidence, chutzpah and the ability to remain cool," as she the novice divers.
Olympic silver medallist Leon Taylor explained why the sport is so much more challenging than it looks.
"The toughest thing is that when it goes wrong it really hurts. Smacking in the water is like hitting a brick wall."
Hinting at the nerves of the divers he said: "Of course they're going to be scared. Diving is physically and mentally challenging but this is where it counts."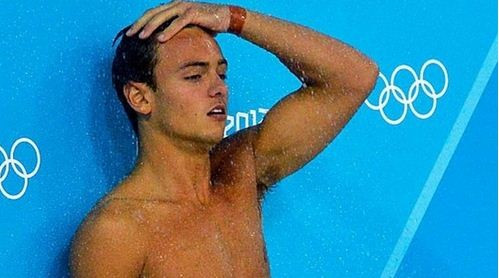 Giving his verdict on the star performances in training, Daley said: "The celebrities have really raised the bar. They have been so much fun to work with. There's not many people who are used to wear more clothes to go to bed than they do to go to work, so these celebrities, you really have to take your hat off to them."
Wildlife presenter Michaela Strachan was the first to dive. "I've dived with sharks, I've dived with whales, but never dived off boards before," she said.
Anticipating the dive she added: "I think the biggest challenge is the height. I'm not a massive fan of heights. It's a ridiculously long way down. It's like jumping off a three storey building. I think its gong to be absolutely nerve wracking on the live show. You've got seconds to show your dive and it could all go wrong."
Hollyoaks star Gemma Merna was stricken with nerves ahead of her dive.
"My experience with diving? I've not had any," she explained. "I am scared of heights. I would say I've got vertigo. As soon as I hit the water I just want to get out again."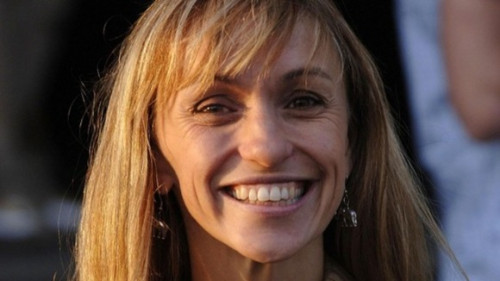 "I've got a fear of water fear of heights and a fear of diving so I don't know what I'm going to do in front of millions of people on the live show. I am nervous my heart's pounding but I've come into this competition for a challenge so I just have to do it."
She managed to fight her fears to performing a forward pike winning praise from the judges.
"I thought that was really brave. I thought it looked really graceful," said Brand.
Taylor added: "It's such a shame you've got the scared thing going on because you've got all the qualities of a great diver."
Daley commented on the performance saying: "She was terrified in training and she's done the best dive I've ever seen her do, so that's the sign of a great competitor. She pulled it out of the bag when she had to."
Things were not looking much better for The Only Way Is Essex star Gemma Collins.
The TOWIE star admitted she had little experience of watersports. "I only really take to the pool if I'm in Marbella. I'm not Jane Fonda. Here though, I've been in and out of the water more times than I have had hot dinners.
"I'm cutting thought the water like knife through butter," she explained, "but when there's height involved it all goes Pete Tong."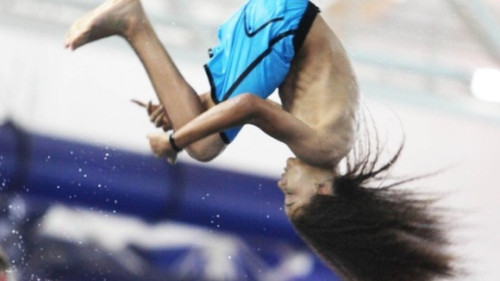 Displaying heavy bruising on her breasts, the tearful star said: "This is gonna kill me, that's how I feel. To be honest I don't think I can do it. I don't want to let anyone down. I don't want to let the fans down and everyone who believes in me. I'm just going to try my best."
Successfully doing a forward pike fall, Collins said she would brave it again if her fans wanted her too.
But the Splash! star of the night was Diversity dancer Perri Kelly.
Displaying the agility and the confidence of a dancer, Kelly was straight off the starting block with his mid-air tumbles and turns.
"Perri is a little daredevil," said Daley. "He wants to show everyone what he's got.
Perri has got so much potential as a diver I'm really excited to see where he can go with it."
Revealing his own high expectations the 18-year-old said: "I know Tom is pushing me to do something spectacular on Saturday night but just because I'm a dancer doesn't mean I'm a diver. It's the first show but you've got to impress."
Performing a falling back somersault from the 10 metre high board, Kelly wowed the judges.
"You are living up to expectations," said Taylor. "Daredevil stuff. But for me actually I' m a little disappointed – it was a stunning dive but I think there's so much more in you. I think you can go all the way in this competition but you need to step it up."
Jo Brand said simply: "He was brilliant! It was absolutely fantastic."
Banks agreed. "You went on the top board. You turned around backwards. That entry- it was sick," he said.
With Gemma Collins and Michaela Strachan fighting it out in the splash-off , there was little surprise to find Strachan joining Kelly in the next stage of the competition.
While the night was a success for the Diversity star, the jury is out as to whether the diving show will be a hit with audiences.
The first series came under criticism with viewers questioning why the show ever got air-time. But producers were reportedly swayed by the high viewing figures of series one, which inexplicably proved to be a ratings success.
It remains to be seen whether the second series will soar or nosedive.