Key Features:
Retina graphics for iPad
'Now Playing' full-screen view
Gapless playback and crossfade
AirPlay integration
Price as reviewed: Free 48-hour trial, £9.99 per month
Introduction
Spotify for iPad. Finally, it's here. Modern consumers are often accused of having an attention span that can be measured in seconds. If that's true then it has taken what must seem like an ice age for the Spotify for iPad app to appear.
In fact, you know it's taken a long time to release an iPad app when the company's promotional material spoofs the launch. The only way to use Spotify on an iPad before the launch of this app was to use the iPhone version and that's exactly how the marketing video starts off.
The big question is, has it been worth the long wait to see it on the big Apple iOS screen? Well yes and no...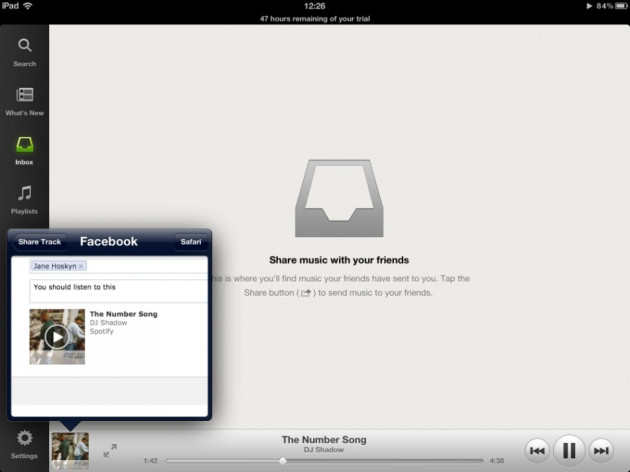 Spotify for iPad: App Design
The Spotify service you already know and probably love is beautifully brought to life on the iPad's large screen. Album covers get the kind of attention such an underrated art form deserves and flicking through the carousel is as close as you can digitally get to standing in a record shop and shuffling through vinyl.
However, given the long wait for this app to hit the iTunes Store you would expect something groundbreaking and that is simply not the case. All the basics are covered, including playlists, search, a What's New section and connections to friends. Search items are collected into easy to read lists with thumbnail images, while lists of tracks are separated by the dark grey lines that surround them. None of those features - including the eye-catching carousel - should have taken so long to encode for your tablet viewing pleasure.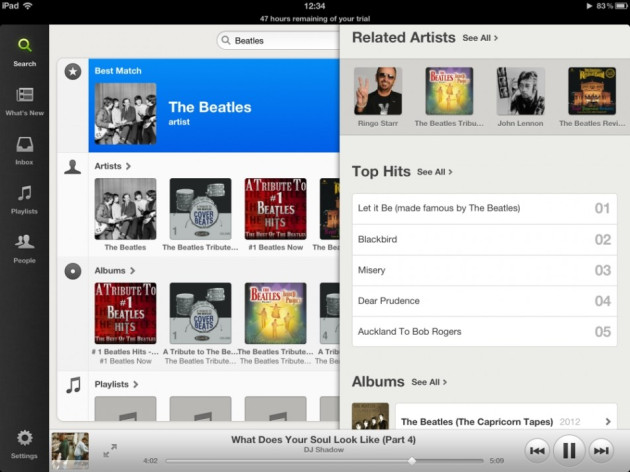 Spotify for iPad: Useability
The video footage of singer and music producer Labrinth playing with the app has not been edited for YouTube - the Spotify for iPad app really is that quick to jump to a new song. Click on a title or album cover and be rewarded with an instant burst of music.
Building playlists is similarly easy, either by using the star system to select tracks you like or using the plus symbol to add tracks to a specific collection. In fact, navigation as a whole is generally excellent and everything is where you would expect it to be. The only tiny stumbling block we came across was when we tried to share a track with a friend on Facebook. With only a small window to choose your friend, we had go fishing to find the Submit button.
Searching is one area that did throw up some unexpected issues. Enter INXS as a search term and you might expect to see the group's most well-known albums Kick and Listen Like Thieves appear. It's something of a head scratcher to see karaoke versions of the band's songs and albums by cover acts fill the early slots, with users having to delve further to find INXS' original output.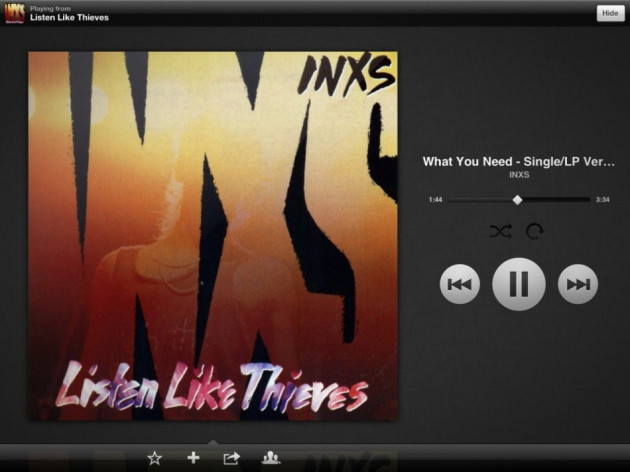 Spotify for iPad: Value For Money
Spotify for iPad is free to download but you will need a paid-for subscription to play music once the 48-hour free trial runs out. Similar to other iOS devices, the iPad requires a Premium Spotify account at a cost of £9.99 per month. That removes the audio adverts and allows unlimited music streaming, as well as adding Spotify access on your mobile phone and making tracks from your playlists available even when you're offline.
With on-demand access to over 18 million songs you should find even the most obscure bands you are into and this is still a great way to rent your music.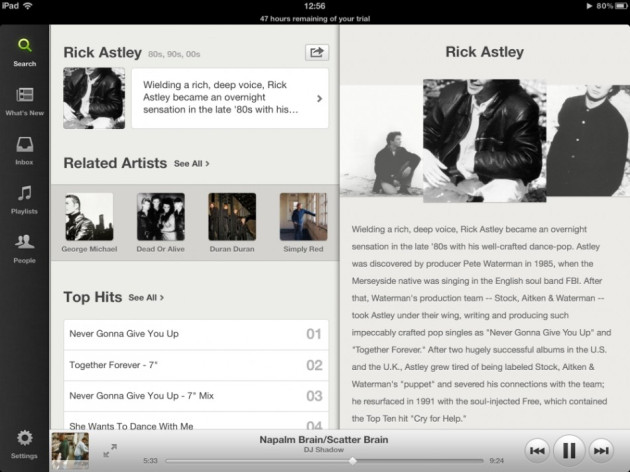 Scores:
Overall: 7/10
Design: 7/10
Useability: 7/10
Value: 8/10
The Good
Album covers displayed well
Instant access to tracks
Huge music selection
The Bad
No groundbreaking features
Some unusual search results
No free version on iPad