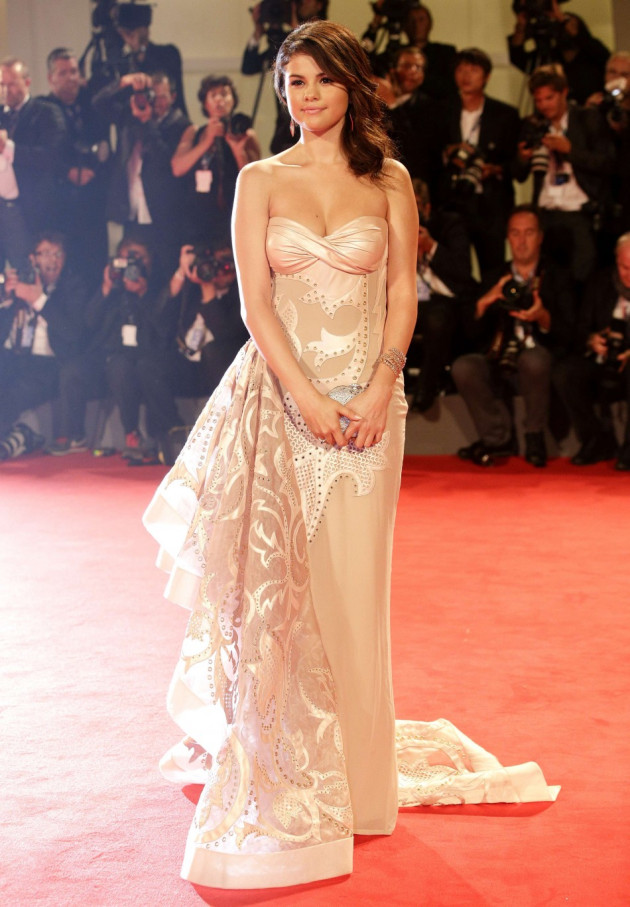 All eyes were on the glamorous female stars of the new film Spring Breakers, as they graced the red carpet of the 69th Venice International Film Festival, at the Palazzo del Cinema. The cast included Disney star Selena Gomez, Vanessa Hudgens, Ashley Benson and Rachel Korine.
Gomez looked stunning in a strapless Versace Atelier dress she paired with Sergio Rossi shoes and a Judith Leiber clutch. The 20 year old kept the rest of her ensemble simple, opting only earrings and a bracelet, both by jeweler Lorraine Schwartz. Hudgens, who was accompanied by boyfriend Austin Butler, shone in a floor-length gown with sequin detailing and Benson turned out in an electric blue strapless outfit. Korine opted for a mustard yellow frock.
Also in attendance were the film's director, Harmony Korine and lead male actor James Franco.
Spring Breakers
The film tells the story of four college friends who rob a restaurant for funds with which to travel to Florida for spring break. All goes well, at first, but once alcohol, drugs and drug dealers become involved, the women soon find themselves in trouble. Gomez, who plays the character of Faith, admitted some of her fans may find her role shocking.
"Obviously I know that coming from Disney Channel gives you kind of a brand in a way," she explained, adding, "People do put a label on you. I know that I have younger fans, and this is an opportunity for myself to kind of grow. It is a little shocking, I think, for the younger audiences ... but I think it was right for me. I did things I didn't even know I could do on the movie and I do think it was because I trusted Harmony."
She also admitted she was originally asked to play an even wilder character but opted to tone it down a little.
"I just didn't think I was ready for it, and I do think that Faith is right for me at this time in my career and in my life," she said, "Of course eventually I'm going to kind of work my way up to that I think."
Spring Breakers will hit theatres in 2013.