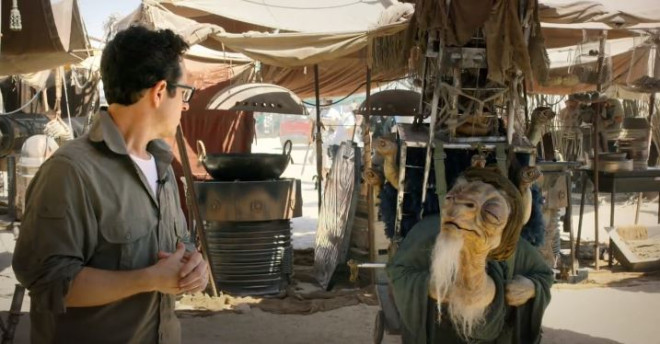 LucasFilm has offered our first glimpse at the Star Wars: Episode VII set as it launches a Unicef initiative that offers fans the chance to visit the film's London production and be in the film itself.
The short video posted on the Star Wars Facebook page shows director JJ Abrams in Abu Dhabi where the film first started shooting. The scenes being shot will take place on Anakin and Luke Skywalker's home world of Tatooine.
As well as offering a glimpse at some sort of market area, we also see our first new Star Wars character. Though unlikely to be much more than a background alien, the puppet which walks past Abrams certainly evokes the original film's tone and use of practical effects.
Star Wars: Force For Change is the name of the initiative, which sees Disney pledge $1 million to humanitarian projects around the world and asks fans to pledge as well. Each pledge of $10 (roughly £6) or more will enter you into a competition draw with the grand prize being a visit to the film set when it arrives at London's Pinewood Studios.
To pledge/enter, visit the movement's Omaze page here.
"The Star Wars fans are some of the most passionate and committed folks around the globe," says director J.J. Abrams. "We're thrilled to offer a chance to come behind the scenes as our VIP guests and be in Star Wars: Episode VII. We're even more excited that by participating in this campaign, Star Wars fans will be helping children around the world through our collaboration with UNICEF Innovation Labs and projects."
Star Wars: Episode VII stars Harrison Ford, John Boyega, Daisy Ridley, Mark Hamill, Carrie Fisher, Adam Driver, Domhnall Gleeson, Oscar Isaac, Max von Sydow, Andy Serkis, Anthony Daniels, Kenny Baker and Peter Mayhew.
The film is due for release on 17 December 2015.