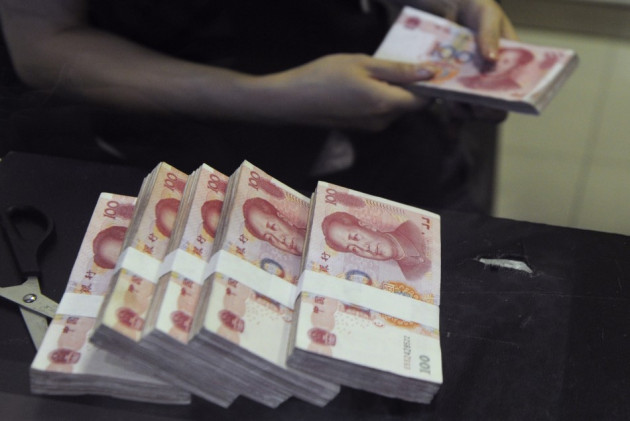 Britain has bolstered its position as an offshore Chinese currency capital with the Bank of England and the People's Bank of China signing a landmark currency swap line for three years.
The move is worth 200bn yuan ($32.6bn, £21.2bn, €24.9bn) and is aimed at boosting bilateral trade and financial stability.
The currency swap agreement, China's first with a Group of Seven (G7) industrialised country, could help position London as the top centre in the G7 for offshore trade in the yuan, in the face of competition from Germany, France and the US.
China has signed currency swap lines with over 15 other countries, mostly emerging economies, in a bid to boost the yuan's - also known as the renminbi (RMB) - use overseas.
The power of Chinese currency is growing and is expected one day to replace the US dollar as the world's reserve.
China employs strict controls over its currency to protect its position as a powerhouse in the global export market, though it has entered several bilateral deals in recent years to help the flow of trade and investment with other leading economies.
Offshore RMB, widely denoted as CNH, refers to any RMB used outside mainland China.
Liquidity can move freely between a number of other offshore centres, including Hong Kong, London, Singapore and Taiwan.
Britain already has currency swap lines with the US Federal Reserve, the European Central Bank and the Bank of Japan, though they have been little used other than at the height of the financial crisis.
Britain still has a fledgling yuan trade sector as only a few companies, such as oil major British Petroleum and HSBC, have issued yuan-denomiated bonds over the last one year.
Trade in the former British colony, however, has surged to about 350bn yuan in just over two years from 2010, according to Thomson Reuters data.
"In the unlikely event that a generalised shortage of offshore renminbi liquidity emerges, the Bank will have the capability to facilitate renminbi liquidity to eligible institutions in the UK," former BoE governor Governor Mervyn King said in a statement.
The BoE could supply the yuan in exchange for other currencies if there is a sudden shortage in the London market, for example to enable a British firm to pay for imports from China.
The City of London Corporation, a significant lobbyist for the UK financial sector, has run a campaign since April 2012 to try to establish the capital as a centre for renminbi trading.