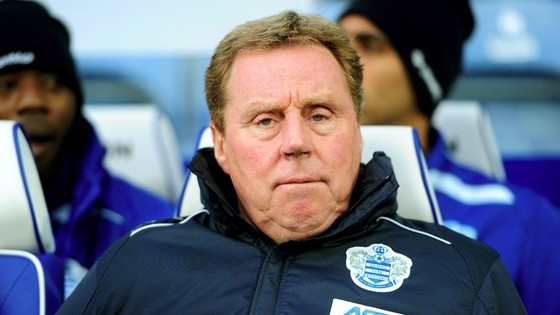 Steve McLaren's appointment as Derby County manager is imminent, according to Queens Park Rangers manager Harry Redknapp.
McLaren is the overwhelming bookmakers favourite to replace Nigel Clough who was sacked after four years at Pride Park following the weekend's 1-0 defeat to east Midlands rivals Nottingham Forest.
The former England manager joined QPR as part of Redknapp's backroom team in the summer. Rangers have won seven out of nine games and top the Championship table and Redknapp admits McLaren will be a big loss.
"I would think there is a good chance we could lose him and I will be very sorry to see him go," the QPR boss told talkSPORT. "He has done a great job for me. He's been excellent; he's a top class coach. Absolutely top class.
"He's excellent on the training ground. This is the first time I've worked with him and one or two people mentioned him to me when I said I was looking to bring someone in to do a bit of coaching again and he has been top class I've really been impressed with him."
The former Middlesbrough boss spent three years at Derby as a player before working as assistant to manager Jim Smith for four years before moving to Manchester United.
After being sacked by England in 2007, McLaren has had indifferent managerial spells at FC Twente, Wolfsburg, and Forest - his last domestic managerial position.
The 52 year old QPR coach was installed as the bookies favourite on Monday after Clough was sacked by Derby on Saturday evening following the loss at the City Ground which leaves County 14th after nine matches.
Clough took over at Derby in 2009 after moving from Burton Albion but failed to finish higher than 10th in any of his five seasons in charge. Derby last played in the top flight in 2008.
Chief executive Sam Rush said: "Our view and desire for Derby County is to get to the Premier League. That is our motivation going forward. That is why we've made the change. We're trying to drive that forward.
The most important thing is that we get the appointment right. That's absolutely critical. We've made a change and what is important is we get the appointment right fort he long term. I won't put a time limit on it."