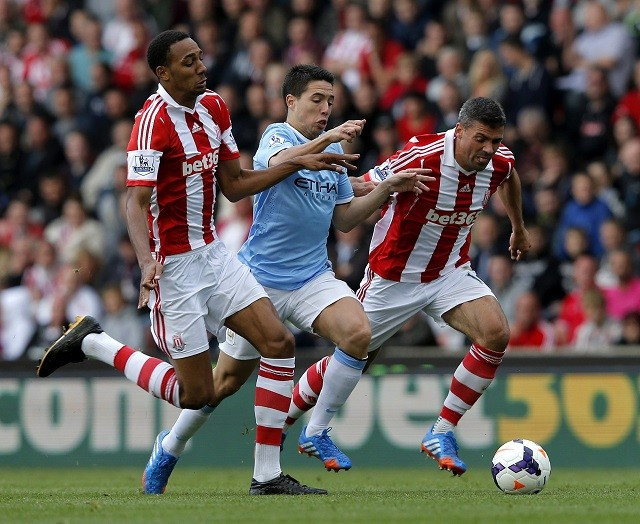 Stoke City midfielder Steven N'Zonzi believes that they have found the key to defeating Arsenal after their 1-0 win over the Gunners at the Britannia on Saturday.
The Gunners failed to create any goal scoring opportunities and were very bad on the day, moving four points adrift of league leaders Chelsea and into third place, level on points with Liverpool, who are ahead on goal difference.
Arsene Wenger was understandably distraught at his team's performance after a major setback in their title hopes. The north London club last won a trophy in 2005 and the fans are getting restless waiting for the drought to end.
The Gunners were subject to some brutal treatment by the Potters, who stuck into them at every opportunity and sneaked a win through a penalty awarded for a handball by Laurent Koscielny.
Jonathan Walters scored from the spot but Charlie Adams escaped a red card after seemingly stamping on Olivier Giroud, who was on the receiving end of some crunching tackles from the Stoke players.
However, N'Zonzi praised his team for their attitude and insisted that they have found the weakness in Arsenal's armour.
"We know that Arsenal are a very technical team. They play good football, but when you start kicking them a little bit, it gets a little bit harder for them. They don't like that, we know that. It's not a surprise they were moaning because they have plenty of technical players," N'Zonzi said.
The Arsenal players were seen complaining to the referee about the challenges made but the Frenchman is nonplussed about the reception and insists that three points are what that matter in the league.
"Yes, this is how Premier League football is. It's really good, it's really strong. If they don't like it, we don't care. We will keep on doing it, being strong and trying to be as good as we can be on the ball. We played good football against a good team, which shows we can play football," he added.