Stockholm: Members of Epicenter workspace are using microchip implants to open doors
RFIDs have caused controversy in US following rumours they could be included in health care reforms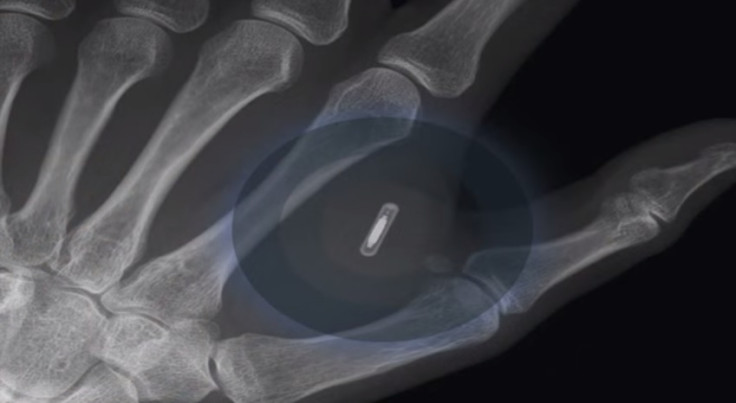 Workers at companies based in the Swedish tech business incubator Epicentre are having microchips implanted into their hands.
Up to 400 members of Stockholm's Epicenter will be able to have the highly controversial radio-frequency identification (RFID) chips inserted into their bodies.
The chips, which are the size of a grain of rice, store personalised security information, similar way to an office security pass or a chip-and-pin credit card. They enable people to open doors and operate photocopiers – and in the future make payments – with a wave of their hand.
"We already interact with technology all the time," said Hannes Sjoblad, who is in charge of implanting the chips and has an implant containing his business card details. "Today it's a bit messy: we need pin codes and passwords. Wouldn't it be easy to just touch with your hand? That's really intuitive.
"We want to be able to understand this technology before big corporates and big government come to us and say everyone should get chipped – the tax authority chip, the Google or Facebook chip."
RFID chips have already provoked controversy in the US following rumours President Obama's regime would require every US citizen to have one implanted, as part of health care reforms.
BBC technology correspondent Rory Cellan-Jones raised doubts of the wider social acceptability of RFID implants after having one of the chips inserted while visiting Epicenter.
"All sorts of things are possible," he wrote. "Whether it becomes culturally acceptable to insert technology beneath our skin is another matter."
But Sjoblad, a chief disruption officer at the Swedish biohacking group BioNyfiken, believes the use of RFIDs is just the beginning.
"I believe we have just started discovering the things we can do with this. There is huge potential for life-logging. With the fitness-tracking wearables at the moment, you have to type in what you are eating or where you are going," he said. "Instead of typing data into my phone, when I put it down and tap it with my implant it will know I am going to bed.
"Imagine sensors around a gym that recognises, for instance, who is holding a dumbbell via the tag in your hand. There is an ongoing explosion in the Internet of Things. The sensors will be around for me to be able to register my activity in relation to them."
Ben Slater, an advertising director from Australia, had a near-field communication (NFC) microchip injected into his hand just before the launch of the iPhone 6.
He hoped the popular Apple product would extend the capabilities of his implant, which allows him to open his front door, switch on lights and store personal data.
In 2007, The American Medical Association (AMA) established a code of ethics to protect patients' receiving RFID implants, following an evaluation by the AMA's council on Ethical and Judicial Affairs (CEJA) which discussed ethical issues relating to using RFID implants for medical purposes.
The report entitled Radio Frequency ID Devices in Humans acknowledge RFID chips use in health care represent "another promising development in information technology" that "raises important ethical, legal and social issues".
© Copyright IBTimes 2023. All rights reserved.