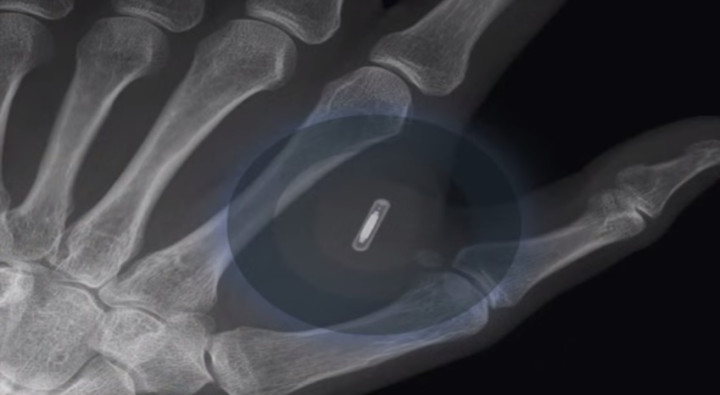 Forget about wearables, the latest in technological innovation is implantable technology and one man has inserted a microchip into his hand in anticipation of tomorrow's iPhone 6 launch.
Ben Slater, an advertising director from Australia, had the microchip injected into the webbing on his hands two weeks ago at a tattoo parlour in Melbourne.
The chip has near-field communication (NFC) capabilities, meaning it can be used with any device that contains this technology.
The chip, which is size of a grain of rice, allows Slater to open his front door, switch on his lights and store personal information. He anticipates that the iPhone 6 will extend the capabilities of his implant.
"I have always been fascinated by the next step in technology and where we are goin with it. And I'm an Apple nut," Slater told the Sydney Morning Herald.
"My wife thinks I'm crazy. But I am just a family dude who has some crazy ideas and stuff. It's freaky to think you can do it. You don't know what can happen with it."
The applications of NFC have expanded rapidly in recent years and include mobile payments and enhanced security for devices.
Apple CEO Tim Cook made a strong indication at the start of the year that the company would be including the technology in future devices.
"The mobile payments area in general is one that we've been intrigued with," Cook said. "It was one of the thoughts behind Touch ID. It's clear that there's a lot of opportunity there."
Since then, reports have surfaced that suggest the iPhone 6 will be the first devices to feature NFC. Reports last month from Wired claimed that an NFC-enabled platform would be one of the "hallmark features" of the company's presentation tomorrow.