Asian Markets Down on China Data and Federal Reserve QE Taper Jitters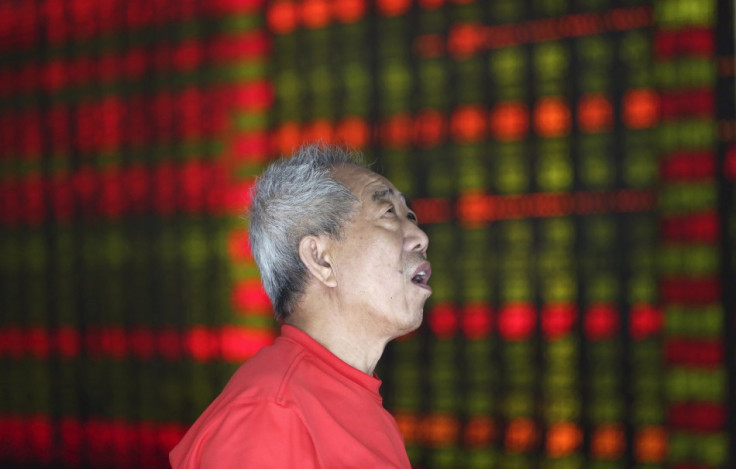 Asia markets traded lower on 16 December, with Chinese and Japanese equities leading losses in the region, amid the uncertainty surrounding the future pace of US monetary stimulus.
The Japanese Nikkei finished 1.62%, or 250.20 points, lower at 15,152.91.
The Shanghai Composite finished 1.60%, or 35.21 points, lower at 2,160.86.
Australia's S&P/ASX finished 0.17%, or 8.80 points, lower at 5,089.60.
South Korea's Kospi finished 0.09%, or 1.76 points, lower at 1,961.15.
Hong Kong's Hang Seng was trading 0.42%, or 97.18 points, lower at 23,148.78
India's BSE Sensex was trading 0.31%, or 63.75 points, lower at 20,648.92.
In China, HSBC's preliminary China manufacturing PMI dropped to 50.5 in December, against a final reading of 50.8 in November. The reading, the lowest in three months, weighed down on Chinese equities.
HSBC's chief China economist Hongbin Qu said the flash result for December "slowed marginally from November's final reading. But it still stands above the average reading for the third quarter, implying that the recovering trend of the manufacturing sector starting from July still holds up."
In Tokyo, a stronger yen pulled down Japanese exporters' stocks.
Japanese investors largely shrugged off a mixed outcome from the Bank of Japan's quarterly tankan survey. The results showed that sentiment among the nation's major manufacturers was at its highest in six years. However, it indicated that large companies had lowered their investment plans for the ongoing fiscal year.
Meanwhile, Fed QE taper qualms also contributed to the downbeat regional sentiment.
The Fed's FOMC will meet on 17-18 December. The central bank will announce its monetary policy decision on 18 December, when it could reveal a reduction in its $85bn-a-month bond buying stimulus.
Barclays Capital said in a note to clients: "Concerns of an imminent tapering of the Fed's asset purchase program were re-kindled last week after strong US economic data and news of a two-year budget deal in US Congress. We expect the FOMC to make no changes to its asset purchase program and policy rate guidance at this week's meeting, however".
"Our base case view remains a Q1 14 taper (most likely in March). Although there has been cumulative progress made in labor markets since fall 2013, we believe many on the FOMC require more evidence that the rate of growth is accelerating and inflation is firming before slowing the pace of purchases", the British bank added.
Asian stock markets outside Japan finished the week ended 14 December lower, with the Nikkei leading the pack and the Kospi trailing.
Wall Street Mixed
On Wall Street, most indices ended higher but gains were capped as investors awaited the Fed decision.
The Dow finished 15.93 points, or 0.1%, higher at 15,755.36.
The S&P 500 ended 0.18 points, or 0.01%, lower at 1,775.32.
The Nasdaqclosed 2.57 points, or about 0.1%, higher at 4,000.98.
For the week ended 14 December, the Dow and the S&P 500 finished 1.7% lower each, while the Nasdaq closed 1.5% lower.
Company Stock Movements
In Tokyo, telecoms major Softbank lost 3% after The Wall Street Journal reported that the Japanese firm's US subsidiary Sprint was looking to acquire T-Mobile.
Automaker Honda and rival Nissan lost over 2% each, while consumer electronics manufacturer Sharp also lost over 2%.
In Shanghai, automaker Changhai Auto fell some 7% while rivals FAW and SAIC Motor dropped 5% each, after the city of Tianjin announced it would impose quotas on new car registrations in a bid to control traffic congestion.
Brokerages Citic Securities and Haitong Securities were down 2% each after China's securities regulator said it would allow the market to price new IPOs, after the freeze on listings ends in 2014.
In India, GlaxoSmithKline Pharmaceuticals surged 19% after British parent GSK said it was looking to raise its stake in the Indian arm by 25% through an open offer.
The GSK announcement also boosted shares in Indian units of global firms. Merck jumped 6.3%, Abbott India gained 3.5%, Astrazeneca Pharma India added 3%, GlaxoSmithKline Consumer Healthcare traded 2.5% higher, Nestle India rose 2.4% while Sanofi India moved up 1.9%.
In Sydney, Macquarie dropped 5.7% after shareholders approved a plan to offload its A$1.3bn stake in Sydney Airport, the nation's largest airport.
© Copyright IBTimes 2023. All rights reserved.