Asian Markets Mixed Despite Rise in Global Manufacturing Data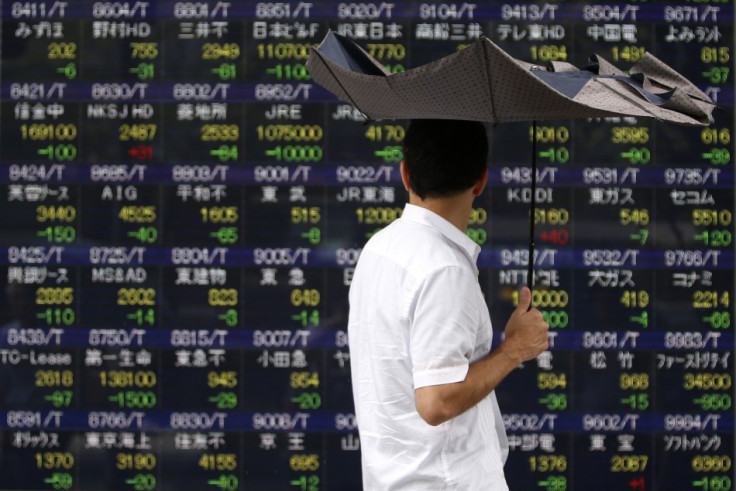 Most Asian markets logged gains on Friday and the Japanese Nikkei led the pack after Thursday's data showed manufacturing activity in the US, Europe and in China was improving, though not all of them saw rises.
The Shanghai Composite was trading 1.09% lower or 22.54 points to 2,044.59
Hong Kong's Hang Seng was trading 0.17% lower or 36.25 points to 21859.15.
The Japanese Nikkei finished 2.21% higher or 295.38 points to 13,660.55.
Australia's S&P/ASX finished 0.94% higher or 47.70 points to 5,123.40.
South Korea's Kospi finished 1.14% higher or 21.04 points to 1,870.16.
Data firm Markit showed that the preliminary US manufacturing Purchasing Managers Index (PMI) rose to 53.9 in August from 53.7 in July. The August reading is slightly lower than economists' forecast of 54.0.
Earlier, data showed that the Eurozone's private sector expanded at its fastest pace in more than two years in August, adding to hopes that the single-currency region has gained momentum after experiencing nominal growth in the second quarter. The Markit flash eurozone composite output index rose to a 26-month high at 51.7, up from 50.5 in July. Economists expected an index reading of 50.9 for the month.
China's manufacturing sector experienced a strong recovery in August with improved output and new orders, a positive sign that the world's second-largest economy is picking up pace after two quarters of slowdown. The HSBC flash China manufacturing purchasing managers' index (PMI) rose to a four-month high at 50.1 in August from 47.7 in July. That was well ahead of the economists' estimated reading of 48.3.
Wall Street Up
On Wall Street, stocks ended higher despite a three-hour trading stoppage on the Nasdaq due to a technical glitch.
The Dow finished 0.44% higher or 66.19 points at 14,963.74. The S&P 500 closed 0.86% higher or 14.16 points to 1,656.96, while the Nasdaq Composite ended 1.08% higher or 38.92 points at 3,638.71.
Company Stock Movements
In Tokyo, Mazda shot up 5%. Motorcycle manufacturer Yamaha Motor and Kawasaki Heavy Industries jumped 4.9% each, while Sumitomo Metal Mining added 4.3%.
Automobile giant Toyota Motor and rival Nissan added 3.5% each.
Watchmaker Citizen Holdings shot up 3.4% while banking giant Mitsubishi UFJ Financial added 2.9%.
Mitsubishi Motors gained 3.4% after news emerged that it plans to build a second factory in the Philippines by 2015.
Oil company Inpex climbed 2.1% after Nymex crude gained over 1% overnight.
In Shanghai, Geely Automobiles added over 3% after it reported a 37% increase in first-half profit. China's leading SUV maker Great Wall Motors gained 1%.
State-owned oil and gas firm PetroChina inched up 0.4%.
Brokerages China Merchants, Founder Securities and Haitong Securities added over 1% each.
China's market regulator will examine stock trading software in use across the country's brokerages after a suspected technological glitch at one firm triggered erroneous trades worth a few billion dollars.
The China Securities Regulatory Commission's (CSRC) investigation will extend to over 110 brokerages. Everbright Securities, the Shanghai-based firm at the centre of the probe, its custom-built trading platform and the firm that built it, Shanghai Mercrtsoft Technology are already under scrutiny.
In Hong Kong, Henderson Land Development added 2.7% even after it reported a slight decline in profits.
Oil and natural gas explorer Kunlun Energy gained 1.5% after it reported a 5% increase in first-half profit.
In Sydney, casino operator Crown jumped 7% after it reported a 14% increase in annual net profit.
Property developer Mirvac added 3.6% even after it reported a 66% drop in its attributable profit.
Iron ore miner Fortescue Metals shot up 3.5% while Anglo-Australian miner Rio Tinto climbed 1.1%. Woodside Petroleum moved up 1.4%.
In Seoul, index heavyweight Samsung Electronics added over 3%, LG Display gained 2% and LG Electronics rose 1%.
© Copyright IBTimes 2023. All rights reserved.