Chinese Equities Provide Boost to Most Asian Markets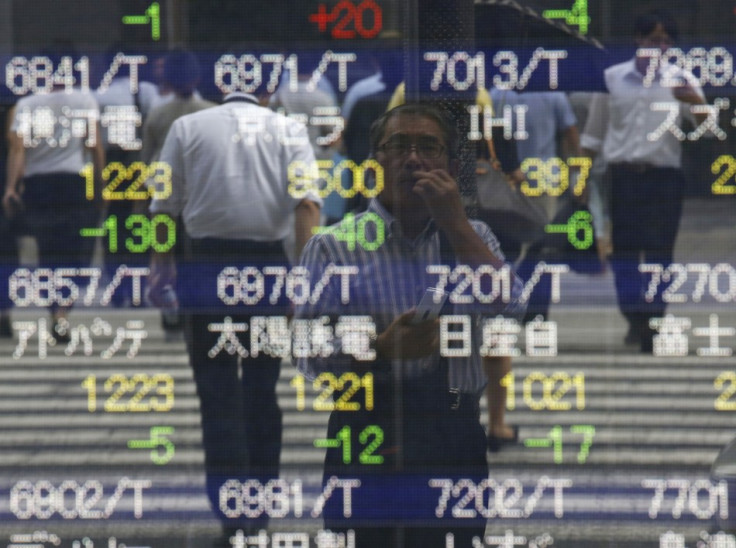 A rally in Chinese equities boosted most Asian markets on Monday following a raft of upbeat economic data from Beijing.
However, Japanese stocks were pulled down by lower-than-expected growth data.
The Shanghai Composite was trading 1.78% higher or 36.61 points to 2,088.85.
The Japanese Nikkei finished 0.70% lower or 95.76 points to 13,519.43.
Hong Kong's Hang Seng was trading 2.14% higher or 467.21 points to 22,274.77.
Australia's S&P/ASX finished 1.07% higher or 54.00 points to 5,109.20.
South Korea's Kospi finished 0.22% higher or 4.12 points to 1,884.83 points.
Sentiment in China was boosted by last week's positive economic data, which suggested that the world's second largest economy was stabilising.
In Japan, government data released on Monday showed the country's gross domestic product grew at an annualised rate of 2.6% in the April-June quarter. However, this was lower than the 3.6% forecast. Growth in the first three months of 2013 was revised down to 3.8% on an annualised basis, compared with the earlier estimate of 4.1%.
"With uncertainty over [US] Federal Reserve stimulus measures lurking in the background, markets are struggling to find direction," said Rivkin Securities global analyst Tim Radford.
"Given it's a relatively quiet economic week ahead, we could expect to see equities track sideways."
Stock markets outside mainland China finished lower in the week ended 10 August. The Shanghai Composite led the pack while the Japanese Nikkei trailed.
Wall Street Down
On Wall Street, indices ended lower on 9 August and logged their worst week since June, owing to concerns surrounding the future pace of the US Federal Reserve's asset buys.
The Dow Jones Industrial Average finished 72.81 points lower at 15,425.51, pulled down by Disney and Home Depot. The S&P 500 index closed 6.06 points lower at 1,691.42, while the Nasdaq Composite index ended 9.02 points lower at 3,660.11.
For the week ended 10 August, the Dow ended 1.49% lower, the S&P 500 was down 1.07% and the Nasdaq declined 0.80%.
Company Stock Movements
In Shanghai, Anhui Conch Cement shot up 4.4%. Property firm Gemdale gained 3.7%.
Environmental stocks were boosted on news that Beijing planned to step up investments in environment-friendly industries. Tianjin Capital Environment gained 3.5% while Beijing Capital moved up 2.2%.
Chinese drug maker stocks rose as China's probe into foreign pharmaceuticals widened with its investigation of French firm Sanofi. Shenzhen Neptunus and Guilin Layn Natural gained over 1%.
In Hong Kong, Anhui Conch added 3.6%. Aluminum Corporation of China shot up 4%, while property developer China Resources Land added 2%.
In Tokyo, watch maker Citizen Holdings surged 15.6%, boosted by strong results and after it raised its profit forecast.
Tyre maker Bridgestone jumped 4.8% after the company raised its profit outlook for the financial year ending March 2014.
Telecoms firm Softbank fell 4%, while automaker Isuzu Motors lost 3.8%.
Daiwa Securities Group lost 3.7%, Nomura Holdings slid 3.3%, and Mizuho Financial Group shed 1.4%.
Camera maker Nikon lost 2.7% while Fast Retailing shed 0.6%.
In Sydney, mining stocks gained following an increase in metal prices on 9 August. Resources major BHP Billiton and Anglo-Australian miner Rio Tinto moved up 2.6% each.
Gold miner Newcrest Mining shot up 5.4% as its underlying profit, excluding one-time impairment charges, was higher than analyst expectations.
Engineering firm UGLadded 2% percent despite reporting a 73% fall in annual profit. The company said on Monday that it will demerge its engineering and property businesses.
In Seoul, index heavyweight Samsung Electronics added 0.5% on news that it could appeal the US International Trade Commission (ITC)'s decision to ban the import and sale of some of its devices in the US if President Obama fails to veto the ruling.
Shipbuilder Posco gained 2%. Automaker Hyundai Motor and auto parts manufacturer Hyundai Mobis added 0.5% each.
Asiana Airlines was down 1.5% after the carrier reported a huge loss in the quarter ended June. Tensions with North Korea cut Japanese travel demand while a Bird flu scare cut Chinese travel demand.
© Copyright IBTimes 2023. All rights reserved.