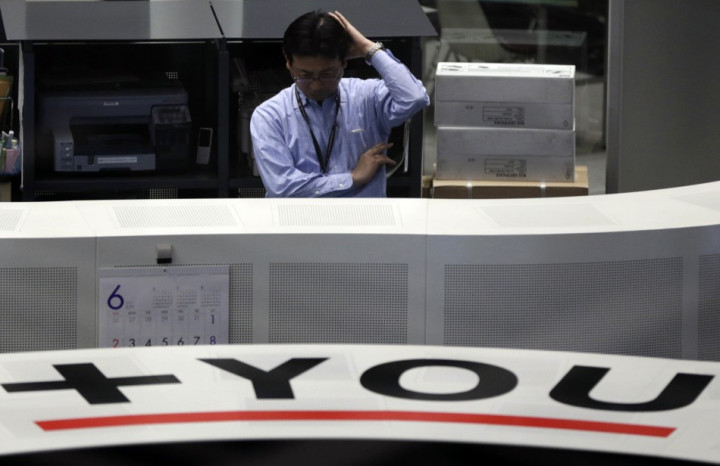 Asian markets were mixed on Wednesday, as market participants traded with caution, ahead of the US Federal Reserve's monetary policy announcement due later in the day.
The Japanese Nikkei finished 1.45% lower or 201.50 points to 13,668.32.
Australia's S&P/ASX index finished 0.46% higher or 23.30 points to 5049.60.
The Shanghai Composite index was trading 0.38% higher or 7.63 points to 1,998.19.
Hong Kong's Hang Seng was trading 0.04% higher or 8.59 points to 21,962.55.
South Korea's Kospi finished 0.16% lower or 3.02 points to 1,914.03 points.
The Fed will release its post-meeting statement at 1800 GMT (2 pm ET). There will be no news briefing by Chairman Ben Bernanke.
"Traders globally seem to be in a wait-and-see mode before the outcome of the Fed's meeting on the timing of quantitative easing tapering," said Mitsushige Akino, chief fund manager at Ichiyoshi Asset Management in Tokyo.
In China, property and construction-related stocks gained on news that the Communist Party's politburo has vowed to keep economic growth steady in the second half of 2013, despite what it said were "extremely complicated domestic and international conditions."
Tuesday's Xinhua news report, which carried the statement, did not state the growth level that the politburo would defend.
Bank of America Merill Lynch wrote in a report that the politburo's message "could be interpreted that the new leadership has no intention to take further measures to restrict home demand and tighten financing of the property sector."
Nasdaq Strikes Fresh 12-Year High
On Wall Street, the Dow and the S&P 500 closed flat on Tuesday as investors exercised caution ahead of the Fed'policy statement. However, the Nasdaq logged a new 12-year high, boosted by tech stocks.
The Dow finished 1.38 points lower at 15,520.59, while the S&P 500 closed 0.63 higher at 1,685.96.
The Nasdaq ended 17.33 points higher at 3,616.47, logging its highest close in nearly 12 years.
Company Stock Movements
In Shanghai, Realty firm Gemdale jumped 4.9%, while Poly Real Estate Group shot up 4.6%.
Anhui Conch Cement added 1.8% in Shanghai. Huaneng Power International inched up 0.2% after the firm reported a doubling of half-yearly profit.
Shipping company China Cosco Holdings lost 0.4% in Shanghai, despite predicting narrower losses for the first six months of 2013.
In Shenzhen, China Vanke gained 4.3%.
In Hong Kong, China Resources Land surged 6.6%, while Guangzhou R&F Properties jumped 6.2%. Huaneng Power International added 2%. China Cosco fell 2.1% in Hong Kong.
In Tokyo, camera maker Konica Minolta surged 10% after it reported better-than-expected first-quarter results. Rival Fujitsu shed over 3% after it reported a net loss.
Battery maker GS Yuasa rallied 10% on better-than-expected quarterly results. Telecoms firm KDDI surged 6.3% after it reported a record 32.9% increase in profit during the January to March first-quarter.
Rival Softbank gained 3.2% after it reported that its net profit more than doubled from a year earlier in the April-June quarter. Semiconductor maker Tokyo Electron shot up 4.5%.
Automaker Toyota Motor reversed early losses and inched up 0.2% ahead of its earnings update due on Friday. The world's top automaker plans to manufacture more than 10 million vehicles worldwide in 2013.
Digital pen maker Wacom tanked 16% after it reported a 5.5% drop in net profit. Power utility stocks were pulled down on concerns surrounding public and political resistance to restarting shuttered nuclear-power plants.
Tokyo Electric Power fell 4.7%, Kansai Electric Power fell 4% while Chubu Electric Power shed 3.7%.
Fujitsu dropped 3.1% while Japan Tobacco shed 0.4%.
Mitsubishi Heavy Industries finished 2.95% lower to 527 Japanese yen (£3.5 , €4.1). A South Korean court has ordered the company to compensate former Korean employees who were forced into labour during Japan's colonial rule of the Korean peninsula. .
In Sydney, diversified miner Panoramic Resources added 4% while diversified coal company White Energy gained 3.6%.
Banks gained on expectations of a further reduction in rates by the RBA next week. Australia and New Zealand Banking Group moved up 1.6% while Commonwealth Bank of Australia added 1.1%.
In Seoul, state-owned firm Korea Gas shot up 5% on news that South Korea will raise domestic gas prices by 0.5% on average from August.
Shipbuilder Daewoo Shipbuilding gained 1.5% on news that the shipbuilder bagged a $520m deal from the Thai government to build a frigate ship.
Auto parts maker Hyundai Mobis dropped 1.4%. Automaker Hyundai Motor was down 1%.