Asian Markets Choppy as Japanese Data and Fed Fears Cap Gains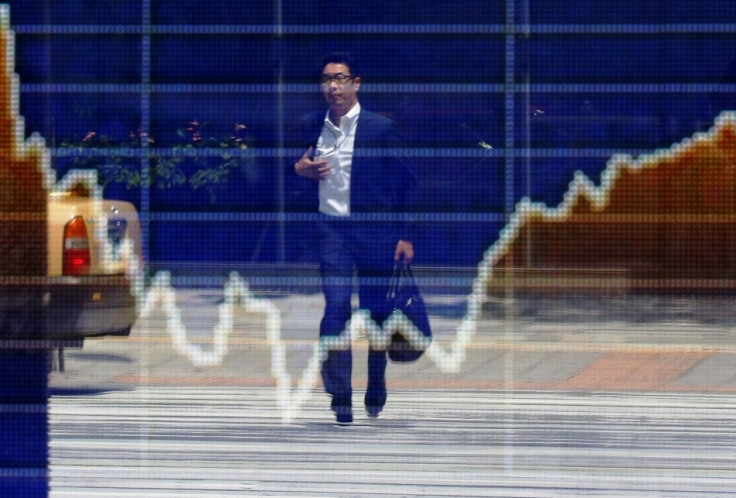 Asian markets were choppy on Monday as downbeat trade balance data from Japan and concerns surrounding the future pace of US stimulus weighed on investor sentiment.
The Shanghai Composite was trading 0.94% higher or 19.43 points to 2,087.88.
The Japanese Nikkei was trading 0.67% higher or 91.88 points to 13,741.99.
Hong Kong's Hang Seng was trading 0.03% higher or 6.92 points to 22,524.73.
Australia's S&P/ASX was trading 0.16% lower or 8.00 points to 5,105.90.
South Korea's Kospi was trading 0.13% lower or 2.47% points to 1,917.64 points.
Earlier, data from Japan showed that exports shot up 12.2% in the year to July, their highest increase in about three years. However, the country's trade balance remained in deficit.
A weaker Japanese yen and rising oil prices have inflated Japan's import bill. Most nuclear power generating stations have not resumed operations following the March 2011 Fukushima nuclear disaster. In turn, this increased Japan's dependency on imported oil.
Last week, a technological glitch at Chinese brokerage firm Everbright Securities fuelled a rally in Shanghai on the final trading day. Everbright on Monday said in a statement that it lost 194 million yuan ($31.7m) from that trading error.
Stock markets across Asia finished the week ended 17 August higher. The Hang Seng led the pack while the Shanghai Composite trailed.
Wall Street Down
On Wall Street, indices ended lower on 16 August. The Dow finished 30.72 points lower at 15,081.47, pulled down by Verizon and Pfizer. The S&P 500 closed 5.49 points lower at 1,655.83, while the Nasdaq closed 3.34 points lower at 3,602.78.
For the week ended 17 August, the Dow lost 2.23%, the S&P 500 was down 2.10% and the Nasdaq lost 1.57%.
Company Stock Movements
In Tokyo, steel maker JFE Holdings shed 1.4% while automaker Suzuki Motor was down 1.2%.
Japan Petroleum Exploration rose 1.1% while oil and gas explorer Inpex gained 0.8%, on the back of higher oil prices.
Benchmark oil futures ended higher last week as the violence in Egypt, strikes in Libya and the bombing of an oil pipeline raised fears of supply disruptions.
Kawasaki Heavy Industries added 1.1% after the Nikkei newspaper reported that the firm will partner with Rolls-Royce Holdings to develop a new aircraft engine.
In Sydney, BlueScope Steel tanked 15.5% after it warned that performance for the first half of 2014 would not be better than what it had in the second-half of 2013. BlueScope yearly loss narrowed to A$84.1m ($77.3m).
Telecoms giant Telstra fell 3.4% while Commonwealth Bank of Australia dropped 2.8% as both stocks traded without dividend rights. Woodside Petroleum moved up 1.5%.
Gold miner Kingsgate Consolidated rallied 12% on higher gold prices. Rivals Perseus Mining and Newcrest Mining added 9% and 1.5%.
Gold prices ended higher last week, as the precious metal's allure as an investment hedge increased after downbeat US economic data poured cold water on hopes of a quick economic recovery.
In Shanghai, real estate stocks traded lower even after government data released on Sunday showed that prices of new homes rose in 62 Chinese cities in July. Gemdale was down 3.2% while China Vanke shed 0.7% in Shenzhen.
In Hong Kong, real estate developer Sun Hung Kai Properties was down 0.7% while rival China Overseas Land and Investment shed 0.6% in Hong Kong.
Sino Land shed 0.5% while Energy major Cnooc gained 1.2%.
In Seoul, index heavyweight Samsung Electronics dropped 1%. Automaker Hyundai Motor lost 1.7% on news that its workers will continue striking. Wage talks with management failed.
© Copyright IBTimes 2023. All rights reserved.