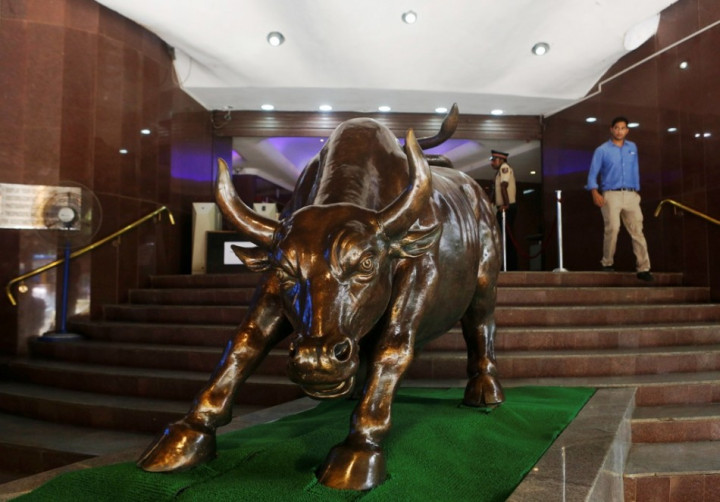 Asian markets outside Japan traded higher on 3 October after upbeat Chinese economic data overcame concerns about the continuing US budget deadlock.
However, trading volumes were thin as financial markets in South Korea and mainland China were shut for public holidays.
The Japanese Nikkei finished 0.09% lower or 13.24 points at 14,157.25.
Australia's S&P/ASX finished 0.37% higher or 19.30 points at 5,234.90.
Hong Kong's Hang Seng was trading 0.85% higher or 196.19 points to 23,180.67.
India's BSE Sensex was trading 1.58% higher or 309.07 points to 19,826.22.
Financial markets in South Korea were closed for the National Foundation Day holiday.
Financial markets in China will remain closed till 7 October for the Golden Week holidays.
In China, government data revealed that the services purchasing manager's index (PMI) jumped to a six-month high in September, suggesting that the Chinese economy was recovering, albeit at a slow pace. The September reading rose to 55.4, from 53.9 in August.
Earlier, data from two surveys showed that China's manufacturing sector hardly expanded in September, suggesting that a recent recovery in factory activity in the world's second largest economy could be losing momentum.
Elsewhere, the Bank of Japan (BoJ) kick-started a two-day policy meeting and is expected to announce its interest rate decision on 4 October.
"We believe policy makers will keep the current asset purchase target of about JPY 60-70tr unchanged. However, we expect them to upgrade their assessment of the economy for the second time in two months on the back of stronger economic data," Standard Chartered said in a note to clients.
Meanwhile, in the US, a meeting of the leaders of both houses of the US Congress failed to reach an agreement to end the government shutdown as President Barack Obama warned that the country might default on its debt if the shutdown due to the budget impasse is prolonged.
The world's largest economy will run out of cash to pay its bills on 17 October if the debt ceiling is not raised. The country's laws limit its borrowing to $16.7tn (£10.3tn, €12.3tn).
Market analysts say that the Treasury would probably not be able to pay its bills from October onwards.
In an interview with CNBC TV after the meeting, President Obama blamed the Republicans for putting the country onto a potential debt default course.
"It's important for them to recognise that this is going to have a profound impact on our economy and their bottom lines," Obama said.
"I am exasperated because this is entirely unnecessary."
Wall Street Down
On Wall Street, indices ended lower on 2 October amid growing concerns that the ongoing budget stalemate could prevent US lawmakers from raising the country's borrowing limit.
The Dow finished 58.56 points lower at 15,133.14, pulled down by United Tech and American Express. The S&P 500 closed 1.13 points lower at 1,693.87, while the Nasdaq ended 2.96 points lower at 3,815.02.
Company Stock Movements
In Tokyo, Tokyo Electric Power lost 4% on news that new radioactive water leaks had surfaced at its crippled and polluted Fukushima Daiichi nuclear power plant. Japanese lenders are ready to provide a $5.9bn lifeline to the troubled utility firm.
Japanese airline All Nippon Holdings shot up 2.3% on news that it had been allotted a major share of in demand flight slots at Tokyo's Haneda airport.
Rival Japan Airlines (JAL) lost 1.5% following the news.
In Mumbai, technology stocks were the top gainers. The sector is expected to log higher earnings owing to improving demand in the US and Europe, the top markets for India's outsourcing firms.
Tata Consultancy Services, the country's largest outsourcer of IT and consulting services, added 3.1%. Tech Mahindra shot up 3.2% while Infosys (INFY.NS) inched up 0.6%.
In Sydney, Australia's top builder Leighton Holdings, tanked almost 10% on news that the firm paid millions of dollars in bribes to bag contracts in Iraq.
Gold miner Newcrest Mining shot up 3% while rivals Kingsgate Consolidated and Evolution Mining added 2% on higher prices of spot gold.