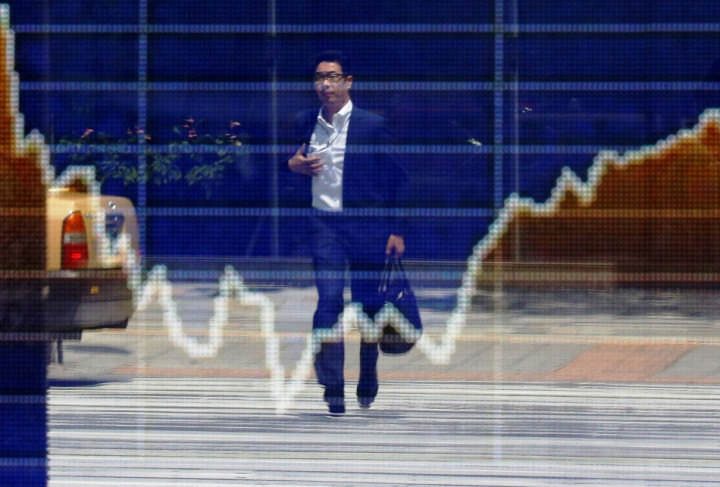 Asian markets witnessed choppy trade on 16 October amid the uncertainty surrounding the outcome of US Senate discussions due later in the day.
The Japanese Nikkei finished 0.18% higher or 25.60 points at 14,467.14.
Australia's S&P/ASX finished 0.07% higher or 3.80 points at 5,262.90.
South Korea's Kospi finished 0.31% lower or 6.35 points at 2,034.61.
The Shanghai Composite was trading 1.81% lower or 40.34 points to 2,193.07.
Hong Kong's Hang Seng was trading 0.75% lower or 175.85 points to 23,160.67.
Financial markets in India were closed for a public holiday.
In Washington, Senate Majority Leader Harry Reid and Minority Leader Mitch McConnell are expected to resume discussions on 16 October, in a bid to resolve the fiscal gridlock ahead of the 17 October debt-ceiling deadline.
The US government shutdown will enter its 16th day on 16 October and Congress has 24 hours to decide on whether to raise the US debt limit.
The world's largest economy could run out of cash to pay its bills after 17 Octoberif the government's borrowing limit is not raised. The country's laws limit its borrowing to $16.7tn (£10.4tn, €12.3tn).
There are various estimates as to when the US government could run out of money.
Economists at JPMorgan provided a precise date of 24 October. However, the Bipartisan Policy Center expects the date to be anywhere between 22 October and 1 November.
"With just hours to go until the [debt] deadline, nerves will be playing on traders' minds as they will continue to be on U.S. political headline watch. As a result, trade will be extremely choppy until we get an outcome," said Stan Shamu, market strategist at IG.
On 15 October, shortly after the US markets closed, Fitch Ratings placed its top rating on US debt under review for a possible downgrade. Fitch highlighted the ongoing budget impasse and debt-ceiling issue as the key reason for its move.
"Although Fitch continues to believe that the debt ceiling will be raised soon, the political brinkmanship and reduced financing flexibility could increase the risk of a US default," the agency said in a statement.
Wall Street Down
On Wall Street, indices ended lower on 15 October as fears surrounding the ongoing fiscal stalemate weighed on investor sentiment.
The Dow finished 133.25 points lower at 15,168.01. The S&P 500 closed 12.08 points lower at 1,698.06 while the Nasdaq ended 21.26 points lower at 3,794.01.
The CBOE Volatility Index (VIX), broadly regarded as the best gauge of fear in the market, jumped above 18.
Company Stock Movements
In Tokyo, telecoms major Softbank gained 2.1% on news the firm was in talks to buy a stake in US mobile-phone distributor Brightstar. On 15 October, Softbank announced it would acquire a majority stake in Finnish mobile-game maker Supercell for 150bn yen ($1.52bn).
Insurers gained after Typhoon Wipha dumped heavy rains on Tokyo on 15 October. Tokio Marine shot up 3% while NKSJ Holdings gained 2.7%.
In Shanghai, realty player Shanghai Shimao fell 5% while China Merchants Property lost 3%.
In Hong Kong, Hong Kong Television Network (HKTV) plunged 32% after local authorities rejected the company's application for a free-TV license. HKTV, which had invested in infrastructure to secure a license, said it would slash 320 jobs.
Rival PCCW's shares surged 10% on news that it had bagged free-TV licenses.
Retailer Li & Fung, a Wal-Mart supplier, lost 1.3%.
China Mobile and HSBC Holdings shed 0.6% each.
In Sydney, Whitehaven Coal gained over 4% on higher Brent crude oil prices.
Anglo-American miner Rio Tinto added 1.4%. On 15 October, the company announced that its thermal coal and iron ore production struck record highs in the third quarter.
Vaccine maker CSL gained over 1% after it announced a $905m share buyback. The firm lowered its profit growth guidance for the ongoing fiscal year to 7%, from 10% earlier.
In Seoul, KB Financial gained about 4% while Hyundai Motor added 1%.