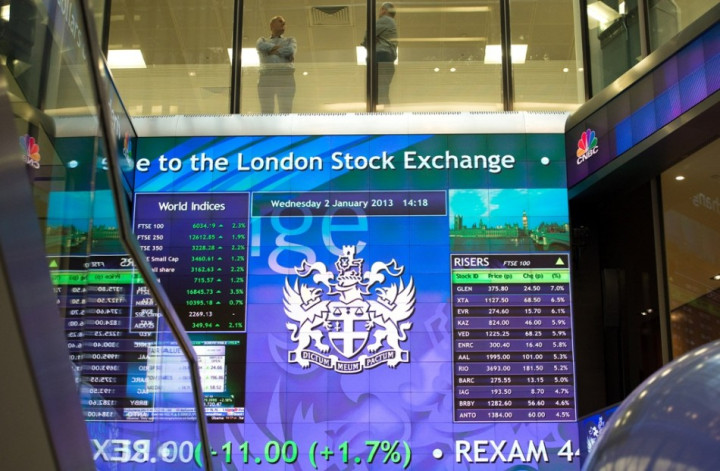 European markets outside the UK opened higher on 27 September, ahead of Eurozone data that could confirm that the single-currency bloc was on the path to economic recovery.
The Stoxx Europe 600 index opened 0.3% higher to 313.79.
Britain's FTSE 100 opened 0.1% lower.
Germany's DAX 30 and France's CAC 40 opened 0.1% higher.
Spain's IBEX 35 was down 0.19% in early trade.
Italy's FTSE MIB was down 0.28% in early trade.
Market players in Europe will be tracking ECB President Mario Draghi's speech during the day, alongside consumer confidence and business climate data coming in from the Eurozone's statistics office.
Elsewhere, France will put out second quarter GDP data alongside consumer spending figures for the month of August.
Meanwhile in Italy, Prime Minister Enrico Letta is expected to meet President Giorgio Napolitano to discuss the ongoing political crisis, which threatens to bring down his coalition government.
Convicted politician Silvio Berlusconi's center-right party could withdraw its support to the government if a 4 October parliamentary vote ousted Berlusconi from the upper.
The markets will also be tracking developments in Washington - the US government would shut down on 1 October, if the Republicans and the Democrats failed to reach a funding agreement in time..
Politicians in the US have until 30 September to decide on how to continue funding the US government, given that the US Treasury Department is expected to hit its $16.7tn borrowing ceiling limit around mid-October. Market analysts say that the Treasury would probably not be able to pay its bills from October onwards.
Republicans said they would agree to raising the government's debt ceiling if the roll out of the Affordable Care Act was delayed by a year.
In the UK, data from mortgage lender Nationwide showed that British house prices rose for the fifth consecutive month in September, with prices across regions, including in London, hitting all-time highs.
"Demand is being supported by an improvement in the availability and a reduction in the cost of credit, partly as a result of policy measures such as the Funding for Lending Scheme and Help to Buy," said Nationwide's chief economist Robert Gardner.
In Asia and the US
In Asia, the Japanese Nikkei finished 0.26% lower on 27 September. Australia's S&P/ASX closed 0.24% higher while South Korea's Kospi ended 0.22% higher.
Earlier in Asia, most markets traded higher following upbeat US jobs data. However, gains were capped by US budget fears.
In Japan, dull inflation data weighed on investor sentiment. Consumer prices in the world's third largest economy rose 0.8% on an annual basis in August, after increasing 0.7% in July.
Elsewhere, South Korea's current account surplus narrowed in August, logging its 19th consecutive monthly decline.
Meanwhile, Australian stocks moved up on 27 September, on the back of positive investor sentiments following signs of economic stabilisation in China, Australia's largest trading partner.
On Wall Street, indices logged modest gains on 26 September as market players took in developments in Washington alongside the latest economic data.
The Dow finished 55.04 points higher at 15,328.30.
The S&P 500 closed 5.90 points higher at 1,698.67, while the Nasdaq ended 26.33 points higher at 3,787.43.