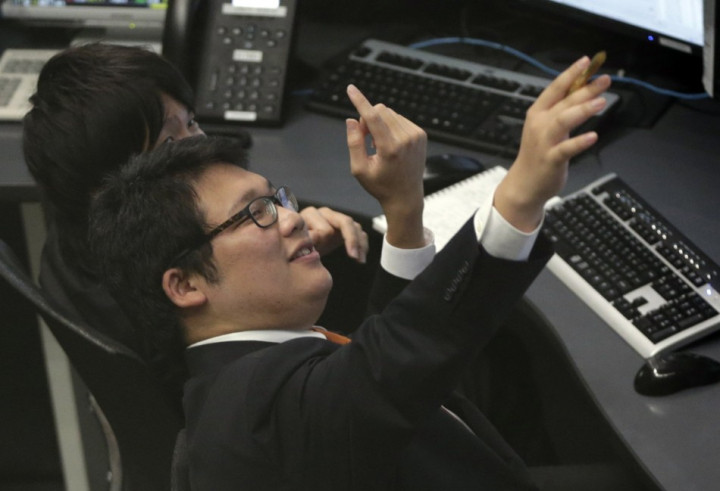 Asian markets outside Hong Kong traded higher as market players welcomed US President Barack Obama's decision to name Janet Yellen as the next chairman of the Federal Reserve.
The Japanese Nikkei finished 1.03% higher or 143.23 points at 14,037.84.
Australia's S&P/ASX finished 0.07% higher or 3.60 points at 5,153.00.
The Shanghai Composite was trading 0.55% higher or 12.09 points to 2210.29.
Hong Kong's Hang Seng was trading 0.56% lower or 130.43 points to 23,048.42
India's BSE Sensex was trading 0.43% higher or 86.55 points to 20,070.16.
Financial markets in South Korea were closed for a public holiday.
In the US, Obama is expected to introduce Yellen on 9 October, at a 1500 ET ceremony at the White House. Yellen serves as vice chairman of the world's most powerful central bank.
Obama's decision to nominate Yellen boosted investor sentiment across most Asian markets given that she is widely expected to continue outgoing Fed chief Ben Bernanke's pro-growth policies.
"The main thing is that Yellen is seen as having policies in line with Bernanke," said Stan Shamu, market strategist at trading firm IG.
"The news might temporarily take traders' minds off the budget stalemate and debt ceiling - certainly it does look like it will give markets a kicker today."
Earlier, speaking at a news conference Obama urged House Republicans to approve the US budget and raise the government's borrowing limit. The US government shutdown will enter its ninth day on 9 October.
Obama made it clear that discussions were possible only after the two disputes were solved.
"Let's stop the excuses. Let's take a vote in the House," Obama said at the White House on 8 October.
"I'm ready to head up to the Hill and try.
"I'll even spring for dinner again. But I'm not going to do it until the more extreme parts of the Republican Party stop forcing John Boehner to issue threats about our economy."
The world's largest economy will run out of cash to pay its bills on 17 October if the government's borrowing limit is not raised.
The country's laws limit its borrowing to $16.7tn (£10.4tn, €12.3tn).
Market analysts say that the Treasury would probably not be able to pay its bills if the ceiling is not raised.
Wall Street Down
On Wall Street, indices ended lower amid the ongoing political stalemate in Washington.
The Dow finished 159.71 points lower or 1.07% at 14,776.53.
The S&P 500 closed 20.67 points lower or 1.23% at 1,655.45 while the Nasdaq ended 75.54 points lower or 2% at 3,694.83.
The CBOE Volatility Index (VIX), broadly considered the best measure of fear in the market, jumped above 20. The index has shot up by about 23% in October alone.
Company Stock Movements
In Tokyo, Telecoms firm Softbank, an index heavyweight, lost over 5%.
Mizuho Financial, Japan's second-biggest bank, fell 1.9%. The bank revealed that a former top executive knew it was lending to crime-syndicate members three years ago.
Automaker Honda Motor inched up 0.5% on news that new car sales in China more than doubled year-on-year in September.
Industrial robots manufacturer Fanuc gained over 2% while automaker Toyota Motor shot up 3%.
In Shanghai, China Merchants Property lost 3% while Poly Real Estate dropped 2%.
Air China and Hainan Airlines shed 1% each despite news that traffic during the Golden Week holidays surpassed the 7.2 million estimate by China's aviation watchdog.
In Mumbai, State Bank of India lost 1.1% after JPMorgan downgraded the stock on asset quality concerns.
Mahindra and Mahindra fell 1% while Maruti Suzuki India lost 0.8%.
In Sydney, Atlas Iron surged 9% while rival Mount Gibson jumped nearly 6% despite lukewarm copper and gold prices.
Retailer HB Hi-Fi fell 3% while Harvey Norman finished 1% lower on news that a gauge of Australian consumer confidence slipped in October, pulling back from September's 33-month high.