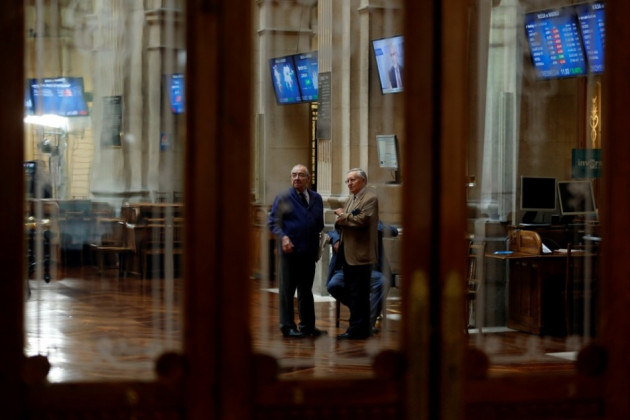 European markets outside Germany and France opened higher and witnessed mixed trade thereafter, ahead of US Federal Reserve deputy chief Janet Yellen's testimony to the US Senate.
The Stoxx Europe 600 index opened 0.2% higher to 323.18.
Britain's FTSE 100 opened 0.1% higher.
Germany's DAX 30 and France's CAC 40 opened 0.1% lower.
Spain's IBEX 35 was trading 0.55% lower after opening higher.
Italy's FTSE MIB was trading 0.06% lower after opening higher.
Janet Yellen, the nominee to chair the Fed, will be questioned by the US Senate Banking Committee on 14 November and her answers could provide clues as to the future pace of the Fed's massive bond-buying programme.
The American economy added 204,000 new jobs in October. The job numbers were boosted despite a 16-day partial shutdown of the government last month, which was caused by a political argument over raising the country's debt-limit. In addition, the report disclosed that 60,000 more jobs were created in September and August than previously reported.
The news is a positive for the world's biggest economy and could encourage the Fed to start trimming its asset-buying stimulus in December. The central bank will announce its monetary policy decision on 18 December.
Credit Agricole CIB said in a note to clients: "Stronger than expected US labour market report will increase fears of portfolio capital outflow from emerging markets, and will weigh on current account deficit currencies in particular."
In company news, Italian bank UniCredit will release its earnings update during the day.
Kabel Deutschland and South African platinum miner Lonmin have released their earnings updates.
Earlier, in Germany, Chancellor Angela Merkel's party and the Social Democrats (SPD) reached an agreement on the contours of a European banking union. The terms of the deal stated that a body attached to European finance ministers, not the European Commission, would decide when to shut ailing banks.

Asian Markets Mixed
In Asia, the Japanese Nikkei finished 1.30% higher while the Shanghai Composite finished 0.16% higher on 11 November
South Korea's Kospi finished 0.38% lower while Australia's S&P/ASX finished 0.25% lower.
Earlier, markets witnessed mixed trade on the back of Fed QE taper concerns.
China put out upbeat economic data over the weekend. Official reports showed that industrial production rose 10.3% year-on-year in October, beating expectations. Industrial production rose 10.2% in September.
Exports grew 5.6% year-on-year in October, thanks to a higher demand from the US and Europe. Inflation inched up to 3.2% from 3.1%, and remains within the government's comfort range.
Together, the three sets of data could prompt Beijing to further reform the world's second largest economy. The ongoing four-day closed-door meeting of senior Communist Party officials will end on 12 November. China's new leaders could make public the nation's economic agenda for the next decade this week.
Elsewhere, the benchmark Philippines index finished at its lowest level in over a month as news reports revealed that super typhoon Haiyan killed some 10,000 people in the central Philippine province of Leyte alone over the weekend. The category-5 storm which barrelled through the Philippines was one of the most powerful cyclones ever to hit the landmass.
Asian markets finished the week ended 9 November lower, with Australia's ASX leading the pack and both India's Sensex and South Korea's Kospi trailing.
Wall Street Up
On Wall Street, indices ended higher on 8 November as investors digest October's labour market data.
Up 0.9 percent from last Friday's finish, and rising for a fifth consecutive week,
The Dow finished167.80 points higher or 1.1% at 15,761.78, a new record for the benchmark index.
The S&P 500 closed 23.46 points higher or 1.3% at 1,770.61, just two points shy of its record close.
The Nasdaq ended 61.9 points higher, or 1.6% at 3,919.23.
For the week ended 9 November, the Dow finished 0.9% higher while the S&P 500 closed 0.5% higher. However, the Nasdaq shed 0.1%.
"The jobs report was better than expected in terms of the absolute number, but unfortunately, similar to recent reports in terms of quality. Some of the negative components include a decreasing participation rate and a general lower quality bias to the types of jobs that were being made," said Lawrence Creatura, portfolio manager at Federated Investors.
"Many consider jobs in the leisure and retail components of the economy as lower quality, and those types of jobs were a very significant portion of the gain," Creatura told CNBC.