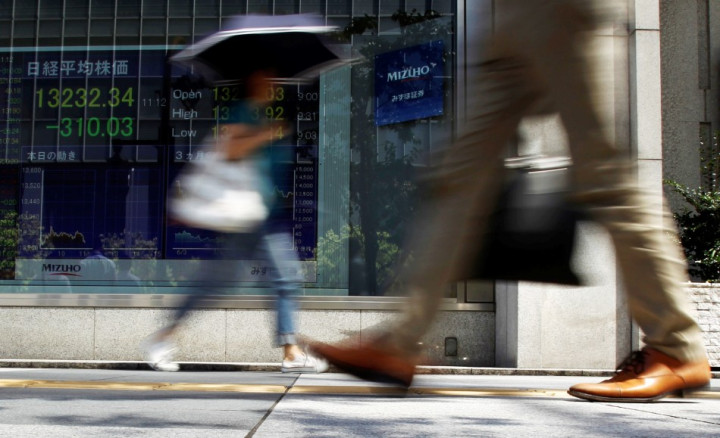 Most Asian markets traded higher on 27 September after US jobs data underscored the fact that the world's leading economy is recovering.
However, gains were capped by US budget fears.
The Japanese Nikkei finished 0.26% lower or 39.05 points at 14,760.07.
Australia's S&P/ASX finished 0.24% higher or 12.60 points at 5,307.10.
South Korea's Kospi finished 0.22% higher or 4.48 points at 2,011.80.
India's BSE Sensex was trading 0.46% lower or 90.98 points to 19,802.87.
Hong Kong's Hang Seng was trading 0.70% higher or 161.39 points to 23,286.42.
The Shanghai Composite was trading 0.21% higher or 4.62 points to 2,160.43.
In the US, Labour Department data showed that the number of new claims for government-sponsored unemployment benefits fell by 5,000 to 305,000 last week. Analysts had expected jobless claims to increase to 325,000.
Meanwhile, Politicians in the US have until 30 September to decide on how to continue funding the US government, given that the US Treasury Department is expected to hit its $16.7tn borrowing ceiling limit around mid-October. Market analysts say that the Treasury would probably not be able to pay its bills from October onwards.
The US government would shut down on 1 October, if the Republicans and the Democrats failed to reach a funding agreement in time.
In Japan, dull inflation data weighed on investor sentiment. Consumer prices in the world's third largest economy rose 0.8% on an annual basis in August, after increasing 0.7% in July.
Elsewhere, South Korea's current account surplus narrowed in August, logging its 19th consecutive monthly decline.
Meanwhile, Australian stocks moved up on 27 September, on the back of positive investor sentiments following signs of economic stabilisation in China, Australia's largest trading partner.
Wall Street Up
On Wall Street, indices logged modest gains on 26 September as market players took in developments in Washington alongside the latest economic data.
The Dow finished 55.04 points higher at 15,328.30.
The S&P 500 closed 5.90 points higher at 1,698.67, while the Nasdaq ended 26.33 points higher at 3,787.43.
Company Stock Movements
In Tokyo, utility firm Tokyo Electric Power jumped about 8% on news that it had sought government permission to restart the Kashiwazaki Kariwa nuclear power plant, the world's largest facility.
Panasonic rose 1% on a Nikkei newspaper report that the firm would sell an 80% stake in its healthcare business to US-based private equity firm KKR for about $1.5bn.
Electronics and ceramics manufacturer Kyocera lost 1.8% while Tokyo Electron shed 0.4%.
In Shanghai, CTS International Logistics, Shanghai International Port and Shanghai Material Trading all tanked 9% each.
Some logistics, construction and financial stocks had rallied sharply in recent weeks, ahead of the official opening of the Shanghai free trade zone (FTZ). On 27 September, these stocks were pulled down after investors took profits.
With the planned FTZ set to open next week, analyst opinion on the zone's ability to boost the world's second largest economy remains divided.
Poly Real Estate and China Merchants Property lost about 2% each after China's Ministry of Land and Resources urged local governments to release more land for residential real estate development, to bring down property prices.
In Mumbai, ICICI Bank dropped 2% while HDFC Bank lost 1.7%.
In Sydney, iron-ore miner Fortescue Metals added 1% while Anglo-American miner Rio Tinto gained 0.5%. Commonwealth Bank of Australia inched up 0.3%.
Gold miner Newcrest Mining dropped 3% on lower gold prices.
Westpac pared early gains and shed 0.5% on news that the firm was close to acquiring Lloyds' Australian business, which is worth about $10bn.
In Seoul, Daewoo Shipbuilding & Marine Engineering and rival Hyundai Heavy Industries gained 3% each.