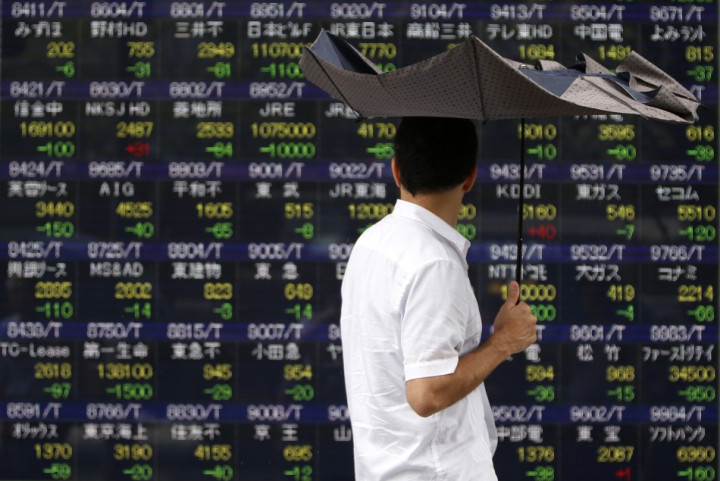 Asian markets were choppy on Friday as market participants exercised caution amid concerns surrounding the stability of emerging market economies and the prospect of US military intervention in Syria, which reports suggest could be delayed.
The Japanese Nikkei finished 0.53% lower or 70.85 points at 13,388.86.
Australia's S&P/ASX finished 0.84% higher or 42.60 points at 5,135.00.
South Korea's Kospi finished 0.99% higher or 18.82 points at 1,926.36.
Hong Kong's Hang Seng was trading 0.16% lower or 34.71 points to 21,670.07.
The Shanghai Composite was trading 0.02% lower or 0.41 points to 2,096.81.
David Cameron lost the parliamentary vote seeking Britain joining a US-led strike against Syrian President Bashar al-Assad's regime following his forces' alleged use of chemical weapons. Cameron's coalition government was defeated by 285 to 272.
The prime minister said the UK will "act accordingly" following the rejection by parliamentarians of a military strike.
When pressed on whether Britain will approve military action through other ways, Cameron said: "I can give that assurance. I strongly believe in the need for a tough response to the use of chemical weapons, but I also believe in respecting the will of this House of Commons."
He added: "It is very clear tonight that while the House has not passed a motion, it is clear to me that the British parliament, reflecting the views of the British people, does not want to see British military action - I get that and the government will act accordingly."
A stunned US said it would "continue to consult" with the UK as it remains "one of [its] closest allies".
The US and its allies await UN weapons inspectors to report back on their findings from the work being carried out in Syria.
Meanwhile, G20 heads of governments are to meet in St.Petersburg over the 5-6 September and the event could influence the timing of potential air strikes in Syria.
Wall Street Up
On Wall Street, indices ended slightly higher on Thursday after government data revealed that the US economy grew much faster than thought during the second quarter.
The Dow finished 16.44 points higher at 14,840.95. The S&P 500 closed 3.21 points higher at 1,638.17 while the Nasdaq ended 26.95 points higher at 3,620.30.
According to a second estimate of US GDP data by the Department of Commerce's Bureau of Economic Analysis (BEA), growth in the world's largest economy was 2.5% on an annual basis in the three months to the end of June, up from its initial estimate of 1.7%.
The latest update brings closer the prospect of a much-feared tapering of the Federal Reserve's $85bn a month bond-buying stimulus programme.
Earlier in the week, China warned the US Federal Reserve that it must contemplate the timing and the pace of its planned stimulus taper to prevent any detrimental knock-on effect to emerging market economies.
Company Stock Movements
In Tokyo, energy major Inpex lost 2.2% while automaker Honda Motor reversed early gains and shed 0.6%.
Consumer electronics major Panasonic gained 2.6% after it announced that it would dole out an interim dividend. The firm did not pay a dividend in the previous year.
In Hong Kong, banking stocks were pulled down by fears of higher bad loans in the coming months.
Bank of China lost 1.2% while Industrial and Commercial Bank of China was down 1%
Oil and gas explorer Cnooc was down 0.8%
In Shanghai, Zijin Mining Group was down 2.6% while PetroChina shed 0.9%
In Sydney, gold miner Evolution Mining shot up 3.6% after it announced that it still plans to dole out a dividend. The company reported a net loss of A$307.4m in the year to June, compared to a A$31.5m profit in the previous year.
Airline Virgin Australia fell 2.5% after it reported a A$98.1m ($87.6m) net loss in the year to June, compared to $22.8m profit in the previous year. The company citied high fuel costs and "a very difficult economic environment and intense competition" as the reasons for its poor performance.
Anglo-Australian miner Rio Tinto shed 0.7% following news of delayed production from an African mine. Exports from the Simandou iron-ore project, in Guinea, could begin by the end of 2018, reported The Australian.
In Seoul, index heavyweight Samsung Electronics gained 1% on news that South Korea had approached the World Trade Organisation to protest about US punitive damages on the firm's washing machines.