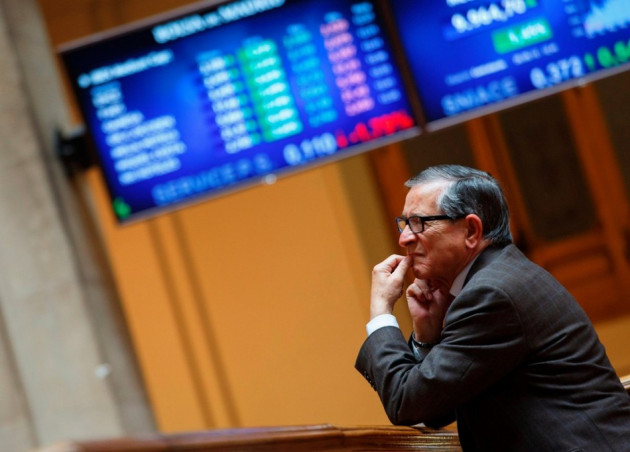 European markets opened higher on 4 December and traded higher with markets outside Spain dropping thereafter, following news the European Commission would fine eight banks a combined total of €1.71bn for rigging the key benchmark interest rates Libor and Euribor.
The Stoxx Europe 600 index opened 0.1% higher to 319.41.
Britain's FTSE 100 opened 0.1% higher.
Germany's DAX 30 and France's CAC 40 opened 0.2% higher.
Spain's IBEX 35 was trading 0.11% higher after opening higher.
Italy's FTSE MIB was trading 0.37% lower after opening higher.
The European Union proposes to hit some of the world's biggest banks with record fines related to the manipulation of the interbank lending rates in London, Tokyo, and the Euro area. The announcement came in at 1030GMT.
Market players await US nonfarm payrolls data, due out on 6 December. Economists polled by Reuters forecast an increase of 180,000 jobs for November, down from 204,000 in October.
They also wait the European Central Bank's (ECB) economic forecasts, expected on 5 December.
The US jobs report is expected to influence the US Federal Reserve's QE taper decision. The Fed will announce its monetary policy decision on 18 December.
The Eurozone's statistics office left its second estimate for the Eurozone's third-quarter GDP unchanged at (minus) 0.4%.
Earlier, services purchasing manager's index (PMI) data released in the UK, Germany, France, and Italy painted a mixed picture.
Service sector activity in the UK expanded at a slower rate than expected with the seasonally adjusted Markit/CIPS Services PMI dropping to 60.0 in November from a 62.5 in October.
Figures for Germany were above expectations at 55.7, as was the Eurozone-wide number.
Figures for France's were below estimates, showing a contraction of 48.0 while those for Italy were also below initial estimates at 47.2.
In company news, Standard Chartered's stock was trading 6.18% lower at 09:30GMT after the lender warned investors about a likely drop in operating profit, a first in a decade for the bank.
Britain largest grocery chain Tesco's stock was trading 0.61% higher at 09:29GMT after it reported a 1.5% drop in UK sales for the third-quarter.
In Asia
The Shanghai Composite finished 1.31% higher while Australia's S&P/ASX finished 0.34% higher.
The Japanese Nikkei finished 2.17% lower, South Korea's Kospi finished 1.12% lower and Hong Kong's Hang Seng finished 0.76% lower.
Bangkok's SET finished 0.52% lower.
Mumbai's BSE Sensex was trading 0.60% lower
In Bangkok, Prime Minister Yingluck Shinawatra appointed an open academic forum to find a way out of the political stalemate, suggesting that the recent anti-government protests may soon come to an end.
Yingluck assigned Deputy Prime Minister Phongthep Thepkanjana and Justice Minister Chaikasem Nitisiri to spearhead the forum which will comprise academics, industrialists, opposition groups and others to discuss the ongoing situation.
In Seoul, the benchmark index traded lower even after central bank data showed that the nation's foreign reserves shot up to $345.01bn at the end of November, up $1.79bn dollars from October.
In Sydney, the benchmark index finished slightly higher despite downbeat growth data.
Australia's GDP rose 0.6% in the July-September quarter from the preceding quarter, when the economy expanded by 0.7%. Analysts' had forecast a 0.8% rate of expansion for the third-quarter.
Japanese equities were pulled down after the yen strengthened against the US dollar.
In Shanghai, the benchmark index rose to its highest levels since mid-September on news that Beijing would roll out financial liberalisation reforms in the Shanghai free trade zone (FTZ) within three months.
PBOC Shanghai chief Zhang Xin said reforms would be unveiled within three months, appraised after six months and formal policies would be fully implemented within a year.
"Financial reform in the pilot zone is not in the past tense, nor the future tense, but the present tense," Zhang said in a statement posted on the bank's Shanghai branch website.
Wall Street
On Wall Street, indices ended lower on 3 December as investors contemplated as to when the Fed would trim its asset buys.
The Dow finished 94.15 points lower or 0.6% at 15914.62.
The S&P 500 ended 5.75 points lower or 0.3% at 1,795.15.
The Nasdaqclosed 8.06 points lower or 0.2% at 4,037.20.
"The thought that has emerged since last week is perhaps the numbers are so good the Fed will taper a little sooner," said JJ Kinahan, chief strategist at TD Ameritrade.
"Plus, we've been at all-time highs and people want to protect themselves as we head into year-end," Kinahan told CNBC.