European Markets Climb Despite Rising Federal Reserve QE Taper Fears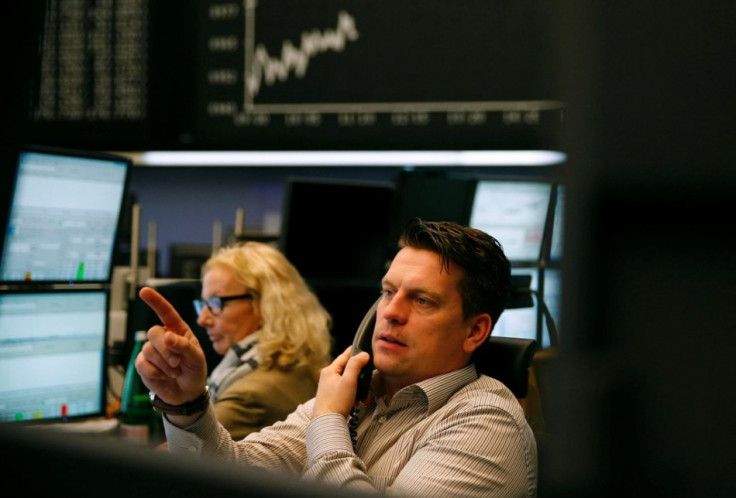 European markets witnessed mixed traded in the opening minutes on 13 December, and traded higher thereafter, amid rising US Federal Reserve QE taper concerns.
The Stoxx Europe 600 index opened 0.1% lower to 310.05.
Britain's FTSE 100 and France's CAC 40 opened 0.1% lower.
Germany's DAX opened flat.
Spain's IBEX 35 was trading 0.59% higher after opening flat.
Italy's FTSE MIB was trading 0.52% higher after opening flat.
Government data in the US showed that retail sales rose a seasonally adjusted 0.7% in November, over October, their highest increase since June.
Upbeat US retail sales data fuelled speculation that the Fed could trim its $85bn-a-month bond buying programme as early as next week.
The Fed will announce its monetary policy decision on 18 December.
Credit Agricole CIB: "Market tone remains subdued ahead of the all-important FOMC meeting next week as solid November retail sales number reinforced recent trend of strong US data".
"This story of strengthening US growth, cautious sentiment and profit taking has been the dominant theme over past days and we don't expect any major change ahead of the FOMC meeting, particularly given a light slate of calendar ahead", the French bank added.
In company news, London-based insurer Legal & General is eyeing a purchase of troubled Co-operative Group's insurance arm. The insurer has hired in US investment bank Goldman Sachs to advise on a potential bid, an anonymous source close to the process told Reuters.
Meanwhile, a research report said that 139 financial institutions, including Royal Bank of Scotland, UBS, Deutsche Bank, and Goldman Sachs, had invested billions of dollars in cluster munition producers since June 2010.
RSA Insurance Group's stock was trading 16.60% lower at 09:01GMT in London after the firm announced that chief executive Simon Lee had resigned and that troubles at its Irish arm would negatively affect 2013 earnings.
Automaker Peugeot SA's stock was trading 10.39% lower at 08:58GMT in Paris after America's General Motors announced it would sell its entire stake in the French firm.
In other news, Ireland would exit its bailout programme this weekend. Finance Minister Michael Noonan told CNBC on 12 December that there was a sense of achievement that the economic recovery had gathered steam.
In Asia
Australia's S&P/ASX finished 0.71% higher on 13 December, while the Japanese Nikkei finished 0.40% higher.
The Shanghai Composite finished 0.31% lower and South Korea's Kospi finished 0.26% lower.
Markets witnessed mixed trade as speculation about the timing of the expected reduction in the US Federal Reserve's bond buying stimulus weighed on investor sentiment.
In Tokyo, exporters' stocks gained after the yen dropped to near five-year lows against both the euro and the US dollar. News that Japan's cabinet approved $53bn in fresh stimulus, aimed at mitigating the blow of a sales tax-hike next April, also supported market sentiment.
In India, equities were pulled down by disappointing economic data. Industrial output shrunk 1.8% on an annual basis in October, a first in four months, suggesting that the economic recovery in Asia's third-largest economy continues to remain weak. Meanwhile, inflation data showed that prices rose 11.2% in November, the highest rate of increase in two years.
Credit Agricole CIB said in a note to clients: "The INR should come under further downward pressure in coming days after very negative data out of India late last night. [Industrial output data] highlights the weakness of domestic demand and output and we expect growth to continue disappointing in quarters to come.
"[The inflation data] triggered RBI [Governor Raghuram] Rajan's comment that he was 'very uncomfortable' about the price development, a harsher term than what he used regarding his disappointment over the output data".
"After such print and statement, [Rajan] now has to hike rates next week - hurting growth outlook, or loose credibility, both of which would be INR-negative. The government is bound to pressure him not to do so given the unfavourable growth impact ahead of H114 elections, and we expect the INR to keep falling", the French bank added.
On Wall Street
On Wall Street, indices ended lower on 12 December as market players awaited clarity on the future pace of the Fed's asset buys.
The Dow finished 104.10 points, or 0.7%, lower at 15,739.43.
The S&P 500 ended 6.72 points, or 0.4%, lower at 1,775.50.
The Nasdaq closed 5.41 points, or 0.1%, lower at 3,998.40.
Market participants largely dismissed news that the US House of Representatives had passed the bipartisan two-year budget agreement.
The budget agreement now needs Senate approval, which is expected next week.
© Copyright IBTimes 2023. All rights reserved.