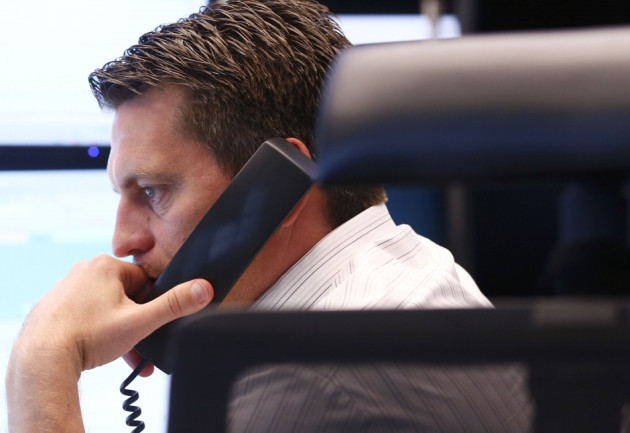 European markets opened higher on 9 December, and markets witnessed mixed trade thereafter, after both China and the US put out strong economic data.
The Stoxx Europe 600 index opened 0.2% higher to 317.23.
Britain's FTSE 100 opened 0.2% higher.
France's CAC 40 opened 0.1% higher.
Germany's DAX 30 opened 0.5% higher.
Spain's IBEX 35 was trading 0.59% higher after opening higher.
Italy's FTSE MIB was trading 0.53% higher after opening higher.
In China, government data showed that consumer price inflation slowed down in November, in contrast to analysts' expectations, suggesting that the nation's economic recovery is gaining momentum.
The yearly decline was primarily because of a drop in food prices, according to the NBS. Food inflation declined to 5.9% in November from 6.5% in October.
Earlier, data from the US showed that the number of out of work Americans dropped to its level in five years in October, after some federal workers, who were counted as jobless in October, returned to work following the 16-day partial shutdown of the government.
The US Labor Department revealed that the nation's jobless rate fell to 7% after nonfarm payrolls increased by 203,000 new jobs in October, beating expectations.
Market participants now fear that strong US data could force the US Federal Reserve to trim its $85bn-a-month bond-buying stimulus sooner than expected. The Fed will announce its monetary policy decision on 18 December.
Market players in Europe will be tracking provisional third-quarter GDP data coming in from Greece, due out at 10:00GMT.
Data from Germany showed that nation's trade surplus fell in October. German imports rose 2.9% on the month and exports inched up 0.2%, on a seasonally adjusted basis. That resulted in a trade surplus of €16.8bn (£14.1bn, $23bn) for October, which was below the market expected surplus of €18.0bn and September's slightly downwardly revised €18.7bn.
Germany's inclination to spend saw import-growth surpass that of exports, a welcome signal for struggling Eurozone economies eager to sell more to Europe's strongest economy.
Credit Agricole CIB said in a note to clients: "Markets are still reeling from the ECB's less dovish than expected statement last week as reflected in the subsequent strength of the EUR. Data this week in the Eurozone will be encouraging, with Eurozone industrial production set to rebound".
"This will be echoed in the UK, with hard data reflecting the strength in manufacturing surveys".
"In Japan [8 December's] data slate has been disappointing, with Q3 revised lower and the current account registering a deficit for the second straight month in October. Finally, the RBNZ will hold a policy rate meeting this week although no change is expected from the central bank as recent mortgage restrictions will have reduced the need to tighten policy", Credit Agricole added.
In Asia
The Japanese Nikkei finished 2.29% higher on 9 December. South Korea's Kospi finished 1.01% higher while the Shanghai Composite finished 0.05% higher.
However, Australia's S&P/ASX ended 0.80% lower.
Markets outside Australia traded higher, with the Japanese Nikkei leading the pack, on the back of upbeat economic data from the world's two largest economies.
In Australia, a profit warning from the nation's largest insurer, QBE Insurance Group, pulled down stocks in Sydney.
In Thailand, Prime Minister Yingluck Shinawatra dissolved parliament and called for fresh elections following relentless anti-government protests across the southeast Asian nation. However, anti-government protesters plan marches to press for establishing an unelected "People's Council" to run the interim the government.
Meanwhile, in India, the benchmark BSE Sensex struck a record high on 9 December and the rupee hit a four-month high after the main opposition party, the Bharatiya Janata Party (BJP), perceived to be more business friendly, swept three out of four key state elections.
Nomura said in a note to clients: "The BJP is considered more right-of-center, pro-business and reform-oriented. The fact that runaway spending by the ruling party has not won any votes could be taken as a very positive signal by the markets in terms of voter preference for the kind of policy favoured by the electorate".
Asian stock markets outside Shanghai and Mumbai finished the week ended 7 December lower. India's BSE Sensex led the pack and South Korea's Kospi trailed.
Wall Street Up
On Wall Street, indices ended higher on 6 December following upbeat US jobs data.
The Dow finished 198.69 points higher or 1.3% at 16,020.20.
The S&P 500 ended 20.06 points higher or 1.12% at 1,805.09.
The Nasdaq closed 29.36 points or 0.7% at 4,062.52.
For the week ended 7 December, the Dow finished 0.4% lower, the S&P500 ended 0.04% lower and the Nasdaq closed 0.06% higher.