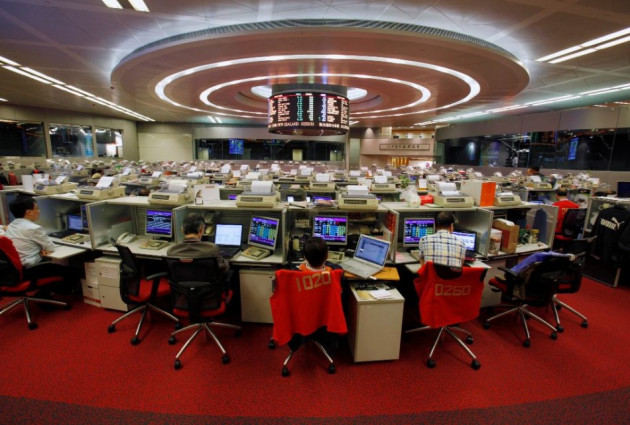 Asian stock markets finished the week lower, with Australia's ASX leading the pack and both India's Sensex and South Korea's Kospi trailing.
Markets outside Shanghai reversed early gains at the beginning of the week, ahead of a crucial Communist Party meeting in China.
Meanwhile, data from China showed that the nation's services sector expanded at its fastest pace in 13 months in October, to 56.3 from 55.4 in September.
The October reading, which suggests that the world's second largest economy is stabilising, had propped up the markets in early trading on 4 November.
Market players largely dismissed Dallas Federal Reserve president Richard Fisher's comments on 4 November. Speaking in Sydney, Fisher said that the US central bank's $85bn bond-buying stimulus would not increase or extend indefinitely.
Markets witnessed mixed trade on 5 November, ahead of the release of key economic data from the US and ahead of central bank meetings in Europe.
In China, premier Li Keqiang said his nation's economy needed to sustain a minimum economic growth rate of 7.2% if it wanted to ensure a stable job market.
China's benchmark index rebounded from a one-week low hit in intra-day trade, following Li's comment.
Earlier, in Australia, the country's central bank left its cash rate unchanged at a record low 2.5%.
The Reserve Bank of Australia (RBA) said the Australian dollar still remains "uncomfortably high" and that a lower currency is need for balanced economic growth.
In addition, the RBA said uncertainty still surrounded the non-mining sectors of the economy.
In company news, HSBC rose 1.4%. On 4 November the Asia-focused bank reported a 10% increase in third quarter underlying profit before tax to $5.06bn. HSBC also said it is cooperating with Britain's Financial Conduct Authority and other global regulators over a raft of investigations into potential manipulation of currency markets.
Markets outside Japan and Australia traded lower on 6 November as investors exercised caution, ahead of major events later in the week.
In company news, Acer, the world's fourth-largest PC maker by shipments, dropped 6.9% after it reported a higher-than-expected third-quarter net loss, amid rising inventories and the falling value of its acquisitions.
Japan's Mitsubishi Motors moved up 1.8% on news that it will collaborate with rival Nissan Motor and France's Renault, in a bid to sell more cars in North America and across emerging markets.
Markets traded lower on 7 November as investors refrained from making large bets ahead of the release of US growth and labour market data.
In Australia, data showed that the nation created a meagre 1,100 jobs in October, way below expectations of 10,000 job additions. The news weighed on the benchmark index and the Australian dollar, which shed 0.4% against the US dollar.
In company news, Australian mining services provider Ausdrill's shares crashed 29%. The company revealed that it expected its full-year profit, in the year to June, to drop by some 61% owing to lower spending by the mining industry.
Samsung Electronics lost over 1%, extending the previous day's 2.29% drop. Earlier, the South Korean firm stated its ambition to overthrow technology giant Apple in the tablets market at an analyst briefing in Seoul, convened to boost its wilting stock price.
Markets traded lower on 8 November as a downbeat handover from Wall Street overshadowed positive economic data from China and the US.
In Japan, equities finished at a one-month low, partly because of weak domestic earnings reports.
In South Korea, equities finished at a two-month low, pulled down by technology firms.
Government data from China showed that export growth bounced back in October. Exports from the world's second largest economy increased 5.6% year-on-year in October, beating estimates. Exports had dropped 0.3% in September.
However positive China data failed to boost investor sentiment in Asia, which woke up to fears of a probable early reduction in the Fed's asset-buying stimulus, on the back of upbeat US growth data.
Government data from the US showed that the world's largest economy expanded by 2.8% in the July-September third-quarter, higher than the second-quarter's 2.5% growth rate and way above forecasts of a 2% expansion.
In company news, Jaguar-Land Rover (JLR) parent Tata Motors rose 2.2% ahead of the release of its earnings update.
Market Movements
Australia's S&P/ASX 200 finished 0.44% lower at 5,400.70.
The Japanese Nikkei index ended 1.51% lower at 14,086.80.
The Shanghai Composite index ended 2.33% lower at 2,106.13.
Hong Kong's Hang Seng ended 2.47% lower at 22,744.39.
India's S&P BSE Sensex finished 2.50% lower at 20,666.15.
South Korea's Kospi finished 2.50% lower at 1,984.87.
The Week Ahead
China's Communist Party has kicked-off a four-day closed-door meeting of senior party officials, during which China's new leaders are expected to detail the nation's economic agenda for the next decade.
The annual meeting is generally considered the main political event in China, in years not marked by a change in the Party leadership.
The People's Bank of China will put out new loans data for the month of October.
The Chinese government will release foreign direct investment (FDI) data for the month of October
Japan will put out third-quarter GDP data.
The Bank of Japan will release lending data for the month of October.
The Japanese government will also put out machine tool orders and consumer confidence data for the month of October, alongside trade balance and machinery orders data for the month of September.
National Australia Bank will put out the results of its October business confidence survey, while Westpack will release the results of its forward-looking consumer confidence poll.
Australia will release home loans data for the month of September.
New Zealand will put out retail sales data for the month of October.