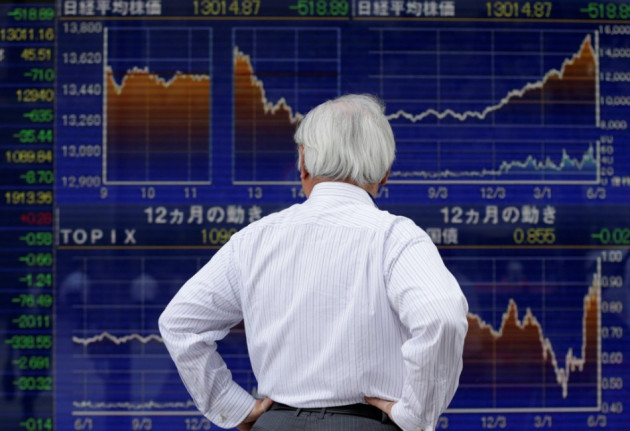 Asian markets outside Australia traded lower on 25 October after concerns surrounding a repeat of June's credit crisis in China fuelled a sell-off.
The Japanese Nikkei finished 2.75% lower or 398.22 points at 14,088.19.
Australia's S&P/ASX finished 0.25% higher or 13.40 points at 5,386.30.
South Korea's Kospi finished 0.60% lower or 12.30 points at 2,034.39.
The Shanghai Composite was trading 1.48% lower or 32.54 points to 2,132.24.
Hong Kong's Hang Seng was trading 0.55% lower or 124.46 points to 22,706.18.
India's BSE Sensex was trading 0.17% lower or 36.03 points to 20,689.30.
China has reported a sharp increase in money-market rates. The 7-day repo rate, the interest rate at which the central bank repurchases government securities and a key measure of liquidity, opened at 4.8% on 25 October and followed close to a 7% overnight increase.
The People's Bank of China (PBOC) tightened liquidity by withdrawing cash from the system on 24 October.
The developments, fuelled concerns of a potential liquidity crunch in the world's second-largest economy which weighed down on Asian stocks on 25 October.
Chris Weston, market strategist at IG, said: "Asia is being dictated by China and moves in money markets and equities. Money markets could feasibly continue to move higher in the short term, but I've full faith the PBOC will have an upper limit in mind where it will provide the necessary liquidity to interbank markets, however for now the markets seem more sanguine ahead of the weekend."
Standard Chartered said in a note to clients: "We expect Chinese policy makers to keep benchmark interest rates unchanged in 2013-14. That said, since we expect monthly CPI inflation to breach 3.3% y/y from Q2-2014, we think the PBoC will likely use the opportunity to push interest-rate reform."
"We expect the central bank to lift the ceiling on the term-deposit savings rate from 10% to 20% or 30% above the benchmark rate in H1-2014. Given the strong competition for deposits, this would lead to many banks, particularly smaller institutions, raising deposit rates to the new level," it said.
In South Korea, central bank data showed that the country's real GDP increased 1.1% in the July-September quarter, against a 1.1% increase in the preceding quarter.
Elsewhere, Canada's largest dairy processor Saputo is back in the lead to acquire dairy processor Warrnambool Cheese & Butter (WCB).
Saputo's all-cash offer of $8.00 per share, a 50c increase on the bid from Murray Goulburn, valued at up to $8.56 including $8.00 cash and WCB's existing franking credits.
"This fight was always expected to continue, and the great news is that neither Bega Cheese (BGA) nor Murray Goulburn have shown a willingness to walk away. This latest bid from Saputo is the least conditional of all three bidders," Shannon Rivkin, Director, Rivkin Securities said in a note to clients.
"It remains unclear whether BGA and Murray Goulburn will sell to Saputo if they lose the race, so this situation may get more interesting," Rivkin added.
Wall Street Up
On Wall Street, indices ended higher as investors cheered upbeat economic and earnings data from China.
The Dow finished 95.88 points higher at 15,509.21.
The S&P 500 closed 5.69 points higher at 1,752.07.
The Nasdaq ended 21.89 points higher at 3,928.96.
The CBOE Volatility Index (VIX), broadly regarded as the best gauge of fear in the market, hovered at 13.
"Keep in mind this is the kind of market where buying begets buying and selling begets selling," Elliot Spar, market strategist at Stifel Nicolaus said in a note to clients.
"It's all part of the momentum game. It could get exacerbated to the downside by those money managers that don't want to ruin a great year in the last two months," Spar added.
Company Stock Movements
In Tokyo, camera maker Canon was down 1.1% after it lowered its full-year net profit outlook to 240bn yen ($2.47bn) from 260bn previously.
Apple-supplier Murata Manufacturing jumped 6% after it increased its operating profit outlook.
Mitsubishi Motors gained 1.8% after the firm raised its profit forecast.
In Shanghai, liquor maker Kweichow Moutai fell 4.7%.
Industrial Bank added 3% while rival Pudong Development Bank gained 1%.
In Hong Kong, Chinese auto maker Great Wall Motor lost 5.8% after it reported weaker profit margins for the third quarter.
In Mumbai, telecoms firm Idea Cellular lost 2.5% at 10:51 am IST after it reported lower voice traffic growth for the July-September quarter.
Larger rival Bharti Airtel was down 1.5% on the news.
In Sydney, insurer IAG fell 1.4% after it revealed that it had received over 600 claims from bushfires in New South Wales.
WCB added 3.5% after Canada's Saputo raised its buyout offer for the company.
Gold miner Kingsgate Consolidated added 3% on higher bullion prices.
In Seoul, index heavyweight Samsung Electronics shed 1%. The company's third quarter net profit rose 25.6% to a record 8.24tr won ($7.76bn) from 6.56tr won a year ago.
Posco, the world's fifth-largest steelmaker, lost 1% on news that its third quarter operating profit dropped to its lowest level so far this year.
LG Electronics fell 3.7%. On 24 October the company reported a 34% drop in net profit for the third quarter of 2013.