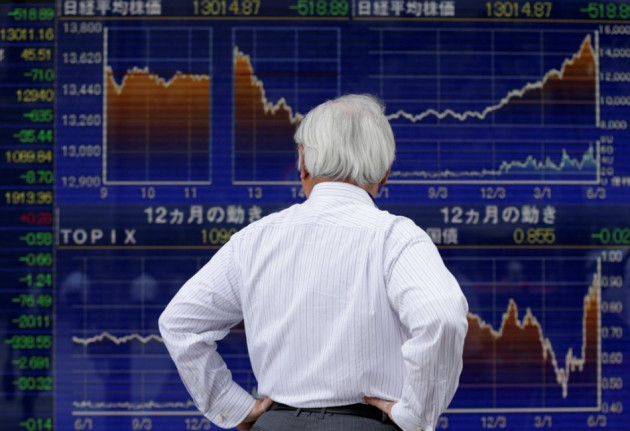 Asian markets outside Japan and Australia traded lower on 6 November as investors exercised caution, ahead of major events later in the week.
The Japanese Nikkei finished 0.79% higher or 111.94 points at 14,337.31
Australia's S&P/ASX finished 0.03% higher or 1.80 points at 5,433.80.
South Korea's Kospi finished 0.01% lower or 0.26 points at 2,013.67.
The Shanghai Composite finished 0.82% lower or 17.63 points at 2,139.61.
Hong Kong's Hang Seng was trading 0.14% lower or 32.26 points to 23,006.69.
India's BSE Sensex was trading 0.36% lower or 75.83 points to 20,898.96.
Market players in Asia await US third quarter GDP data due on 7 November and the October US nonfarm payrolls data due on 8 November, which will throw more light on the health of the world's largest economy.
Together, the two sets of data are expected to influence the US Federal Reserve's 18 December monetary policy decision.
Market participants will also be tracking a key meeting of senior China Communist Party officials on 9-12 November when China's leaders are expected to detail the nation's economic agenda for the next decade.
Historically, such meetings, known as third plenums, have served as a launch pad for economic change in the world's second largest economy.
Societe Generale Cross Asset Research said in a note to clients: "Real US Q3 2013 GDP is now projected at 2.3% annualised (vs 3% prior), and 3% in Q4 2013 (vs 3.6% prior). Because of this revision, we look for tapering to start in March 2014 and end in the summer of next year".
"Full-year [US] GDP growth is forecast to accelerate from 1.7% in 2013 to 3.0%. The first expansion in government spending in four years is forecast to lift GDP growth in 2015 to 3.5%," the French bank added.
Standard Chartered said in a note to clients: "The 30 October Federal Open-Market Committee (FOMC) statement had an overall neutral tone, and kept a 'tapering' bias, signalling that a reduction in quantitative easing (QE) remains on the Fed's horizon. The main take-away, in our view, is that the Fed still awaits more evidence of a pick-up in growth and employment".
"This does not appear to be on the near-term horizon, even when looking through the October government shutdown. This week's data should confirm a soft underlying trend. Our forecasts are slightly below consensus for both Q3 GDP (1.8% q/q SAAR, consensus: 2.0%), and October payrolls (110,000; consensus: 120,000). This lacklustre data supports our view that tapering is unlikely before March. Recent comments by St. Louis Fed President James Bullard, a 'centrist', support this view", the British bank added.
Wall Street Mixed
On Wall Street, indices witnessed mixed trade after positive US services industry data sparked concerns that the Fed could trim its $85bn a month stimulus program sooner than expected.
Service-sector activity in the world's leading economy picked up in October. The Institute for Supply Management (ISM) said its services index rose a point to 55.4 that month.
The data fuelled fears of a Fed QE taper, which weighed down on most indices.
The Dow finished 20.9 points lower or 0.1% at 15,618.22 while the S&P 500 closed 4.96 points lower or 0.3%at 1,762.97.
However, the Nasdaq index ended 3.27 points higher or 0.1% to 3,939.86.
Company Stock Movements
In Tokyo, Mitsubishi Motors moved up 1.8% on news that it will collaborate with rivals Renault and Nissan Motor, in a bid to sell more cars in North America and across emerging markets,
Nissan gained 2% on the news, bouncing back from a 10% plunge on 4 November when it lowered its annual earnings forecast.
Index heavyweight SoftBank lost 2% as investors took profits.
Fast Retailing was down 1% after it reported a 13.8% decline in September same-store sales at its Uniqlo clothing chain.
In Shanghai, Minsheng Bank and Industrial Bank shed 1% each.
In Hong Kong, Bank of Chongqing shed 0.3% on its trading debut. The fifth-largest bank by assets in the city of Chongqing raised $546m through a public offering.
In Mumbai, TCS rose 1.8%, Wipro added 1.2% while Infosys gained 1% after IT major Cognizant reported a better-than-expected 22% rise in revenue.
In Sydney, iron ore miner Fortescue Metals jumped 4% and rival Rio Tinto added 1.2% on higher spot iron ore prices.
Commonwealth Bank of Australia, the nation's top lender by market value, moved up 1.2% after it reported a net profit of 2.1bn Australian dollars ($2bn), in the three months to 30 September.
Department store operator David Jones lost1.6% following media reports that the company plans to extensively review its property portfolio.
In Seoul, Samsung Electronics shed 2.3% just as it met analysts for the first time in eight years.
Steelmaker Posco and automaker Kia Motors gained about 4% each.
In Taiwan, Acer, the world's fourth-largest PC maker by shipments, dropped 6.9% after it reported a higher-than-expected third-quarter net loss, amid rising inventories and the falling value of its acquisitions.