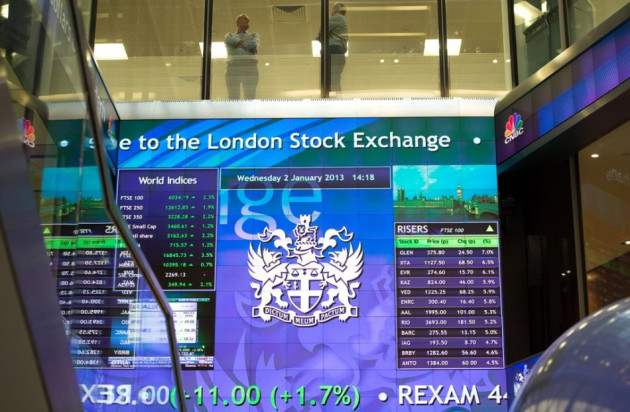 European markets opened higher on 28 October on upbeat cues from Asia and Wall Street, just as a super-storm made its way over the South East of England.
Most stock markets traded in negative territory thereafter.
The Stoxx Europe 600 index opens 0.3% higher to 321.07.
Britain's FTSE 100 opened 0.2% higher.
Germany's DAX and France's CAC 40 Ooened 0.3% higher.
Spain's IBEX 35 was trading 0.07% lower after opening higher.
Italy's FTSE MIB was trading 0.41% higher after opening higher.
Market players in the UK will be tracking energy and gas companies after the so-called St. Jude storm battered southern England overnight.
London's Northern, Jubilee and Bakerloo underground lines and the Overground are part-suspended as the superstorm left a trail of devastation across southern England.
The storm is expected to move across the country and head out over the North Sea by Monday afternoon and could result in temporary regional outages.
Elsewhere, whistleblower Edward Snowden may be called as a witness in a German court if the allegations of the US National Security Agency (NSA) spying on Angela Merkel snowball into a legal battle.
The German tabloid Bild am Sonntag had reported, quoting a US intelligence official, that Obama had ordered the NSA to press ahead with spying on Merkel.
In company news, French tyre maker Michelin, Italian lender Mediobanca and Portuguese bank Banco Espirito Santo will put out third quarter earnings updates during the day.
Dutch delivery group TNT Express reported a 15.6% drop in quarterly operating profit to €54m, on a 6.6% drop in revenue to €1.621bn.
The world's largest lockmaker Assa Abloy said that net income rose to 1.47bn kronor ($232.6m) from 1.31bn kronor a year ago. The Swedish firm said that growth in Asia and the US helped compensate for weak sales in Europe.
In Asia and the US
In Asia, the Japanese Nikkei finished 2.19% higher on 28 October. Australia's S&P/ASX finished 1.02% higher, South Korea's Kospi closed 0.68% higher and the Shanghai Composite ended 0.04% higher.
Earlier, markets opened higher, with Australia's benchmark index hitting a record five-year high, after a strong handover from Wall Street helped offset concerns surrounding tight liquidity in China.
Last week, China reported a sharp increase in money-market rates, forcing the People's Bank of China (PBOC) to tighten liquidity by withdrawing cash from the system.
The developments brought back memories of June's credit crisis, and had weighed down on Asian stocks on 25 October.
Elsewhere, in Australia, the benchmark S&P ASX 200 struck a fresh five-year high on 28 October, boosted by financial stocks.
Tim Radford, global analyst at Rivkin Securities said in a note to clients: "A vacuum of negative news and a reduction in near-term headline risk is helping to support global risk assets, seeing US and Australian equity markets trade to new all-time highs and multi-year highs respectively".
"The market will however shift its attention to the FOMC meeting early Thursday morning, with expectations firmly for the US Federal Reserve to maintain asset purchases at $85bn a month. Given the weakening nature of the US economic recovery and subdued jobs growth there are now calls the Federal Reserve might be inclined to increase asset purchases rather than reduce in the near future," Radford said.
"The recent run higher in equity markets globally is again looking overdone, and a moderate pullback should be expected in the coming days, presenting another buying opportunity for investors," he added.
Most Asian stock markets finished the week ended 26 October lower but India's Sensex and Australia's ASX bucked the trend to finish higher.
Wall Street Up
On Wall Street, indices ended higher on 25 October on the back of positive earnings updates. The Nasdaq struck a new 13-year high and the S&P 500 finished at a record high at the week's close.
The Dow finished 61.07 points higher at 15,570.28.
The S&P 500 closed 7.70 points higher at 1,759.77 while the Nasdaq ended 14.40 points higher at 3,943.36.
For the week ended 26 October, the Dow jumped 1.11%, the S&P 500 moved up 0.88% and the Nasdaq gained 0.74%.