Stocks Soar, Dollar Slumps As Markets Eye End To US Rate Hikes
Stock markets and oil prices jumped while the dollar slid Thursday after the Federal Reserve hinted it was at an end of its rate-tightening cycle as inflation retreats.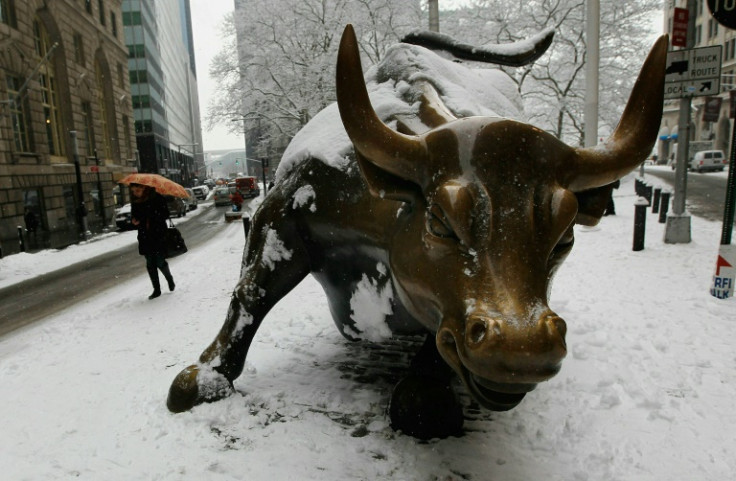 Stock markets and oil prices jumped while the dollar slid Thursday after the Federal Reserve hinted it was at an end of its rate-tightening cycle as inflation retreats.
Asian and European traders picked up the baton from their Wall Street counterparts after the Fed froze US interest rates Wednesday.
Wall Street's main stock indices continued pushing higher Thursday, rising by more than one percent.
The Bank of England, as expected, kept its key interest rate steady, Governor Andrew Bailey saying it was "much too early" to think about cutting rates.
There is "a sense that the Fed has come to an end of its rate hike cycle", said Saxo's Redmond Wong.
The US central bank held interest rates at a 22-year high for a second straight meeting.
The Fed kept its benchmark lending rate between 5.25 percent and 5.5 percent.
However, Fed Chair Jerome Powell cautioned that "the process of getting inflation sustainably down to two percent has a long way to go".
He added that the US central bank was not at all thinking about rate cuts and maintained the option to hike them if developments warrant.
"It is the market, however, that thinks that is empty lip service that won't ultimately translate into an actual rate-hike action," said market analyst Patrick O'Hare at Briefing.com.
Yields on US Treasuries also fell after the decision, which was also positive for stocks, which have slid in recent months.
"The market was oversold and speculation was rising that it was due for a bounce from its oversold condition and, lo and behold, that is what is taking place," said O'Hare.
The drop in future rate-hike expectations -- some put the chances of a December lift at about only 20 percent -- saw the dollar slide against its peers.
Notably, it eased to just above 150 yen, having surged towards a three-decade high 152 at one point this week after a Bank of Japan policy tweak fell short of what some had forecast.
The softer dollar and the prospect of easier financial conditions for companies pushed up crude oil, which is priced in the greenback.
The commodity had been falling in recent days on hopes that the Israel-Hamas conflict would not widen across the crude-rich Middle East.
"The weaker US dollar along with the broader improvement in the risk mood is helping to boost oil prices, as optimism about the demand outlook improves from the pessimism at the start of the week," said analyst Michael Hewson at CMC Markets.
Buoyed also by corporate earnings, stocks in several European countries spent much of the afternoon up more than two percent, with Copenhagen rising by three percent at one point thanks to strong results by anti-obesity and anti-diabetes drug maker Novo Nordisk.
In the United States, attention was on Apple, which reports after the bell. Its shares were up 1.6 percent in afternoon trading.
New York - Dow: UP 1.1 percent at 33,650.87 points
London - FTSE 100: UP 1.4 percent at 7,446.53 (close)
Frankfurt - DAX: UP 1.5 percent at 15,143.60 (close)
Paris - CAC 40: UP 1.9 percent at 7,060.69 (close)
EURO STOXX 50: UP 1.9 percent at 4,169.62 (close)
Tokyo - Nikkei 225: UP 1.1 percent at 31,949.89 (close)
Hong Kong - Hang Seng Index: UP 0.8 percent at 17,230.59 (close)
Shanghai - Composite: DOWN 0.5 percent at 3,009.41 (close)
Dollar/yen: DOWN at 150.53 yen from 150.89 yen on Wednesday
Euro/dollar: UP at $1.0613 from $1.0573
Pound/dollar: UP at $1.2171 from $1.2150
Brent North Sea crude: UP 2.0 percent at $86.33 per barrel
West Texas Intermediate: UP 2.1 percent at $82.15 per barrel
© Copyright AFP 2023. All rights reserved.