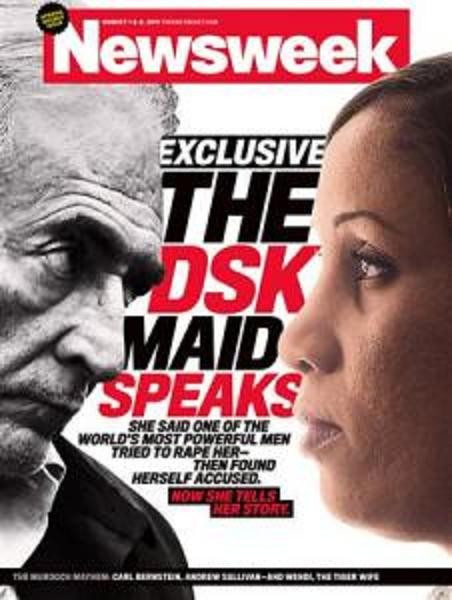 Dominique Strauss-Kahn is now embroiled in a new lawsuit after the chambermaid who pressed charges for sexual assault against him in a hotel in Manhattan three months ago, now filed a lawsuit accusing him coming at her from behind with "depravity in his heart."
Nafissatou Diallo's latest legal move comes as prosecutors reassess the initial case against Strauss-Kahn who was subsequently released from house arrest.
Not long after the maid pressed charges, doubts emerged over parts of Diallo's personal history, some of the events she discussed in her asylum application and new details also seemed to casts doubts on her account of what took place in the hotel room during her encounter with Strauss-Kahn.
Following the prosecution's decision to relax Strauss-Kahn's bail condition, the public, which had previously taken Diallo's side, also started to have doubts and the media portrayed a slightly different picture of the maid. She went from being seen as an innocent, hard working woman to being accused of working as a prostitute or of being only motivated by money.
Diallo hit back with threats of new lawsuits against some of the newspapers, which was followed by a string of interviews and public appearances to put her version of the facts across.
Lawmakers however questioned the timing of the new lawsuit against Strauss-Kahn as usually prosecutors advise accusers to refrain from filing a lawsuit while a criminal case is pending.
However retorting, Thompson, one of Diallo's lawyer said, "Ms Diallo has filed her lawsuit now because she wants to vindicate her rights and hold Dominique Strauss-Kahn accountable for the violent and deplorable acts that he committed against her."
The lawsuit unveiled in a court in the Bronx yesterday, seeks unspecified monetary damages, and according to The New York Times, court papers say that Strauss-Kahn 'intentionally, brutally and violently sexually assaulted Ms Diallo and in the process humiliated, degraded, violated and robbed Ms Diallo of her dignity as a woman'. The experience, it added, "left Ms Diallo's life and her young daughter's life in shambles," the newspaper reported.
It was also reported that one of Diallo's lawyer indicated in court papers that he was prepared to introduce testimony from other women who say they were attacked by Strauss-Kahn in "hotel rooms around the world," and in apartments specifically used by him "for the purpose of covering up his crimes."
Strauss-Kahn has denied wrongdoing and said he would 'vigorously' fight back, with his lawyers also insisting Diallo's new move is mainly motivated by money.
His next court hearing is scheduled for 23 August