Straw Land Art Festival 2012: Bizarre and Entertaining Pictures From Croatia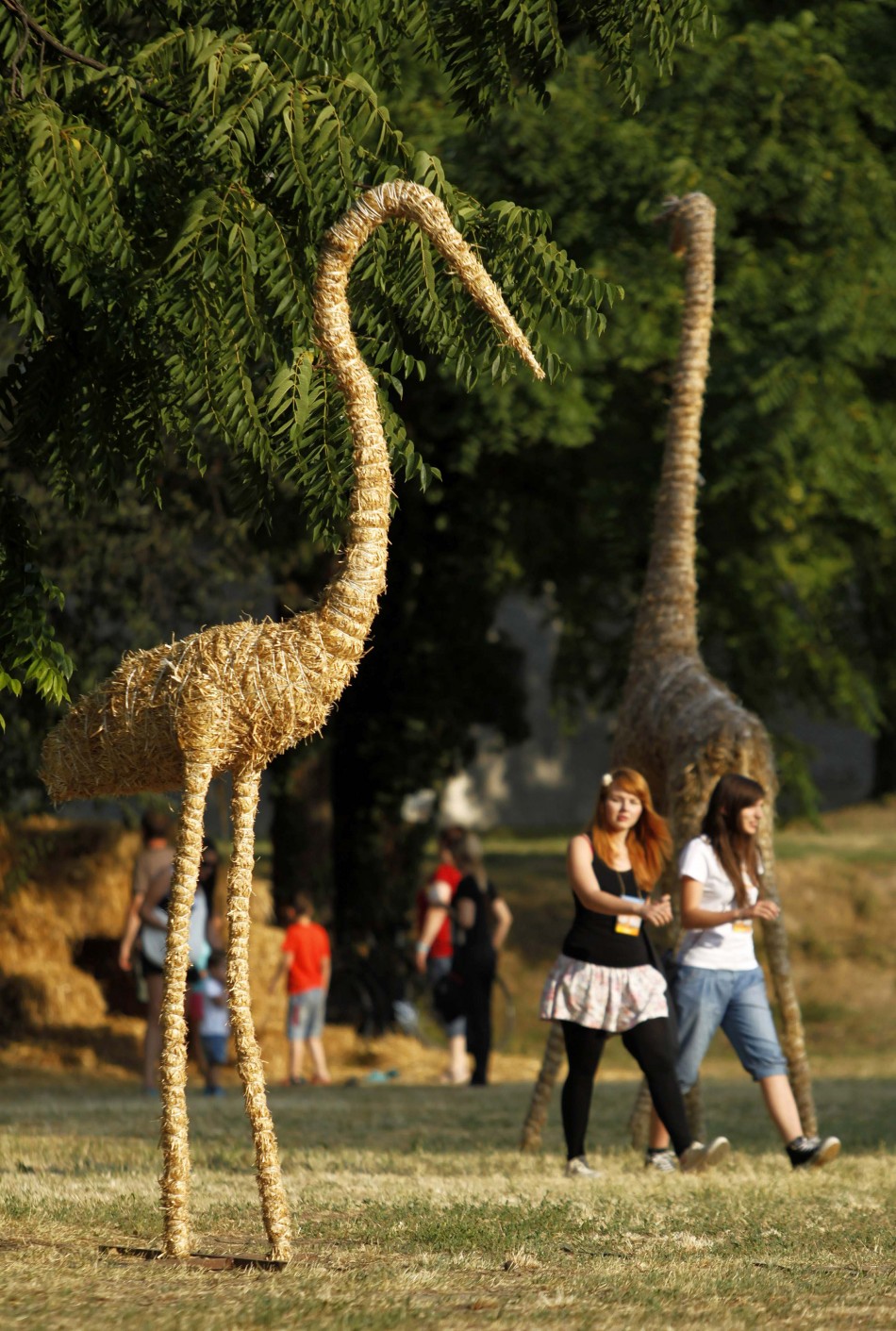 The 7th annual Straw-Land Art Festival kick started in Osjek, the fourth largest city of Croatia, on 15 July.
From giant ostriches to beautiful large butterflies, the straw art festival brought out varied art forms in a novel manner. The very speciality of these art forms is that they are made of pure straw. The festival is intended to promote straw sculpting and land art.
The First Post reported that twenty artists from Croatia, Bosnia and Herzegovina, Germany, Hungary, Slovakia and Mexico made 20 art installations using 30 tons of straw.
There is a beautiful story behind the straw-art festival. Naive female artists in Croatia are called the straw-girls Croats. The name 'straw-girls' is derived from Croatian name for straw. They use straw weaving for making beautiful and poetic description of their hard and lonely life at home which is a small oasis with a hut in immense Panonian golden plain with several trees and unavoidable well, according to the Zagrebdox. They are also inspired by small Catholic churches and Christian symbols.
Ana Milodanovic, a naive female artist, won the gold medal with her work in straw weaving at the 1976 international exhibition of naive art in Moscow. Also, Kata Rogic was chosen to present her work to Pope Paul the 6th in Vatican. Since then, straw-art has been considered a popular form of art. The Straw-Land Art Festival came into being later on to recognise and celebrate straw art making.
The straw-art forms are giant, up to 10 metres or more and are burnt at the end of the festival. Each and every artist chooses his/her biggest work to be burnt in glory towards the end.
A huge dinosaur, a tall man, a huge bicycle and an incredibly large horse were the top straw-works of the festival in 2011. In 2012, the 10-metre high phoenix and the huge butterfly rings caught the attention.
Check out the most bizarre and entertaining pictures of the Straw-Land Art Festival 2012:
© Copyright IBTimes 2023. All rights reserved.