UK University Staff Stage Second Strike Over Pay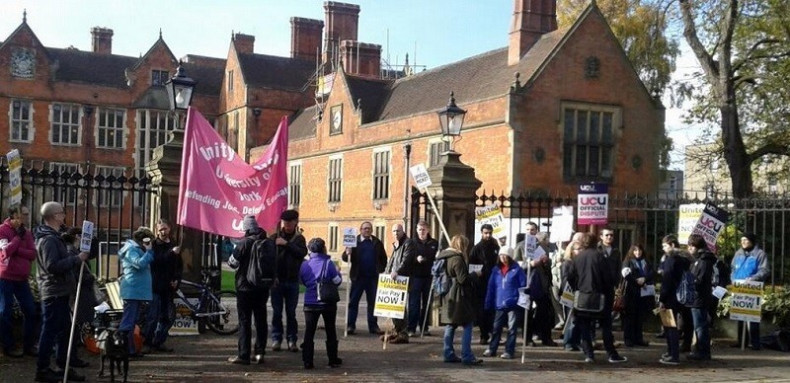 University staff across the UK have walked out over pay for a second one-day strike after employers refused to meet their demands.
The Scottish Education Union, the Educational Institute of Scotland, UNISON, Unite and the University and College Union, which represent university workers, have taken industrial action after refusing a 1% pay increase offer.
The remuneration offer represents a real-terms cut of 13% when compared to 2008, according to the UCU.
Some of the trade union members previously walked out in October due to the pay dispute.
"The decision to take action so close to Christmas shows the depth of feeling that this issue has caused," said Dave Prentis, UNISON general secretary.
He added: "It is a disgrace that universities are sitting on cash surpluses worth £2bn ($3.2bn, €2.4bn), but they are not prepared to reward their staff, who are the backbone of our world class university system.
"A fair day's work deserves a fair day's pay, and higher education workers deserve a better standard of living in return for their hard work and the contribution they make to the success of UK universities."
The UCU also claimed the squeeze on staff pay comes at a time when pay and benefits for university leaders increased, on average, by more than £5,000 in 2011-12, with the average pay and pensions package for vice-chancellors hitting almost £250,000.
But the Universities and Colleges Employers Association said employers expressed disappointment at the industrial action.
"It is disappointing that the trade unions continue to deny the evidence on the real earnings growth that higher education staff have seen and to portray any surpluses as if they were a pot of unallocated money," a UCEA spokesman said.
He added: "Surpluses are vital margins and needed to make up for cuts in capital funding so that institutions can reinvest in high quality teaching and research facilities for students and staff."
The UCEA stressed the employers remain willing to discuss the other important aspects of the unions' claim to try to resolve their dispute.