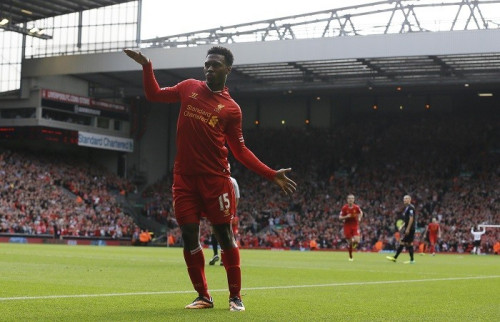 Daniel Sturridge says he joined Liverpool partly because of the influence of Brendan Rodgers, with the striker citing his long history with the manager going beyond their days at Merseyside together.
Sturridge crossed paths with Rodgers when he was a teenager and playing for Manchester City's youth team, having beaten the Northern Irishman's Chelsea side in the Youth Cup.
The England international says Rodgers made it clear to him that he had kept an eye on his career ever since and while he failed to impress for both the City senior squad and Chelsea Sturridge says the manager is one of a number of reasons why he has found his home at Liverpool.
"He was a massive influence but the biggest reason I came here is because Liverpool are an unbelievable club with great history," he told the official club website.
"When you add to that the incredible fans and world-class players, it was an easy decision.
"It wasn't a case of 'Should I go?', it was more like 'When can I come?'. When they put the bid in for me I was just thinking about getting myself up the motorway as fast as possible!
"I was ready to go and wanted to further my career. I needed regular football and I wasn't being given that, particularly in what I feel is my best position.
"When Liverpool came knocking there was only one outcome. I think you can see how much I love being here and we're all excited about the direction Brendan is taking us. At Liverpool I feel important to the team."
Liverpool are currently fourth in the Premier League table and harbour high hopes of qualifiying for the Champions League next season.
They have been able to take full advantage of a lack of European football this season to concentrate on league results and with Manchester United suffering from a changeover in managers and Tottenham also going through a difficult period, the Reds are on track to finally finish above their top four rivals.