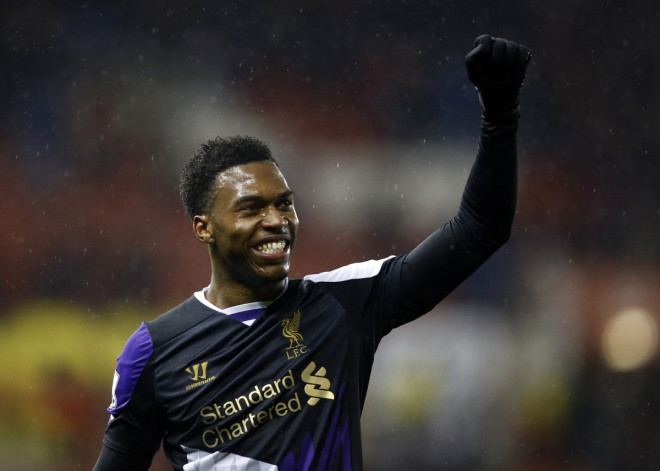 Liverpool striker Daniel Sturridge has revealed that he watches footages of former players to bolster his performance.
The 24-year-old admitted to viewing videos of Diego Maradona prior to England's 1-0 victory against Denmark on Wednesday.
The striker scored the game's solitary goal as the Three Lions triumphed in front of the home crowd at the Wembley Stadium. The former Chelsea player has found the back of the net regularly since joining the Merseyside club in January last year.
The England international currently ranks second in the Premier League's goal scoring charts this season with 18 goals, six behind club-mate Luis Suarez. Despite his consistency, Sturridge is desperate to keep improving in order to secure a place in Roy Hodgson's World Cup squad.
"During the afternoon before the Denmark game I was watching Maradona's clips to take pointers from the skills he was doing. There are a lot of inspirations for me. I have watched clips of so many players. I'll be watching players like Michael Owen, Paul Gascoigne, Pele, Ronaldo - all these older players who have done it before me," Sturridge explained.
"There are no guarantees I will be on the plane (to Brazil) but I am working as hard as I possibly can to make sure I will be there. It is important that I keep improving. For me, I can never stop improving no matter what age I am at and what club I am at. I have to push myself as hard I possibly can to get as good as I possibly can," he added.
Sturridge went on to thank the Reds' senior players and his strike partner Suarez for helping him and other new recruits settle down quickly at Anfield.
"The senior players have helped me so much and helped all the young players who have come into the squad. I've learned a lot from Luis, but I have been given the opportunities to play now and that is what is more important than anything else," Sturridge said.
"If you're not given an opportunity then you can't produce. If you don't play as a young player, it is difficult to progress. It is about the team, it is not about myself - it's not about me feeling amazing or anything. I am just humbled to be given the platform to play for my club and my country."