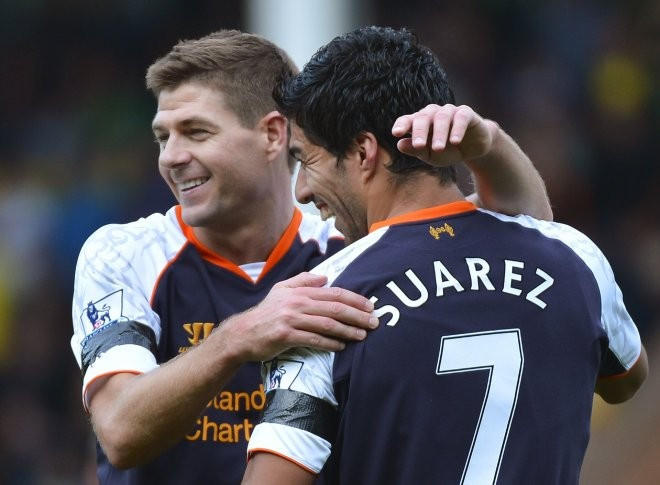 Luis Suarez believes that Steven Gerrard will overcome Lionel Messi and Cristiano Ronaldo as the best player in the world if they can win the Premier League this season.
Liverpool are currently two points ahead of Chelsea after the Blues lost against Sunderland at home and will be favourites for the title if they can beat Norwich in a lunchtime kickoff on Sunday.
Suarez has been the best player this season in the league and the Uruguayan is hoping to steer his side to their first league title in over 24 years.
Suarez states that the title will be dedicated to Gerrard, who has won the FA Cup and the Champions League but failed to take the league.
The top scorer in the league believes that once the England captain completes the treble, he will be regarded to as the best in the world.
"Steven is one of the top midfielders in the world and if he won the Premier League then he is the best in the world. He has waited a lot of years to win the title. He has won the Champions League, which is more difficult than winning the title, and now he knows that it's a really good time for him, "Suarez said.
"His performances this season have been brilliant. He knows to keep his head down because we have four more difficult games, but I think he is the best man in the world.
"It would be brilliant for him, Jamie Carragher and for the Liverpool supporters because everybody knows he has a really good chance this year," he added.
The fixture against Norwich has happy memories for Suarez, who has scored three consecutive hattricks against the side and always turns up at his best when presented this opposition. However, the Uruguayan is not getting carried away and insists that he will take three points from the fixture, irrespective of the scorer.
"I focus on helping the team – this is more important for me – and if you try then you can score and be so happy because you help the team," Suarez explained.
"But I forgot all the goals against Norwich. I know all the people say Suarez has too many goals against Norwich and he loves to make a goal there, but I would prefer we won 1-0 with another player scoring in the last minute than Suarez scoring 3 and then us losing 4-3," he concluded.