A powerful storm that killed dozens in the Phillipines has strengthened into a super typhoon before making landfall in southern China on Friday.
The storm, which was downgraded as it passed over the Philippines, gained strength again over the South China Sea and is now battering Hainan, with its inner eye wall hugging the island's coast.
After moving over northern Hainan, the southernmost province of China, the typhoon is expected to crash into the Leizhou Peninsula in Guangdong province early on Friday evening.
Now categorised by the China Meteorological Administration as a super typhoon, Rammasun carries winds of 155 mph and higher, and has made landfall again as the equivalent of a Category 4 hurricane.
China's official news agency Xinhua has said that Rammasun was expected to be the strongest typhoon to hit Hainan in 40 years.
Super typhoons are categorized as having sustained winds of 150 mph or higher, and the administration has issued a "red" typhoon warning.
It is the first time this year that the signal has been raised and authorities in the region are on high alert.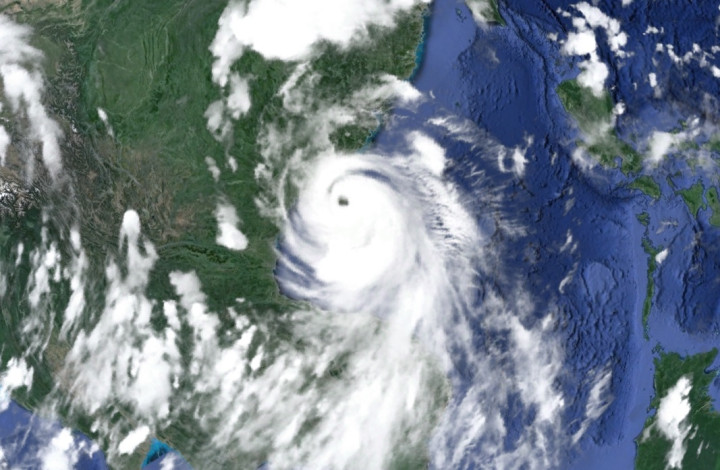 Damaging winds will also be possible across southern Guangdong and Guangxi Provinces into Friday night. They are expected to hit northern Vietnam in the early hours of Saturday.
Warnings of flooding, mudslides and coastal storm surges have been issued. Northern and eastern Hainan Island are threatened by a storm surge, as well as the southwest coast of Guangdong, including the Leizhou.
Rainfall of four to eight inches is expected from Hainan, through southern parts of Guangdong and Guangxi Province and across northern Vietnam, including Hanoi.
Shipping in the region has been suspended, as have some flights, including in Hainan, which is a popular holiday destination. Trains in Guangdong bound for Hainan have been halted in the provincial capital Guangzhou, CNN reported.
Hainan's high-speed railway has also had operations suspended, according to China's state-run news agency.
The typhoon caused 38 deaths in the Philippines, where it was locally named Glenda, as well as extensive damage to property and infrastructure across Luzon, the largest island in the archipelago.
Only two other super typhoons have ever hit China, Saomai in 2006 and Marge in 1973. Saomai, registered as a once-a-century typhoon, was the most powerful typhoon ever to have made landfall over mainland China.