Anton Vickerman, who set up and ran Surfthechannel.com, has been found guilty of conspiracy to defraud and faces up to 10 years in jail when he is sentenced on 30 July.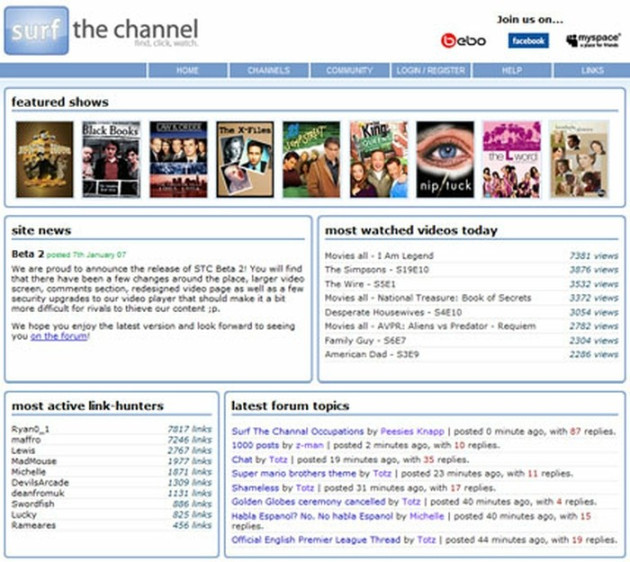 According to figures released by the Federation Against Copyright Theft (FACT), Surfthechannel.com attracted over 400,000 visitors a day in 2009, generating more than £35,000 in advertising revenue each month.
The maximum penalty for the crime is 10 years in jail and Vickerman, who is from Gateshead, will be sentenced at Newcastle Crown Court.
He was found guilty of "facilitating" copyright infringement after a FACT investigation revealed that he had created Surfthechannel.com.
"Vickerman set up Surfthechannel with the aim of it being one of the world's top destinations for pirated films and TV programmes and was making at least £35,000 a month from the site alone," said Kieron Sharp, director general at Fact.
"This was a criminal conspiracy for criminal profit to fund a criminal lifestyle and Vickerman is now paying the price."
FACT hired former Dutch policeman Pascal Hetzschold to visit Vickerman at his home and confirm that he had designed the service and was running the site.
Vickerman also recruited other internet users to find links to illegally posted copyrighted material to populate surfthechannel.com with up-to-date material.
The British Video Association (BVA) said the verdict sent a clear message that copyright theft will not be tolerated and that sites promoting it are criminal operations.
"Copyright theft damages the audio-visual industry because, despite popular misconceptions, the sector depends heavily on video revenues to produce good quality future content," the BVA said in a statement.
"We need to reduce the damage to the return on investment in film, television and other video content enjoyed by millions and encourage those who do so through illicit means are persuaded to use legal alternatives."
Lavinia Carey, director general of the British Video Association, added that increasing numbers of British consumers are moving to legitimate online services offering films and TV programmes for rental or sale.
"These businesses are relatively new and should not have to compete against pirate websites that do nothing to reinvest in the production of new films and programmes," she said.