The first three months of 2015 saw $372bn (£249bn, €342bn) of bond deals from North American issuers, setting a new record for any quarter and surpassing 2014's corresponding period by some 30%.
Those unusual numbers were driven by a number of M&A transactions financed through bond sales, according to news service Bond Radar.
Most notably, US pharmaceutical firms Actavis and Valeant tapped the market in March with offerings of $21bn and $10bn to fund their acquisitions of Allergan and Salix, respectively.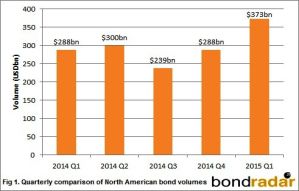 Historic volumes were also fuelled by a significant increase in euro-denominated deals from US corporates and financial institutions seeking to take advantage of lower borrowing costs in Europe, thanks in part to the start of the European Central Bank's (ECB) quantitative easing (QE) programme, Bond Radar said in a statement this week.
North American issuers have already priced €49bn of deals thus far in 2015, representing a 150% increase over the first-quarter of the previous year, already making up 58% of the whole of 2014's euro issuance.
Emerging markets picture
Of the three Bond Radar emerging market (EM) regions, Asia logged the only year-on-year increase in first-quarter volumes, with $49bn of new issues, a 44% share of the $113bn emerging market total.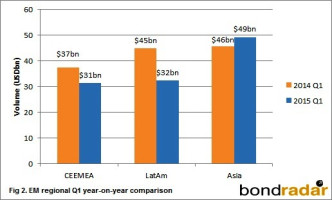 That followed the trend of growing Asian prominence in the EM bond market since the Russia-Ukraine conflict, as economic sanctions have muted central and eastern Europe (CEE) issuance, and in fact put a halt on any Russian deals in 2015.
Meanwhile, Latin America continued to feel the effects of political and economic woes in key bond deals contributor Brazil, with a 28% on year decline in issuance as first quarter volumes fell to $32bn.