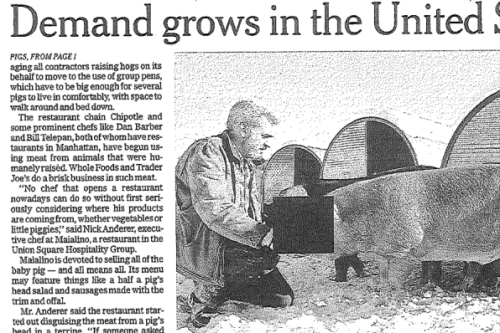 Farmyard pigs have been censored in the international edition of the New York Times in a bizarre bid to stop them hogging the limelight.
Black squares were placed over the porkers' heads in Wednesday's international edition of the famous newspaper.
A herd of piglets had their privacy protected on the front page in a story about rising demand for humanely reared pigs by American restaurants. The "spill" continuation of the story on page 19 showed a pair of adult pigs with their faces hidden.
Pigs are sensitive creatures so hopefully no 'oink-ment' was required to soothe egos bruised by their treatment in copies of the paper on sale in Malaysia.

It turns out the edits were made not in a bid to protect the privacy rights of the beasts but to spare the feelings of Muslim readers.
The printers of the NYT acted in case the animals caused offence in a country where pork and its derivatives are off the menu for two thirds of the population because of their islanic beliefs.
Speaking to the Malay Mail Online, a spokesman for the printers admitted acting without the consent of the NYT.
He said: "We've been doing this for some time. We block out pictures of nudes and things like these. This is a Muslim country."
Islam is the state religion of Malaysia, which has a population of 28m – of whom 18.6m are Muslim.