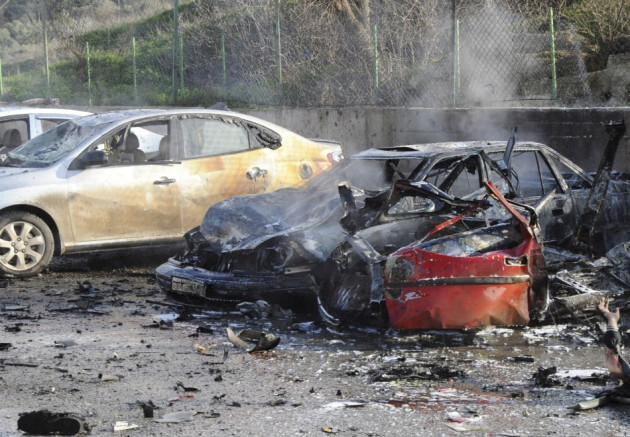 Two car bomb blasts have killed at least 40 people and injured 100 near Turkey's border with Syria.
Thick clouds of smoke rose above Reyhanli, which lies in Turkey's southern Hatay province, after the blasts on 11 May. The explosions occurred close to local administrative buildings, and the town hall was among the buildings that were badly damaged.
While ambulances helped the injured, eyewitnesses described the blast damage as extensive - with many shops and homes having their windows blown out, and vehicles destroyed by fire.
Emergency services are still looking for other victims, who they fear buried under rubble.
"We have around 20 dead and 46 people injured, but we have to note that many of the injuries are severe, which means the death toll could unfortunately rise," Prime Minister Tayyip Erdogan said on Turkish television. The death toll has since risen.
Erdogan said this week that Turkey would support a US-enforced no-fly zone in Syria.
The Turkish foreign minister sent a warning to those attempting to draw his country into the conflict.
"There may be those who want to sabotage Turkey's peace, but we will not allow that," Foreign Minister Ahmet Davutoglu told Reuters reporters. "No one should attempt to test Turkey's power, our security forces will take all necessary measures."
There was no immediate claim of responsibility.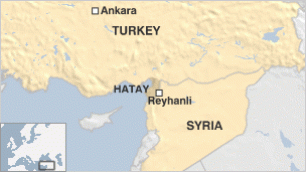 Tensions in the Reyhanli area have been high for several weeks, with local reports of clashes between Turkish and Syrian youths.
NATO member Turkey has been one of Assad's harshest critics and has harboured both Syrian refugees and rebels during the uprising against him, now in its third year.
Diplomatic efforts to resolve the civil war seemed to be improving after Moscow and Washington announced a joint effort to bring government and rebels to an international conference.
But a Russian official said that there was already disagreement over who would represent the opposition and he doubted whether a meeting could happen this month.
Turkish president Erdogan is due to meet Obama in Washington on Sunday 19 May.
So far, Turkey has provided shelter to more than 300,000 Syrians, most in camps along the 900-km (560-mile) frontier.