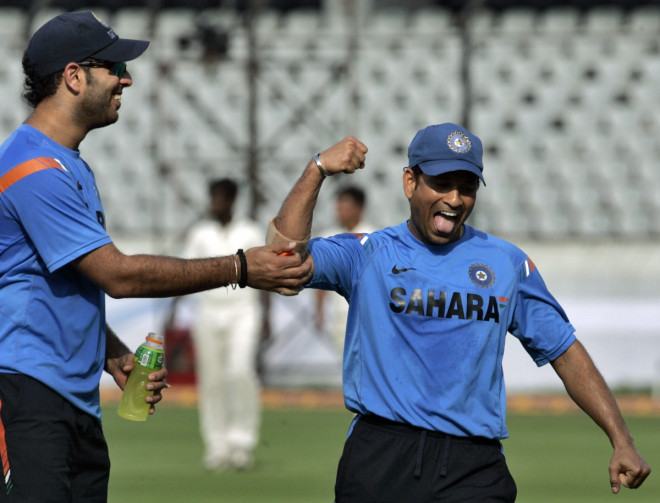 Indian batting legend Sachin Tendulkar has come out in support of Yuvraj Singh and urged the fans not to blame the left-handed batsman for India's defeat to Sri Lanka in the 2014 T20 World Cup final.
Yuvraj walked to the crease after the dismissal of opener Rohit Sharma in the 11th over. He gave away his wicket in the penultimate over, managing just 11 runs off 21 balls. Indian cricket supporters accused the all-rounder of match-fixing and reportedly stoned his house in Chandigarh.
The 32-year-old was instrumental in India's first T20 World Cup triumph in 2007. He was also awarded the Man of The Series in the ICC One-Day International World Cup in 2011 for the all-round performance that helped India lift the trophy.
Tendulkar, who retired from international cricket last November, who has shared the dressing room with Yuvraj over the years, urged Indian cricket fans not to crucify the all-rounder for his poor performance in the T20 final.
"It is the unpredictable nature of the game that makes cricket such an exciting sport. As cricketers, we always enjoy the applause when we succeed but it is the support and encouragement from fans, during tough times, that we appreciate the most," Tendulkar explained.
"All of us took pride in the heroics of Yuvi when we won the T20 World Cup in 2007 and his outstanding contribution in the ODI World Cup win in 2011 will always be cherished.
"Last evening, Yuvi had a tough day and he can be criticized. But he should not be crucified nor should he be written off.
"I have been an admirer of Yuvi's indomitable spirit which has overcome many challenges, both on and off the field. Knowing Yuvi's determination and ability to fight adversities, he will emerge stronger, proving his critics wrong, yet again.
"Yuvi, one off day cannot undermine your tremendous contribution in many sweet memories over the years. You may be down today but you are far from being out," Tendulkar stressed.