Of the more than 410,000 Rohingya Muslims who have arrived in Bangladesh since 25 August, around 240,000 are children. The United Nations Children's Fund (Unicef) says about 36,000 are less than one year old and 92,000 are under five. There are also some 52,000 pregnant or lactating women among the refugees.
These vulnerable people are the most at risk of malnutrition and diseases as conditions worsen in the squalid refugee camps in Bangladesh. They are more susceptible to waterborne diseases spread by an acute shortage of clean water and sanitation facilities, as well as the common cold and fever.
Award-winning photojournalists Paula Bronstein and Allison Joyce have spent some time in Bangladesh documenting the growing crisis. Their photos are unbearably moving – a mother caring for her baby while living in a concrete pipe, a family with only a plastic sheet for a home, and a family burying a 70-year-old woman who died just days after they'd carried her all the way from Myanmar. Scenes like these help us to understand the human cost of the crisis and how it affects the lives of thousands of ordinary people.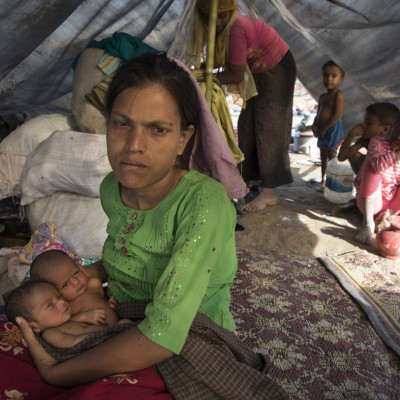 Aid agencies warned that the sheer numbers of Rohingya refugees in Bangladesh means people could die from a lack of food, shelter and water. The refugee camps in the Cox's Bazar area of Bangladesh were already beyond capacity from those displaced by previous waves of anti-Rohingya violence in Myanmar.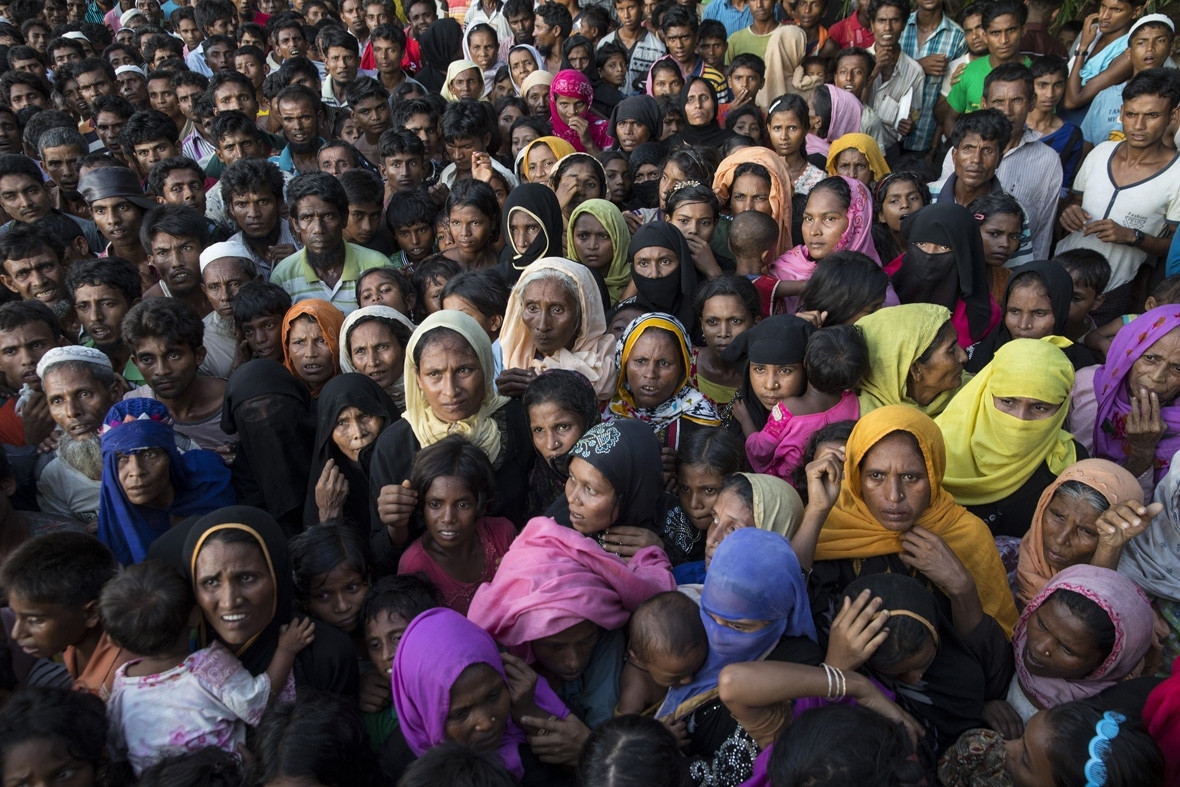 The new arrivals huddle in makeshift settlements with no toilets along roadsides and in open fields. Some have nothing more than a tarpaulin to protect their families from the monsoon rains. Torrential rains have flooded the rice paddy fields where many Rohingya Muslims had put up their shelters, forcing them to gather their belongings once again and move to drier ground.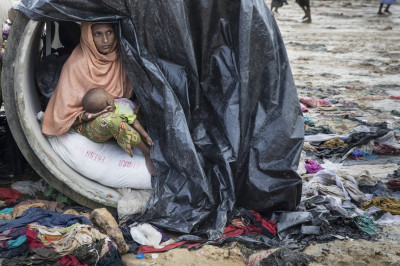 The refugees were initially stunned and traumatised after fleeing the violence. They are now growing desperate in their search for food distribution points that hand out packets of biscuits and 25kg bags of rice. Chronic food shortages in the camps mean fights erupt as crowds jostle for food and water. Panic erupts as volunteers distribute food, water and other supplies haphazardly from parked vehicles.
Weary women carry infants in their arms while clutching other children to their sides, afraid they might be separated in the crowds. Others tap on car windows or tug at the clothes of passing reporters while rubbing their bellies and begging for food.
"There are acute shortages of everything, most critically shelter, food and clean water," Unicef country representative Edouard Beigbeder said. UN High Commissioner for Refugees Filippo Grandi said humanitarian assistance would increase "very, very quickly". Asked why the response has been slow, Grandi alluded to difficulties working in Bangladesh, but said he hoped this will change as the scale of the crisis becomes more apparent.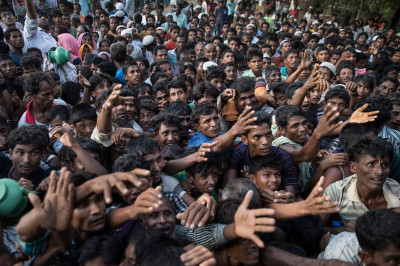 Every single day thousands upon thousands enter Bangladesh, crossing the Naf river on rickety wooden boats. The journey is especially dangerous now as the river is swollen from months of monsoon rains. Others cross the land border between the two countries, walking for days through forests to escape detection.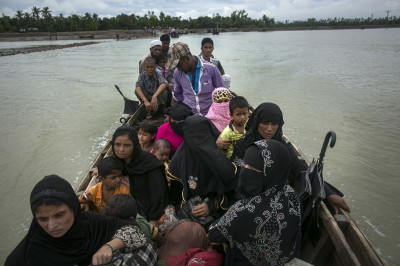 "Our teams are seeing streams of people arriving destitute and extremely traumatised," including many in need of urgent medical care for violence-related injuries, the aid group Doctors Without Borders (MSF) said in a statement.
Seventy-year-old Khatiza Begum fled Kinoce village after the military and local Buddhists started burning Rohingya houses and shooting and hacking people with machetes. For four days she and her family hid in the jungle and then they carried her over hills and through paddy fields for 11 days until they reached Bangladesh.
For another 11 days she and her family slept on riverbanks and under trees. A few days after she reached the camp she started having trouble breathing, which was exacerbated by the constant rainfall and bad camp conditions. She saw a doctor but was not given medication that helped. On 18 September she passed away. Her family carried her one final time and laid her to rest in a country far from home.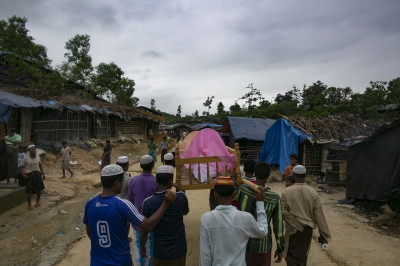 "The women who are coming for check-ups all have a terrified and exhausted look," said Sumaya, a midwife at the Nayapara refugee camp working in association with the UN population fund. "We keep hearing stories from them of walking through jungles and across hills for days without food, their children carried over their shoulders. They've lost their homes."
At least seven babies have been born in the refugee camps to mothers who had had to flee burning villages and make the terrifying journey while heavily pregnant, knowing they could go into labour at any moment.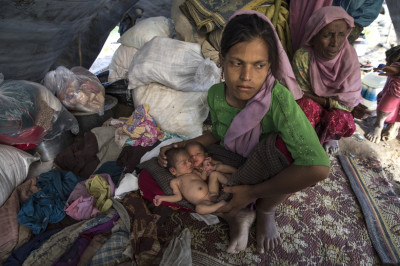 On 8 September, an Associated Press reporter met Samuda Begum shortly after she gave birth at the Kutupalong refugee camp – a jumble of tiny mud houses covered with plastic sheets and an overpowering stench of rotting food and faeces. There are no doctors in the camp, set up in the early 1990s to accommodate earlier waves of Muslim Rohingya refugees fleeing violence and persecution in Myanmar. There are no clinics, pharmacies or even basic first aid centres.
Begum gave birth to her son alone in the toilet outside her room in the camp. Ten hours later, Begum was still bleeding and so weak and traumatised that she hadn't been able to feed her baby. AP reported that the new mother stared blankly at the infant as she held him. "She's been crying from hunger," her mother said of her weak and ailing daughter.
The nearest medical facility for the Cox's Bazaar area is Sadar Hospital. At the best of times it's stretched to the limit, with 20 doctors responsible for the treatment of hundreds of patients. Now it's at nearly twice its capacity and for the first time its doctors are dealing with injuries like gunshot wounds, blunt force trauma and stab wounds on a massive scale. "We have never seen such violent injuries before," Dr Shaheen Abdur Rahman Choudhury, the head of the hospital, told AP.
In the first week of the exodus, doctors at Sadar Hospital treated 30 Rohingya for gunshot wounds. The next week they treated another 50. The hospital is now setting up a separate area for the Rohingya and expects even more in the weeks and months ahead.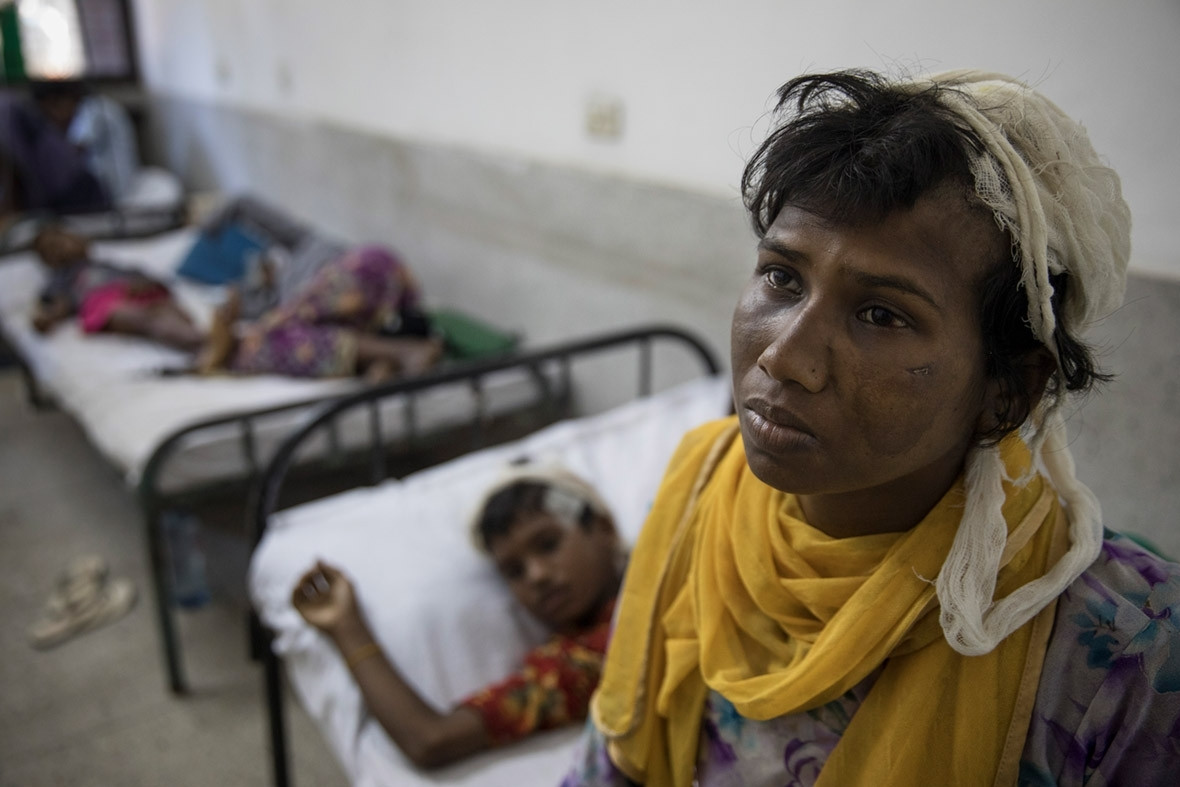 Eric P Schwartz, head of the US-based charity Refugees International and a former assistant secretary of state for population, refugees and migration, said he couldn't recall seeing so much misery and called for international pressure on Myanmar to stop the violence. "The stories that we are hearing... I visited a hospital, children ages 1, 5, 10 suffered burn wounds, gunshot wounds and with human beings essentially treated like animals," he said.
When AP visited, the patients included a seven-year-old Rohingya boy who had been hit in the chest by a bullet fired by Myanmar troops, and a man who had been shot in the ankle and shoulder when a mob of soldiers and Buddhist monks had attacked his village in Rakhine state. AP reported that the stench from his ankle made clear that Karim would have to lose his foot.
Many refugees were wounded or lost their lives along the journey from Myanmar to Bangladesh. Dozens of bodies, including those of women and children, have washed up on the Bangladesh side of a border river, many with bullet or knife wounds, according to Bangladesh border guards. Fishermen report seeing bodies floating in the river.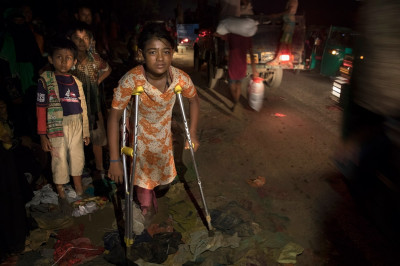 More women than men made the journey from Myanmar to Bangladesh. There are several theories as to why this might be the case: unknown numbers of young Rohingya men were arrested by the Myanmar army on suspicion of being insurgents, and others may have been killed by the military during the attacks on villages. But it could be that many more may have sent their wives and children to safety while they stayed behind to fight, possibly joining the Arakan Rohingya Salvation Army (ARSA), designated as a terrorist organisation by the Myanmar government.
It is impossible to say for sure what is happening in Myanmar because journalists and other outside observers have been unable to independently travel to the northwest of Myanmar's Rakhine state since the outbreak of violence last year. The UN and aid groups had to suspend operations in the area following government accusations of supporting insurgents.
While most of the children in the camps arrived with their families, Unicef reports there are at least 1,100 children who crossed the border unaccompanied or with strangers, after getting separated from their loved ones. Some of these children may not know where their parents are, others may have seen them killed. They are confused and traumatised, and don't know who to trust. These factors make them vulnerable to sexual abuse and exploitation at the hands of opportunists and traffickers.
Aid agencies say it is a challenge to provide facilities for unaccompanied children. "They're all alone in a strange land, don't speak the language, traumatised, they could be taken advantage of, there is a risk of smuggling, trafficking, you don't know, in the chaos of this influx, they really need special attention and protection," said Vivian Tan, spokeswoman with the United Nations High Commissioner for Refugees.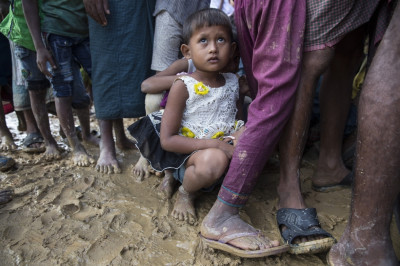 Aid groups are doing what they can. Unicef has set up a child-friendly space at the Bangladesh camps that will allow the agency's aid workers to monitor and provide counselling to the children, as well as prevent them from being abused or exploited, Christophe Boulierac, Unicef spokesperson told Reuters. Aid workers say there is also a need for safe spaces for women in the refugee camps, as there have been reports of gender-based violence, including a least two cases of sexual violence.
On Tuesday 19 September, 25 days into the crisis, Myanmar leader Aung San Suu Kyi condemned human rights violations in Rakhine state and said violators would be punished, but she did not address UN accusations of a campaign of ethnic cleansing by the military.
"We condemn all human rights violations and unlawful violence. We are committed to the restoration of peace and stability and rule of law throughout the state," Suu Kyi said in her address in the capital, Naypyitaw. "Action will be taken against all people, regardless of their religion, race and political position, who go against the law of the land and violate human rights," she said.
Human rights group Amnesty International described Suu Kyi's speech as "little more than a mix of untruths and victim-blaming", saying she and her government were "burying their heads in the sand" for ignoring the army's role in the violence.