Trump vs NFL: US President ramps up attacks after hundreds of players kneel during anthem
Team owners have criticised Trump's comments about players' patriotism.
US President Donald Trump renewed his call to boycott the NFL after players in teams across the US demonstrated during the national anthem Sunday (24 September).
"You can boycott our anthem WE CAN BOYCOTT YOU!" a message retweeted by Trump read. It featured an image of the NFL logo with the work "boycott" stamped across it.
He later tweeted: "Courageous Patriots have fought and died for our great American Flag — we MUST honor and respect it! MAKE AMERICA GREAT AGAIN!"
The tweets come after players across the league knelt, or like New England Patriots quarterback Tom Brady, stood with locked arms during the national anthem. Trump weighed in on Twitter, giving his approval of players locking their arms but condemning those who chose to kneel.
"Great solidarity for our National Anthem and for our Country. Standing with locked arms is good, kneeling is not acceptable. Bad ratings!"
Trump's tweet appeared to suggest that players opting to lock arms were showing support for the anthem rather than his remarks over the weekend, The New York Times reported.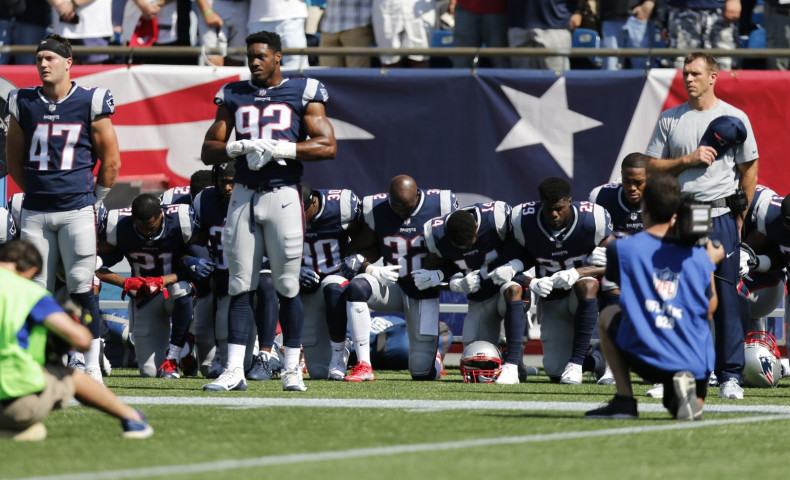 The president faced backlash by team owners and players after he called black players who demonstrated against police brutality by kneeling during the national anthem "sons of b****es" who should be fired. Players chose to either kneel during the anthem during Sunday's games, while others locked arms in support.
All but one player from the Pittsburg Steelers opted to remain in the locker room during the anthem.