Spain has cancelled all time off for police officers in Catalonia as tensions rise ahead of a planned referendum on the region's independence. Huge angry crowds have gathered in Barcelona after Spanish police raided local government offices and arrested several officials.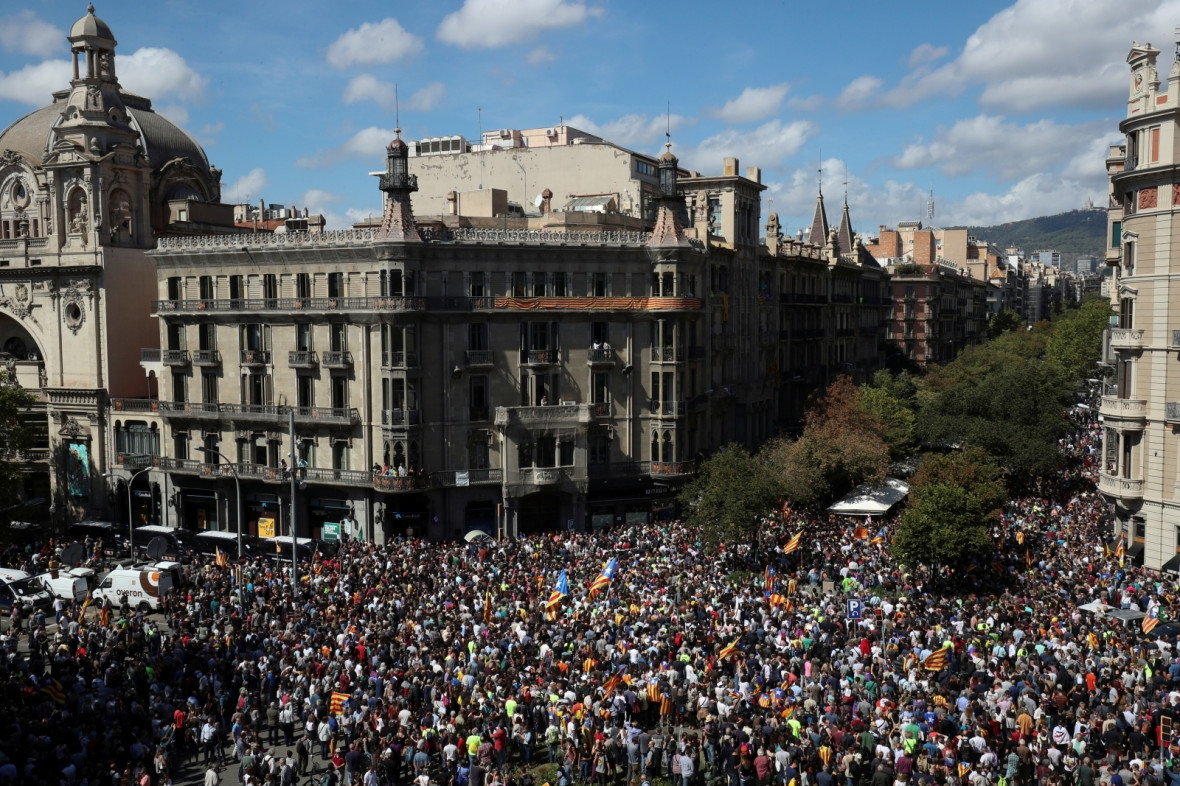 Police efforts to stop the 1 October vote on splitting from Spain have intensified in recent days as the region shows no signs of halting the referendum which the central government says is illegal. The National Catalan Assembly — the driving force behind the push for independence — called for supporters to rally peacefully outside local government offices on the corner of Rambla de Catalunya and Gran Via.
State police entered offices of the Catalan region's economy, interior, foreign affairs, welfare, telecommunications and tax departments. La Vanguardia newspaper said a dozen high-ranking local officials were arrested, including junior economy minister Josep Maria Jove, who was stopped by police while driving his daughter to school.
Pro-independence supporters scuffled with Spanish Civil Guard officers escorting a government official out of the headquarters of the region's department of foreign affairs in Barcelon. Xavier Puig, the IT manager in the department, was one of at least 12 officials arrested in police raids. The protesters tried to block a police vehicle and some scuffles ensued. There were no reports of arrests or injuries.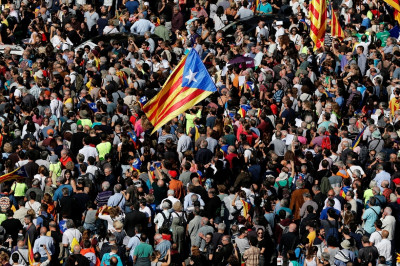 Spain's central government says the referendum goes against the country's 1978 constitution which states Spain is indivisible. Police, acting under court orders, have stepped up raids on printers, newspaper offices and private delivery companies in recent days in a search for campaign literature, instruction manuals for manning voting stations and ballot boxes.
Police seized nearly 10 million ballot papers that Catalan regional authorities planned to use in the independence referendum. A ministry statement said police also confiscated polling station signs and documents for voting officials in a raid on a warehouse in a small town outside Barcelona.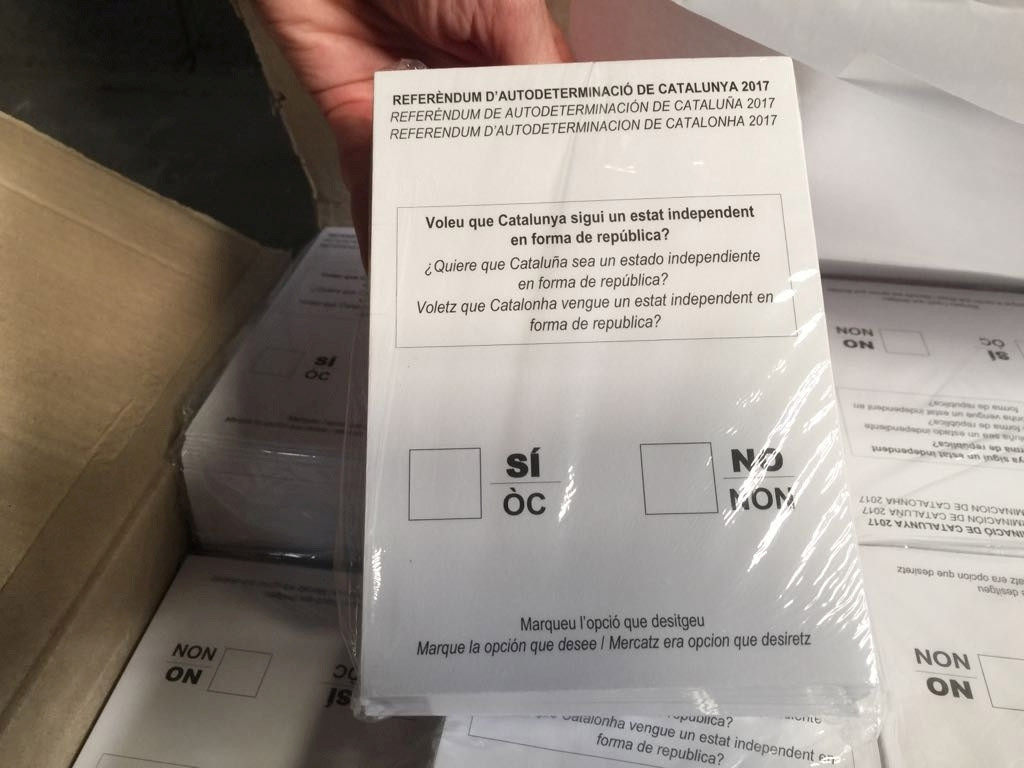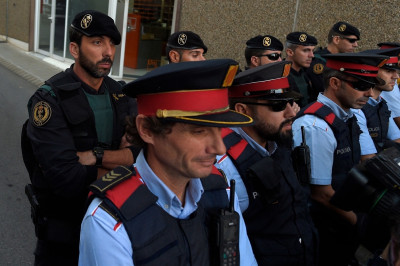 The fiercely pro-independence leader of Catalonia, Carles Puigdemont, called an emergency meeting of his Cabinet. He said Spain is showing a "totalitarian attitude" with the arrests of Catalan officials and civil servants. He vowed Catalonia will go ahead with the independence referendum despite legal warnings not to do so.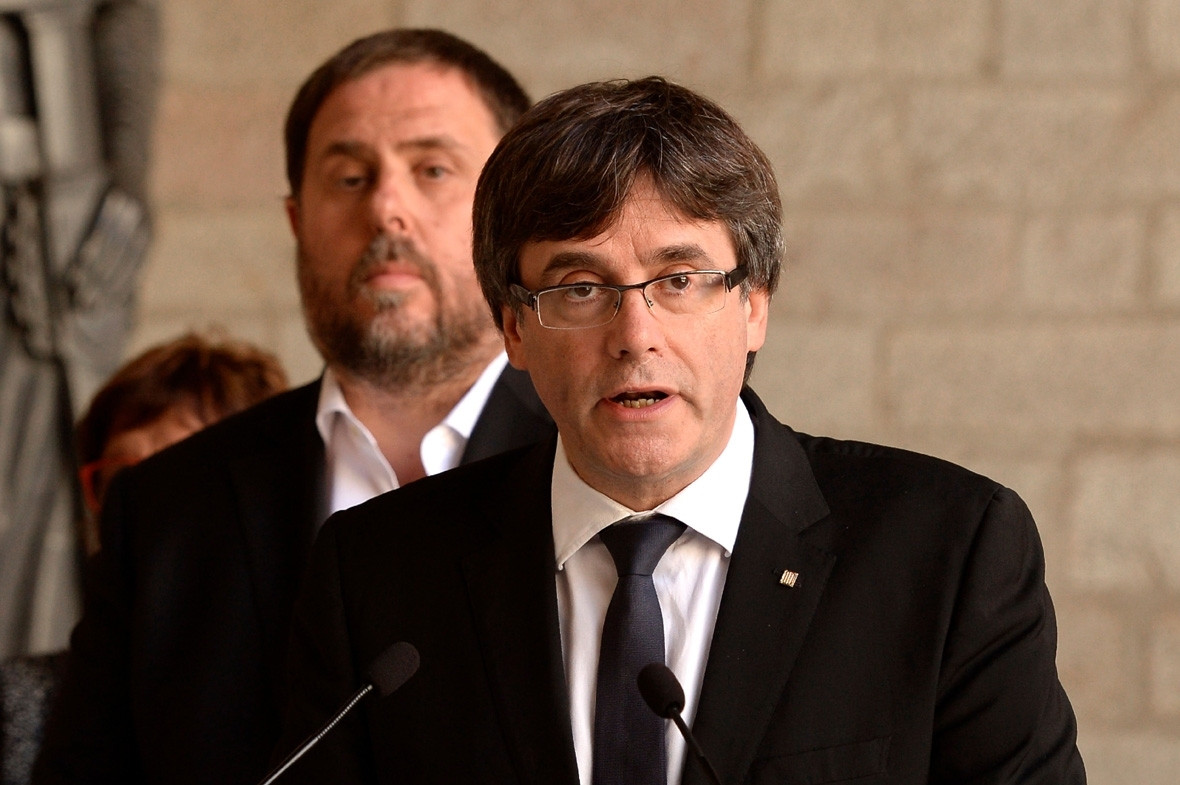 Barcelona Football Club put out a statement saying it condemns anyone trying to halt Catalonia's plan to hold the referendum. The club said it "will continue to support the will of the majority of Catalan people, and will do so in a civil, peaceful, and exemplary way."
Spain's Interior Ministry says all time off and holiday will be suspended for Civil Guard and National Police officers assigned to ensure that the Constitutional Court's halting of Catalonia's planned independence referendum is heeded. A ministry statement said the measure will run initially from Wednesday until 5 October – four days after the planned referendum.