Tata Steel confirms 1,200 job losses as David Cameron promises to raise steel issue with Xi Jinping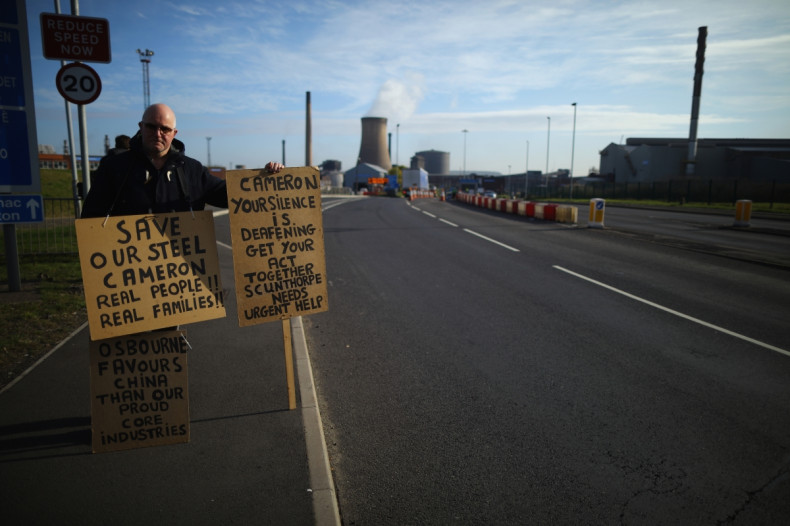 Tata Steel confirmed on Tuesday (20 October) that it is cutting about 1,200 jobs across its Scunthorpe and Scotland plants. The cuts follow closures and redundancies across the crisis-hit steel industry in the UK.
Prime Minister David Cameron promised to raise the issue with Chinese President Xi Jinping, who is in the UK for a state visit. Oversupply from China and a falling demand from the country have already been named as the reasons behind the steel crisis in the UK.
Sajid Javid, secretary of state for business, innovation and skills, said the problem is a lot wider than China, however. In an urgent questions session in the Commons, he said overcapacity is present across the market.
"Clearly, China is one of those countries, the main one, in terms of overcapacity," Javid said. "But there are also others, there's a recession in Brazil that's leading to more steel in the market, [there's] Russia, Turkey and many others, so there's a much wider problem than just China."
He said the government is doing everything it can to provide for the families affected by the crisis, as more than 5,000 jobs have been lost across the country. The government has already announced a £18m (€24m, $28m) care package for steelworkers who lost their job in Teesside.
"What it requires is EU-wide action, we have already voted for action, we will do so again whenever we are presented with evidence," he added. "Next week, I will be going to Brussels, meeting with relevant commissioners and pushing for urgent action, much quicker action."
The axe will largely fall in Scunthorpe, where 900 workers are set to lose their jobs, while 250 are expected to be made redundant in Tata Steel's operations in Scotland.
The series of job cuts across the sector started with the Redcar plant closure announced in early October. In Teesside, 1,700 steelworkers were made redundant, despite efforts to liquidate SSI UK, the company that operated the plant.
Caparo Industries, the steel plant operator employing around 1,800 staff in 20 sites across England and Wales, went into administration on 19 October. The closure caused steel workers' unions to warn about the future of the industry.